10 Gift Cards and their Uses
Gift cards are physical or digital vouchers with stored money value, they are issued by businesses. With a gift card, you can make purchases up to the amount tag on the card from the issuing retailer. Have you wondered what your gift card is used for ? This article lists some of the gift cards and their uses
It is an integral part of the brand promotion strategy of a business. Most physical stores use gift cards to entice customers to visit their store. Online stores also utilize digital gift cards to get customers to visit their stores. Gift cards are important gift items; they save people the hassle of thinking about the perfect gift.
Since gift cards serve as a cash alternative, they carry the currency of the physical location. The cards are redeemable only by the businesses that make them. For example, you cannot redeem an Amazon Euro card in a US Walmart Store.
Physical vs. Digital Cards
Gift cards occur as either physical or digital cards. The physical cards come in plastic form; you can get them from retail outlets or order them online. The digital card is made of a code that the retailer sends to your email upon purchase.
Most retailers offer physical and digital cards. These cards allow customers to make easy payments for the goods and services bought. You can integrate your gift cards into your mobile wallet apps such as Venmo, Google Pay, or Apple Pay. When you try to pay the retailer, you can use the gift card option on the mobile wallet app.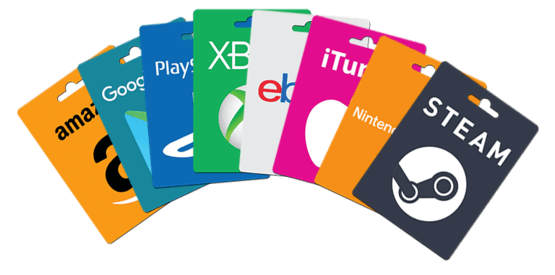 10 Gift Cards and their Uses
1. Amazon.com Gift Card
They are physical or digital cards that can be purchased in over 45000 stores across the world. To make easy payments for items purchased on Amazon (both online and in brick-and-mortar stores)
On Amazon website, you can purchase millions of items for less than $100 using the Amazon gift card. To redeem the Amazon gift card, visit Amazon.
2. iTunes Gift Card
An iTunes gift card is the same as the Apple app store gift card. They are different from the apple store gift card though they are all made by Apple. The iTunes and App Store Gift cards are used to make purchases on the Apple App Store. They are used to make subscriptions to Apple Music and more.
To redeem your iTunes gift card, visit Apple's Website.
3. Walmart Gift Cards
Walmart gift cards exist in physical and digital forms. They are redeemable on Walmart's Website or Samsclub. Walmart gift cards can make purchases in Walmart Stores and Neighborhood Markets, Walmart Gas Stations, and Sam's Club Stores. Walmart Gift Cards are redeemable in the physical stores or on walmart.
4. Victoria's Secret Gift Cards
Victoria's Secret gift cards exist in physical and eGift card forms. The cards are redeemable online (within the US only) or in Victoria's Secret physical stores. To redeem the gift cards, visit VS Gift Cards
5. Xbox Gift Cards
Xbox gift cards and Microsoft gift cards are the same. The uses are numerous; such as
– Making Xbox subscriptions
– Purchasing Xbox devices and accessories.
– Purchasing apps and digital accessories on the Microsoft store.
To redeem your Xbox gift card, visit Microsoft Redeem
6. Sephora Gift Cards
The gift cards are sold on Sephora's official website and in Sephora locations across the world. Sephora has stores in France, UAE, KSA, the USA, and others. However, the gift cards are available only in USD and are redeemable only in US physical locations (JC Penney Stores). The gift cards are available from $10 to $500. Their use is to purchase beauty products from Sephora.
To redeem your Sephora gift card, visit Sephora.
7. Starbucks Gift Cards
Starbucks gift cards are easy method of payment for food, beverage, and merchandise at Starbucks stores. They exist in physical and eGift card formats. You can make online orders from Starbucks stores using gift cards.
To redeem your Starbucks Gift cards, visit Starbucks Gift Cards.
We use Target Gift Cards to purchase merchandise on target.com or in Target stores across America. To redeem your Target gift card, visit Target Gift Cards
9. eBay Gift Cards
eBay gift cards used as means of making payment for items bought on the eBay store. You can choose between physical and digital gift cards. The physical card will be mailed to your location, while the digital card will be sent to your email address. To redeem your eBay gift card, visit eBay.
10. Nike Gift Cards
Nike gift cards are available in physical and digital formats. They are used to purchase Nike merchandise on
– Nike.com
– Converse.com
– Nike App
– Nike physical stores
To redeem your Nike gift card, visit Nike
There are over 3000 businesses that offer gift cards across the world. Most businesses that offer online services make gift cards to help their customers make payments easily. Beyond the ten gift cards here, there are other common gift cards such as Best Buy, Chipotle, Google Playstore, Fandango, etc.