How to Sell Your $100 Google Play Gift Card in Ghana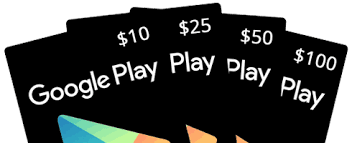 As we know that there are many gift cards available for various significant stores. Google Play Gift Card is one of the many. This gift card is from Google Play Store, where books, music, app, and many more items can be bought on an Android phone. A Google Play Card comes in hand. If you intend to purchase a Google Play card online and transfer it via email, you have to do this via online distributors such as Amazon, Walmart, Target, and the likes. You should specifically note that different distributors require different minimum card purchases for various online gift purchases.
Own a Google Play Card and wondering how you can sell it for Cash in Ghana?
Astro Africa got you! Astro Africa is a fast, genuine, and reliable platform that allows you to exchange all sorts of gift cards like Amazon, eBay, OneVanilla, and, yeah, Google Play Gift Card at the best rates you can ever find.
Sell your Google Play Card in Ghana
Astro Africa is available to render the service to you without stress. There are two ways to get this done.
i. Via the website
ii. Via the Online App
1. Via the website: You can sell your Google Play Gift Card via the Astro Africa website by following the steps below:
i. Visit the Astro Africa website by clicking on https://astroafrica.site, specially designed for easy navigation and fast mobile responsiveness.
ii. You will need to create an account on this site. This can be quickly done by inputting some personal details. Be sure to verify the details before submitting. A verification message which is usually a 6-digit key, will be sent to the email provided. You can alternatively follow the link attached to the mail to complete your account registration.
iii. Select the currency you desire to be paid in, which is cedis in this case.
iv. You will be required to pick the gift card you want to exchange for a Google Play Card in this case.
v. Type in the bank details you want the payment made. This is compulsory as payment would not be processed without this.
vi. Submit your Google Play Card Code and wait for confirmation which takes about 5-10 minutes
vii. Your account is immediately credited as soon as the confirmation is done.
2. Via the Online App
i. Proceed to download the Astro Africa App on Google Play Store for Android or Apple Store for iOS.
ii. Install the App on your device.
iii. Open the App and correctly type in the login details if you have an account OR create one if you don't.
iv. Once you are logged in, click on the rates to check the rate for the Google Play Gift Card you want to sell.
v. Click on your preferred currency, which is cedis in this case, and move on to the next page.
vi. Type in your correct account details, where you want the payment to be made.
vii. Type in the correct card details.
viii. As soon as the confirmation is completed, your account will be credited immediately.
Astro Africa offers the best rate, and the rate for a Google Play Gift Card is GHS 3.79 / $. Therefore, $100 is worth GHS 379. Comparing this with other trading platforms, you will only come to notice that Astro Africa gives you your money's worth and more.
Astro Africa is a certified and trusted company that takes pride in trading all kinds of gift cards in Ghana. For your gift card exchange in Ghana, Astro also gives the best available rates, way more than your money's worth.
The service Astro Africa gives to its members is exchanging digital assets like gift cards, including other popular ones like eBay gift cards, Amazon gift cards, OneVanilla gift cards, and a lot more. We are in complete commitment to the goal of making available fast, reliable, easy, and subsequently stress-free gift card trading for all our customers. Astro Africa is a customer-friendly platform inspired to create an encompassing platform towards achieving quick and straightforward financial transactions for Ghanaians.
At the moment, we not only offer our swift services in Ghana, usually through the Astro Africa website and user-friendly app, but we also offer these outstanding services in Nigeria. We know that some gift card owners in Ghana have no intention of using them to shop online. They are solely concerned with how to monetize these cards – hence, the creation of Astro Africa!
With Astro Africa, all gift cards exchanges are more than 100% safe and secure. Moreover, just as Astro Africa not only provides services for customers to trade their gift cards without stress, they also make instant payments into the users' bank accounts.
Astro Africa provides a 24/7 customer services system that is always available to attend to customers' feedback, requests, and complaints.
Astro Africa is unarguably the best shot at profit-making and successful trading gift cards in Ghana for new and existing traders.
With Astro Africa, there is no scam, slow or reversed transactions, no payments, and all the stress of falling into fraudulent hands. A trial at Astro Africa will convince you.