Five best gift cards for last-minute shoppers
Five best gift cards for last-minute shoppers
Five best gift cards: Shopping at the last minute is not a bad thing, but it is quite burdensome. There's nothing worse than discovering that you haven't ordered an item on your holiday shopping list. You need to purchase gift cards from your favourite retailer as a shopper. Gift cards are a very reliable reminder and legal tender. It provides you with many choices to pick from, especially when it is an open loop gift card and can be used in any retail store.
Keep reading to discover five of the best gift cards for this holiday.
Amazon gift cards
One of the most versatile gift cards in the world is the Amazon gift card. It is not versatile because it can be used in just any store. Amazon gift cards can only be used in Amazon's physical and online stores, but Amazon is a retail store that sells various items. With your Amazon gift card, you can buy music, electronics, home goods, food, clothes, camping accessories, and other things. Amazon gift cards are the best gift cards you can give anyone, be it for their birthday, graduation, or "just because."
Nike gift cards
For the athletic friend that pushes themselves to work out harder and smarter every year or the sneakerhead who's always ready to stock up on new kicks, a Nike gift card can cover their latest high-performance gear or their AF1 addiction. You can choose digital gift card designs ranging from the classic swoosh to the logo of your recipient's favourite team. Any sneakerhead or sport-ish friend, colleague, family member, or partner would appreciate a Nike gift card.
Steam gift card
If you are a gamer or the gift card recipient is a gamer, a Steam gift card is the perfect gift. Rather than picking up something they've already played (and won), Steam gift cards let them choose their adventure. It could be action, sports, an RPG, or even an oddly soothing game about a goose. Still get them a gift card from Steam, and they would appreciate it.
Apple gift card
Few things are universally beloved as music, and when it comes to gift giving, few things are appreciated as an Apple Gift Card.
One card provides endless possibilities, with your recipient able to redeem it for song downloads, Apple Music streaming, apps and even physical products like the latest iPhone or AirPods Pro.
Choose from denominations starting at $10 and choose to send a physical card or have an Apple Gift Card delivered by email.
Walmart gift cards
From toys and tech to clothes and kitchenware, there's something for everyone to get excited about available from Walmart. Card amounts range from $5 up to $500, with many great festive designs.
Sell gift cards for cash and get paid instantly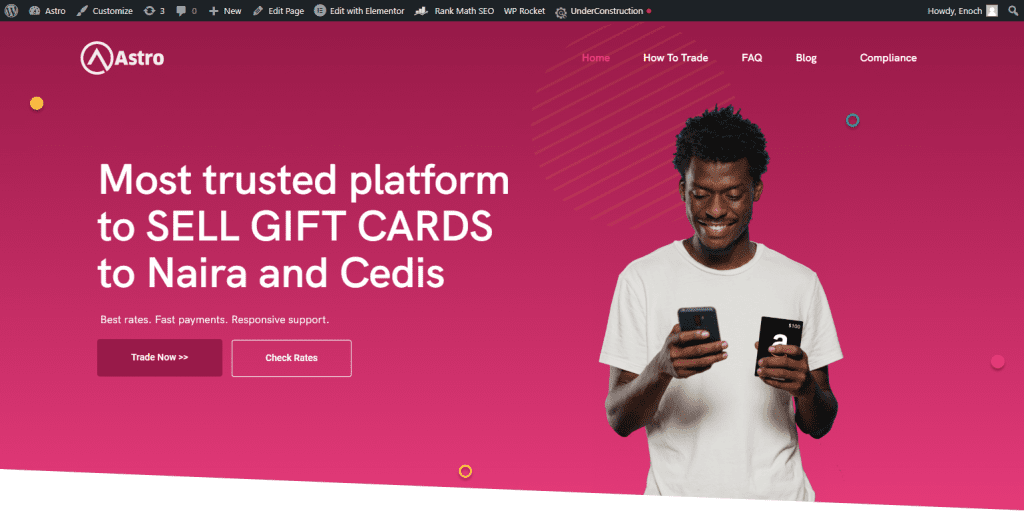 Astro Africa is the best gift card exchange platform to sell your gift cards. Astro Africa is a robust trading platform that allows gift card traders in Ghana and Nigeria to trade their gift cards for cash and cryptocurrency and get paid instantly. You can sell all the gift cards listed above on Astro Africa and lots more. Follow the steps below to sell your gift cards on Astro Africa.
Create an account on the Astro Africa website or download the app from Google playstore.
Log into your account with the email and password you used in creating your account.
Add a local bank account or BTC wallet by clicking add accounts/momo.
Click on sell gift cards, and a list of gift cards will be displayed.
Select the gift card you want to sell.
Select wallet to credit (Which is a bitcoin wallet at this point).
Choose the category that best suits the gift card you have
Input the amount of the gift card.
Upload a clear image of the card code or screenshot the email that contains the code. You could also add an optional note.
Click on submit on the upper part of your screen. Your BTC wallet or Bank will be credited immediately.
Bonus tip: If you convert your gift cards to Bitcoin on Astro Africa, you might want to convert the Bitcoin to cash after a while. Dart Africa is the best cryptocurrency exchange to sell Bitcoin and other cryptocurrencies for cash. It is an affiliate platform of Astro Africa.