Trade Gift Card For Cryptocurrency: Trading gift cards for cryptocurrency can be done through several online platforms that specialize in such transactions. Here are some general steps to follow:
Choose a trusted platform: Look for a reputable online platform that allows the trading of gift cards for cryptocurrency. Astro Africa is one of the best platforms in Africa that offer this service.
Select the gift card: Choose the type of gift card you want to trade, and make sure it's accepted on the platform you have chosen. Popular gift cards include Amazon, iTunes, and Google Play.
Enter the details: Enter the details of your gift card, including the card number, PIN code, and any other relevant information. The platform will verify the details of your card.
Choose cryptocurrency: Choose the cryptocurrency you want to receive in exchange for your gift card. Bitcoin is a popular option, but other cryptocurrencies like Ethereum and some Stablecoins are also available.
Complete the trade: Once you have chosen the cryptocurrency, the platform will provide you with a wallet address to which you can send the gift card. After sending the gift card, the platform will release the cryptocurrency to your wallet.
Verify the transaction: Verify that the cryptocurrency has been received in your wallet before closing the trade.
It's important to be cautious when trading gift cards for cryptocurrency as there are risks involved. Make sure to use a reputable platform and be aware of the current market rates for the cryptocurrency you want to receive.
Trade Gift Card For Cryptocurrency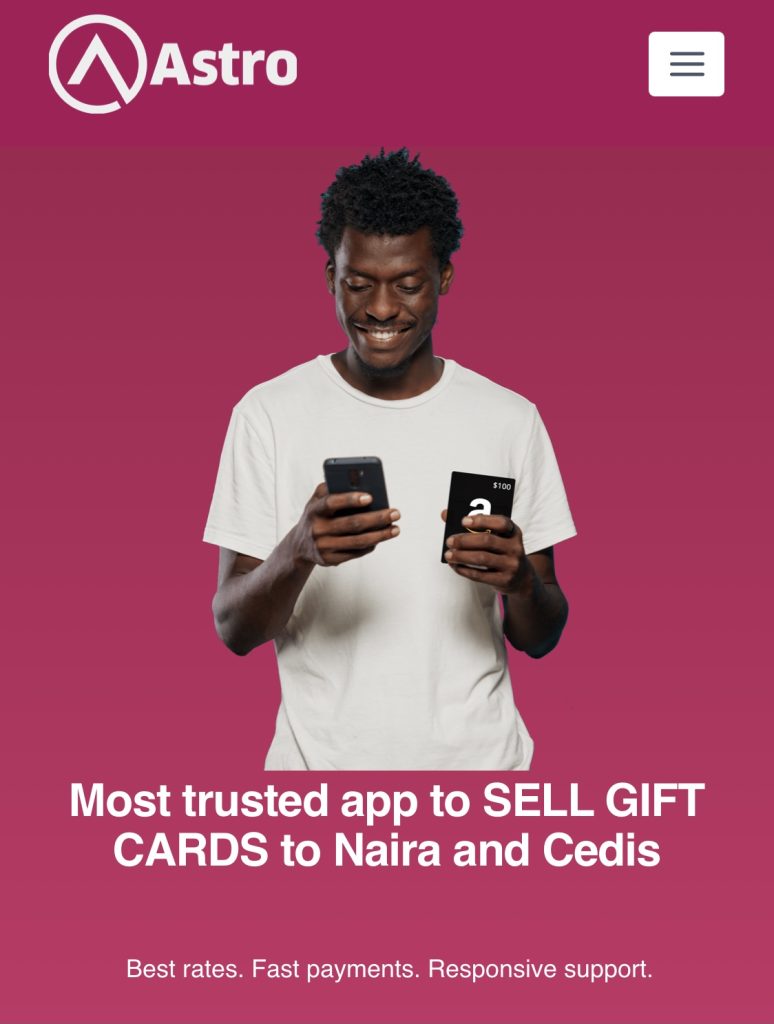 Astro Africa
That being said, Astro Africa is arguably the best place to trade your gift cards for cryptocurrency or cash, not only do we have a favourable exchange rate, but we also ensure timely disbursement of funds and there is a swift customer support system to tend to any difficulty our customers might encounter.
Why Use Astro Africa
Exchange Transaction Speed: one significant element of Astro Africa is its capacity to validate payments to clients within a couple of moments. Cash will be dispensed into your Astro Africa wallet within a couple of moments of confirming the legitimacy of your gift card. Note, that transaction speed sometimes relies upon the sort of gift card you are about to trade, as the validation time varies based on the gift card. It takes a couple of minutes for withdrawal to be successful for both cash transactions and crypto transactions.
Best Trade Rates: unlike other gift card exchange vendors, Astro Africa offers the best rates for any tradable gift card. You get the full worth of your gift card when you trade it on Astro Africa. You can constantly check for the current rate by looking at the rate calculator feature.
A broad variety of gift card acceptability: On Astro Africa, you can trade almost all forms of gift cards at the highest trade rate possible. Types of gift cards traded include Amazon gif cards, iTunes gift cards, OneVanilla gift cards, Steam cards, Google pay, eBay card, Nike gift card, Netflix gift card, Marcy gift cards, Amex gold express gift cards, Nordstrom cards and many more.
How To Trade Gift Card For Cryptocurrency On Astro Africa
The first step is to log in to your account if you are an existing user. For new users, the first step is to sign up to gain access to your account dashboard.
Set up your wallet by inputting your bank details. You receive funds in this wallet and choose your preferred withdrawal method, cash or cryptocurrency.
On your account dashboard choose the type of gift card you want to trade.
Enter the Amount in dollars. The exchange value in your chosen local currency will be displayed on the interface.
Proceed to place the order
Provide the gift card details accompanied by a picture
Funds will be sent immediately after your gift card is confirmed.
Transfer funds to your cryptocurrency wallet or local bank account through the withdrawal interface. Note, you will receive the equivalent of the naira or cedis value in the form of cryptocurrency.
Also read; How to buy USDT with gift cards in 2023
Trade Gift Card For Cryptocurrency