Trade Sephora Gift Card For Crypto; A prepaid card called a Sephora Gift Card can be used to buy any item from any Sephora store, both physical and online. The company Sephora specializes in selling cosmetics and skincare items like body lotion, perfumes, makeup sets, and many others.
If, for example, you don't intend to use your Sephora gift card at the store, you may always exchange it for cash or cryptocurrency on a gift card exchange platform. There are many merchants who will exchange your Sephora gift card, but you might not be getting the best service due to factors like payment delays or a poor exchange rate. Trade with Astro Africa to get the most out of your gift card.
About Astro Africa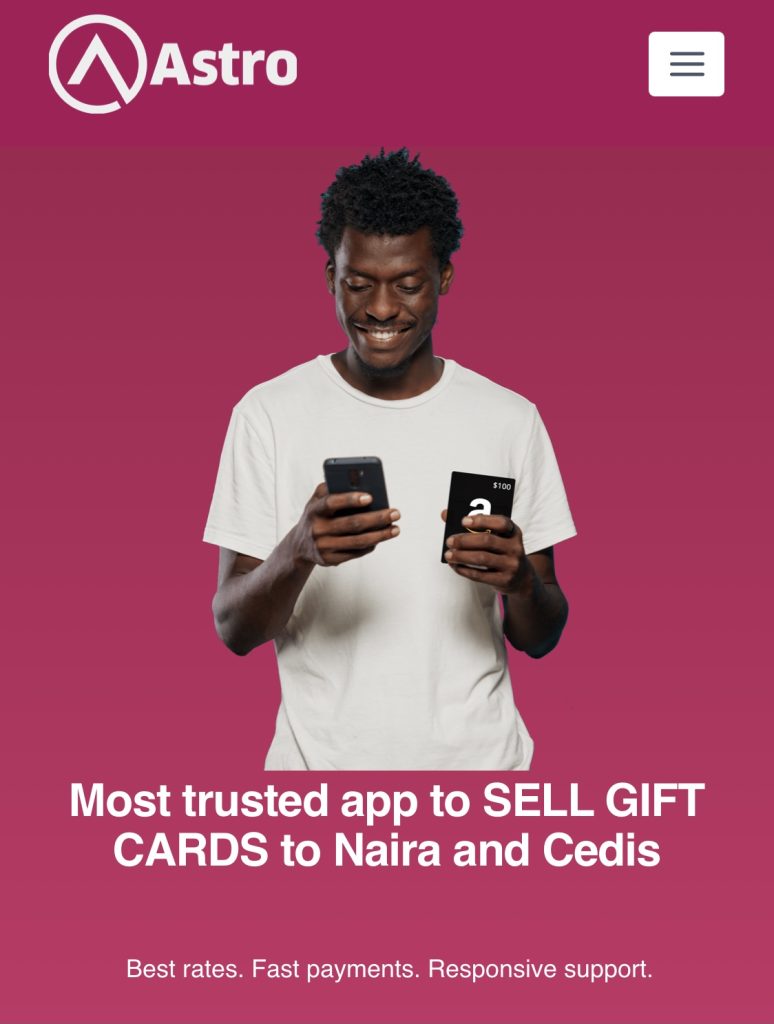 Trade Sephora Gift Card For Crypto
Astro Africa is an online platform that allows you to sell any unused, prepaid, and non-reloadable gift cards, such as an iTunes card, Sephora gift card, or Nordstrom gift card among others. You may sell your gift card through access to the website or through Astro Africa mobile app which is super easy to use. Your transaction is completed swiftly within 10 to 15 minutes, and your payment is guaranteed.
Part of Astro Africa's new innovation is its alternative payment method that allows users to receive payment in Cryptocurrency and directly pay bills. Astro Africa predominantly operates in Nigeria and Ghana, and incorporating crypto as a payment alternative will allow us to cater for customers that don't use Naira or Cedis.
Why Use Astro Africa
Exchange Transaction Speed: one significant element of Astro Africa is its capacity to validate payments to clients within a couple of moments. Cash will be dispensed into your Astro Africa wallet within a couple of moments of confirming the legitimacy of your gift card. Note, that transaction speed sometimes relies upon the sort of gift card you are about to trade, as the validation time varies based on the gift card. It takes a couple of minutes for withdrawal to be successful for both cash transactions and crypto transactions.
Best Trade Rates: unlike other gift card exchange vendors, Astro Africa offers the best rates for any tradable gift card. You get the full worth of your gift card when you trade it on Astro Africa. You can constantly check for the current rate by looking at the rate calculator feature.
How To Trade Sephora Gift Card On Astro Africa
The first step is to log in to your account if you are an existing user. For new users, the first step is to sign up to gain access to your account dashboard.
Set up your wallet by inputting your bank details. You receive funds in this wallet and choose your preferred withdrawal method, cash or cryptocurrency.
On your account dashboard select Sephora gift card as the type of gift card you want to trade.
Enter the Amount in dollars. The exchange value in your chosen local currency will be displayed on the interface.
Proceed to place the order
Provide the Sephora gift card details accompanied by a picture
Funds will be sent immediately after your gift card is confirmed.
Transfer funds to your cryptocurrency wallet or local bank account through the withdrawal interface. Note, you will receive the equivalent of the naira or cedis value in the form of cryptocurrency.