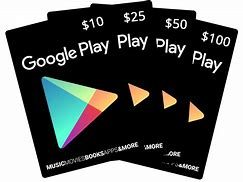 $200 Google Play gift card in Ghana Cedis
$200 Google Play gift card in Ghana Cedis: Going by the global economic situation, the rates of several gift cards and other digital assets have gone downhill. However, the exchange rates of Google Play gift cards have been quite promising.
According to the Astro Africa rates calculator, the current rates of a $200 Google Play gift card are 1,008 and 828 Ghanaian cedis for physical and ecode forms, respectively. Yes, Google plays gift cards exist in two forms, physical and ecode gift cards.
Astro Africa rates calculator is an automated rates calculator that allows gift card traders to calculate the current rates of their gift card assets. It doesn't matter the type of gift card; as long as it is listed on the website, you can calculate its rates.
Knowing the rates of gift cards is essential to understanding when and when not to buy or sell gift cards for cash or crypto. It gives you an edge over other traders, increasing your chances of gaining more profits. This is one of the many ways Astro Africa makes life easy for Ghanaian gift card traders.
If the rates of gift cards get higher than when you bought them, then you can proceed with selling. You could also decide to wait and see how high it can go, but that is risky as no one can predict the exchange market.
To use the Astro Africa rates calculator, follow the steps below.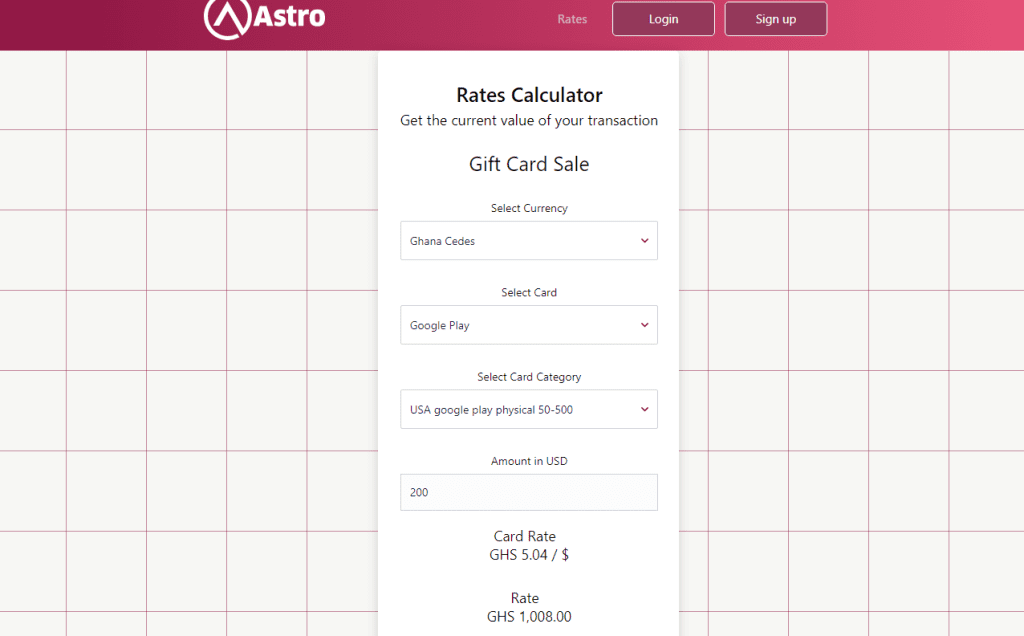 Visit the Astro Africa website.
Click on check rates.
Select currency which is Ghanaian cedis in this case.
Click on select gift card (select google play).
Click on select gift card category (select USA google play physical 50-500 or USA google play ecode 50-200). Ensure always to choose the subcategory of gift cards that your gift cards fall into; if not, you will get the wrong rates.
Enter the amount of your gift card in USD (200).
The rates of your gift cards will be immediately displayed as 1008 or 828 GHS depending on the type of gift card you own.
These steps can be repeated for any other type of gift card. After calculation, you can also sell Google play gift cards for cash on the Astro Africa website or mobile apps. The rates you find on the calculator are the same ones on the website during sales.
How to sell Google play gift cards for cedis
You can sell google play gift cards for cedis on Astro Africa and get paid immediately. On Astro Africa, traders can sell their gift cards at the best rates without stress. The processes involved are short and seamless.
Download the Astro Africa App from the google playstore or Apple store.
Create an account.
Visit your dashboard.
Click on sell gift cards and input all your gift card details.
Voila, you have successfully sold your gift cards, and your account will be credited immediately.
All about Google play gift cards
Google play gift cards are created and distributed by Google. These cards are like every other gift card, which can only be used to purchase digital items on the Google play store or other supported websites. There are several things you can do with your Google play gift cards, and they are listed below.
Pay for different subscriptions like YouTube premium monthly or yearly subscriptions.
Purchase books and movies with your Google play cards from the Google play store.
Make in-app purchases for games and other apps.
Purchase apps and devices created by Google.
As mentioned earlier, there are two types of gift cards that you must know, and they are Physical or digital/ecode gift cards.
Physical Google play gift cards
If your Google play cards were delivered through your mailbox, you have a physical gift card. These gift cards are the same shape and size as your debit and credit cards. They usually have higher rates than the digital types because they are in higher demand. On the back of the gift card, you will find a 15 or 16-digit code that you must redeem before you can use the card for purchases or sell for cash.
Digital Google play gift cards
If you received your Google play gift card through your email, then you have a digital Google play gift card. These gift cards are usually sold at slightly lower rates, but they are more convenient since you don't risk accidentally losing them. The mail contains all the details about your gift cards, including the code and pins you need for redemption.
How to redeem Google play gift cards online?
To redeem your google play gift card codes online, follow the steps below, as it is quite easy.
Open your profile on the Google play app by clicking the profile picture icon.
Click on payments and subscriptions.
Click on redeem gift code.
Input your gift card code and click on redeem to complete the process.
If you own a physical gift card, you can quickly scan the back of your gift card to take a picture and click on redeem.