Value of a Gift Card in Naira: Selling gift cards for cash has become a common practice in Nigeria, especially among young people who have access to various online platforms. The trend has grown due to the increasing popularity of gift cards as a form of gift-giving and the rise of digital transactions.
Value of a Gift Card in Naira
Many people receive gift cards as presents from friends and family but prefer to convert them into cash, which they can use to pay for bills, buy goods, or invest in other ventures. This has led to the emergence of several online platforms like Astro Africa where individuals can trade their gift cards for naira.
To calculate the value of a gift card in naira, you need a gift card rate calculator. A gift card rate calculator is an online tool that is designed to help you calculate the value of a gift card in naira, based on the current exchange rate. If you are looking for a reliable and accurate gift card rate calculator in Nigeria, Astro Africa is the perfect solution. Astro Africa offers the best gift card rate calculator that is easy to use and provides accurate conversion rates. To calculate the value of any gift card in naira, follow these steps:
Select the currency 'Naira' from the available options.
Select the type of gift card you want to convert; i.e., Amazon gift card, eBay gift card, Steam gift card, iTunes gift card etc.
Choose the gift card category. For instance, an iTunes gift card has several categories such as Canada (CAD) iTunes, New Zealand (NZD) iTunes, Brazil iTunes, Poland iTunes, Hongkong iTunes, Mexico, Turkey iTunes, Norway iTunes, Denmark iTunes, South Africa iTunes, Saudi Arabia iTunes and so on.
Enter the amount of your gift card. The rate calculator would automatically display the naira equivalent of your gift card.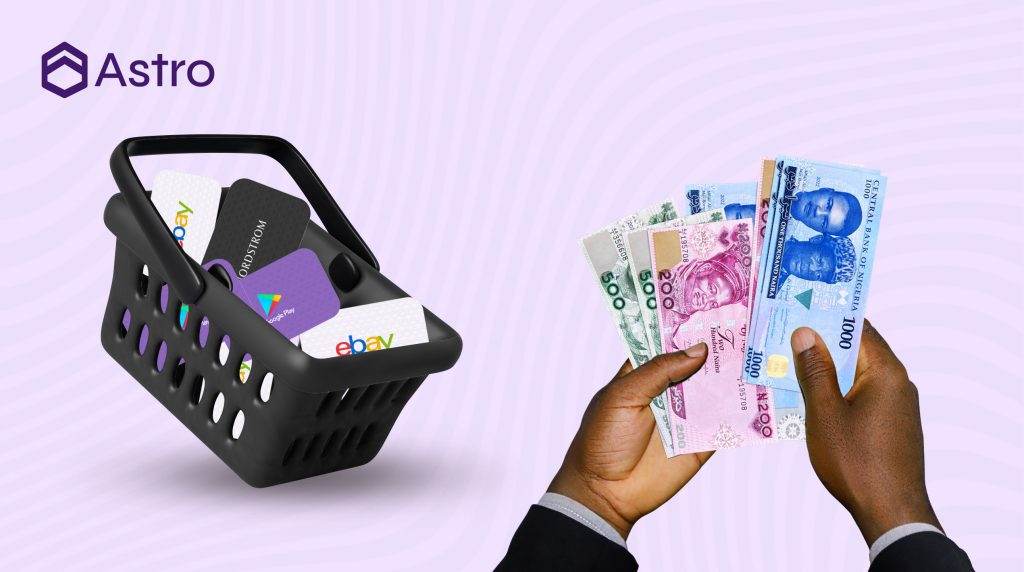 How to Convert Gift Cards to Naira on Astro Africa
If you need to convert your gift cards to Naira, Astro Africa offers a seamless process that is easy to follow.
The first step to trading a gift card on Astro Africa is to create an account. Once you have created your account, you need to verify your e-mail address.

After your account has been verified, you can log in to your dashboard. Your dashboard is the hub where you can access all the features of Astro Africa.

On your dashboard, navigate to the trade section and select the type of gift card you want to trade. Astro Africa supports a wide range of gift cards from various brands.

Once you have selected the type of gift card you want to trade, choose the category it falls under and input the USD value of the gift card.

To proceed with the trade, you need to provide the details of the gift card, such as the card number, PIN, and expiration date. You also need to upload a picture of the gift card to verify its authenticity.

After you have supplied all the necessary information, click on the submit button to confirm the transaction.

After the trade has been confirmed, the value of the gift card would be credited to your Astro Africa wallet. To withdraw your funds, go back to your dashboard and click on the wallet section.

In the wallet section, select the withdrawal option and provide your bank details. After you have submitted your withdrawal request, your funds would be processed instantly, and you can expect to receive your funds in your bank account within a few minutes.
Astro Africa offers competitive rates and fast transactions, making it easy for anyone to convert gift cards to naira. We ensure that all transactions are safe and secure, and you can be assured of getting the best value for your gift cards. Whether you're looking to convert a single gift card or several, Astro Africa is the go-to platform for all your gift card trading needs.