Amazon Gift Card for Bitcoin: An Amazon gift card is a prepaid card that can be used to make purchases on Amazon and affiliated websites. It works like a regular gift card, with a fixed amount of money preloaded onto the card. The recipient can use the gift card balance to purchase items on Amazon, including physical goods, digital content, and services.
Some features of Amazon gift cards include:
Wide availability: Amazon gift cards can be purchased in a variety of retail locations, including grocery stores, drug stores, and convenience stores. They are also available for purchase online.
Customizable amounts: Amazon gift cards are available in a range of denominations, from as little as $5 to as much as $1,000. This makes it easy to find a card that fits your budget.
Flexibility: Amazon gift cards can be used to purchase millions of products on Amazon, including books, electronics, clothing, and more. They can also be used to purchase digital content, such as music, movies, and eBooks.
No fees: Amazon gift cards have no fees, including no activation fees, maintenance fees, or service fees. This means you can use the full amount of the card to make purchases.
Easy to use: Amazon gift cards can be redeemed by entering the gift card code during checkout on Amazon.com. The balance on the card can be used over multiple purchases until the balance is depleted.
In today's world, selling Amazon gift cards for Bitcoin has become a popular practice among those who have no use for them. However, trading gift cards can be risky, as there are a lot of scams out there. To avoid falling victim to these scams, it is best to trade with reputable platforms like Astro Africa. Astro Africa is known for its reliability and safety when it comes to gift card trading. Also, if you are located in Nigeria or Ghana, Astro Africa offers the best rates for Amazon gift cards. By using Astro Africa, you can sell your gift cards with peace of mind, knowing that you are dealing with a trustworthy platform.
Amazon Gift Card for Bitcoin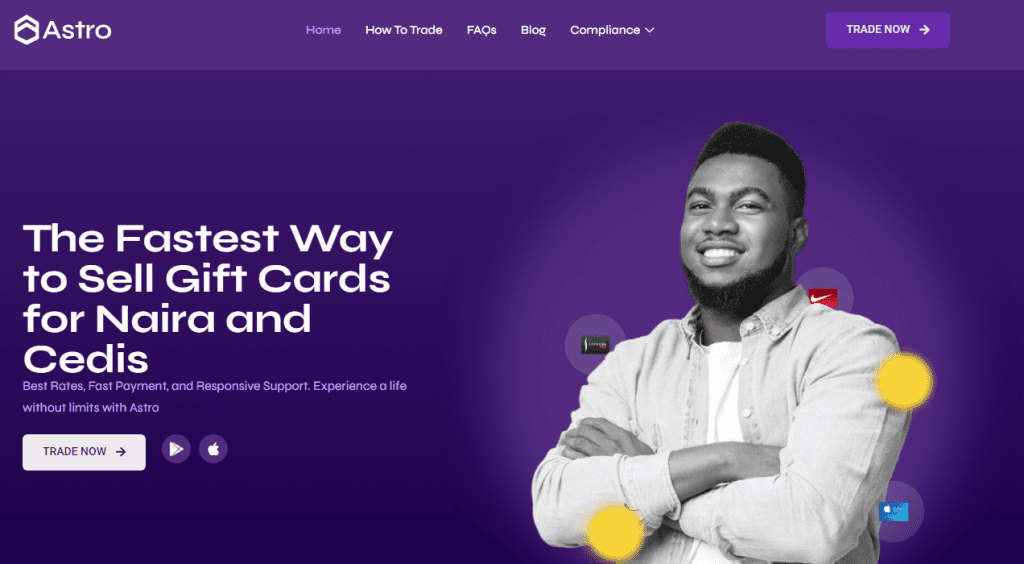 Exchanging Amazon Gift Card for Bitcoin
Astro Africa has made it incredibly easy to exchange your Amazon gift cards for Bitcoin. If you have a gift card that you don't plan on using or would rather have Bitcoin, then Astro Africa is the platform for you. To trade your Amazon gift card for Bitcoin on Astro Africa, the process is quick and easy.
First, you need to create an account and verify your details. Once you've logged in, go to the trade section and select 'Amazon' as the type of gift card you want to trade. You'll then need to select the category and input the USD value of your gift card.
Next, proceed to trade your Amazon gift card by supplying the gift card details and uploading a picture of the card. It's important to ensure that the details are accurate and that the picture is clear and legible to avoid any delays in processing your transaction.
Once you've supplied the necessary information, click 'Submit' to confirm the transaction. After the gift card has been confirmed, you will be credited to your Astro Africa wallet.
To withdraw your funds as Bitcoin, go back to your dashboard and click the wallet section. Select withdrawal and choose Bitcoin as your preferred payout method. You will then be prompted to submit your Bitcoin wallet address. Make sure to double-check your address to avoid any errors that could result in a loss of funds. Once you've submitted your wallet address, click submit to finalize the transaction.
It's important to note that withdrawals on Astro Africa are processed instantly, so you can expect to receive your Bitcoin funds in your wallet shortly after submitting the withdrawal request. By following these simple steps, you can easily trade your Amazon gift card for Bitcoin on Astro Africa.
Amazon Gift Card for Bitcoin – Amazon Gift Card for Bitcoin – Amazon Gift Card for Bitcoin