Sell Apple Gift Card for Bitcoin: Apple Gift Cards are prepaid cards issued by Apple Inc. that can be used to purchase products and services from Apple stores, iTunes, and the App Store. They come in physical and electronic formats and are available in various denominations.
Here are some of the key features of Apple Gift Cards:
Versatility: Apple Gift Cards can be used to purchase a wide range of products and services, including Apple accessories, and digital content.
Convenience: Apple Gift Cards can be purchased and redeemed online or in-store, making them a convenient and flexible option for users.
Customization: Apple Gift Cards can be customized with a personal message and design, making them an excellent gift option for birthdays or other special occasions.
No Expiration Date: Apple Gift Cards do not have an expiration date, so you can use them anytime you like.
Security: Apple Gift Cards are secure, and users can protect their card information by registering their card on the Apple website.
Easy to Redeem: To redeem an Apple Gift Card, simply enter the code on the card during checkout when making a purchase online, or present the physical card at the Apple store.
One of the emerging trends in the gift card market is the use of bitcoin as a means of exchange. There are several reasons why people sell their Apple gift cards for bitcoin. One reason is that bitcoin provides a more secure and private means of exchanging value compared to traditional methods such as cash or bank transfers. Bitcoin transactions are also faster and cheaper, making it an attractive option for people who want to sell their gift cards quickly and with minimal fees. Also, some people may prefer to receive bitcoin as payment because they believe in the long-term growth potential of the cryptocurrency.
On Astro Africa, users can trade various types of gift cards, including Apple gift cards, for bitcoin in Nigeria and Ghana. Astro Africa has been recognized as the best platform for trading gift cards due to its exceptional rates, prompt payout, and user-friendly interface.
Sell Apple Gift Card for Bitcoin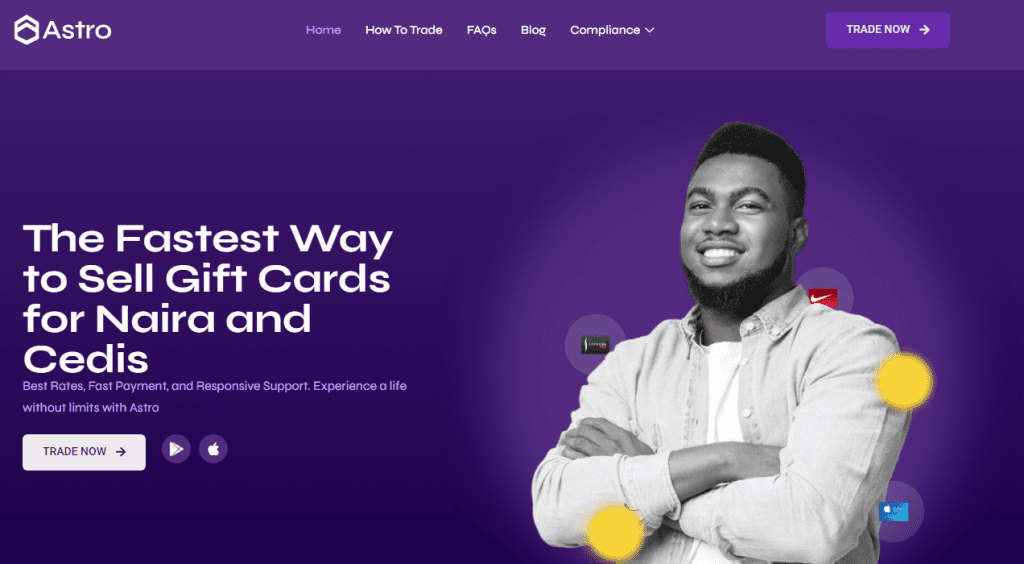 How to Convert Apple Gift Card to Bitcoin
Astro Africa has made it very easy to convert your Apple gift card to Bitcoin.
The first step is to create an account and verify your details. This will allow you to access all the features on the platform, including trading gift cards for bitcoin.
After completing your registration and verification, log in to your dashboard and navigate to the trade section. You'll see a list of available gift card categories to choose from.
Select the category of the gift card you wish to trade, in this case, Apple gift card. Input the USD value of the gift card to see the current rate, which will be displayed by the rate calculator.
Once you've selected the gift card category and provided the USD value, you can proceed to trade your gift card. Provide the gift card details, including the card number, pin, and upload a clear picture of the gift card. Ensure that all details are correct before clicking the submit button to confirm the transaction.
Once you've submitted the gift card details, wait for the platform to verify and confirm the transaction. Once confirmed, you'll be credited to your Astro Africa wallet, where you can access your funds.
After receiving the funds in your Astro Africa wallet, go back to your dashboard and select the wallet section. Click on the withdrawal option and choose Bitcoin as your preferred payout method.
Submit your Bitcoin wallet address, which will be used to send the Bitcoin to you. Ensure that the Bitcoin wallet address is correct and accurate before submitting the transaction.
Once you've submitted the transaction, you'll receive a confirmation that your Bitcoin payout request has been processed. Wait for the funds to arrive in your Bitcoin wallet, which should take only a few minutes.
Astro Africa offers competitive exchange rates for Apple gift cards, and the transaction process is quick and seamless.
Sell Apple Gift Card for Bitcoin – Sell Apple Gift Card for Bitcoin – Sell Apple Gift Card for Bitcoin