Buy Cryptocurrency With Gift Cards: If you have been wondering where and how to buy cryptocurrency with gift cards in Ghana, then look no further than Astro Africa. Astro Africa is a top-tier gift card trading platform that allows its users to trade gift cards for various commodities such as cash and cryptocurrency, it also allows users to directly pay utility bills on the platform.
Astro Africa Mobile App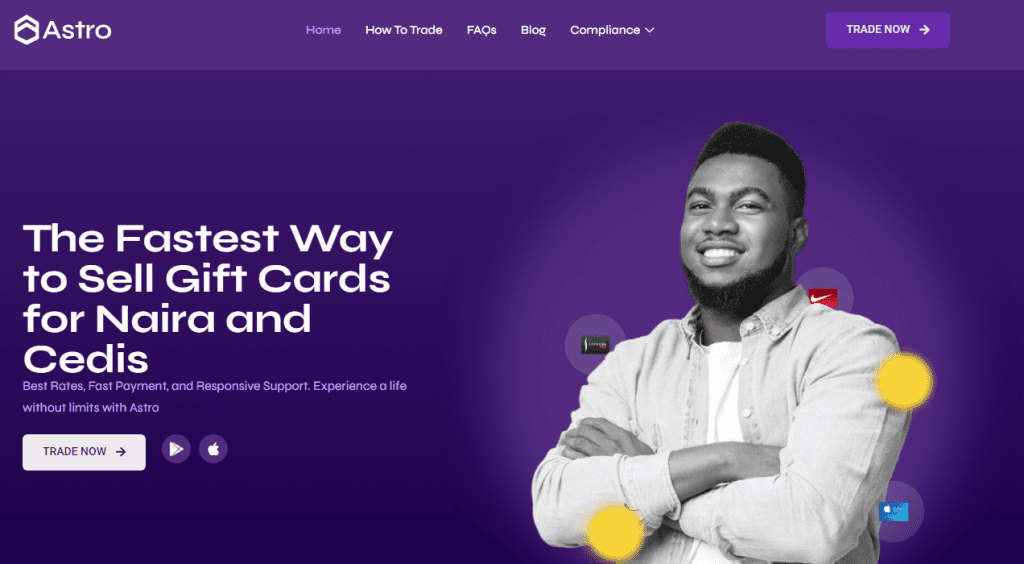 The Astro Africa mobile app can be easily downloaded on Google Play Store, you can also access this service through the website. Astro Africa mobile apps have received positive feedback from users over the years thanks to the simple and intuitive design of the app interface and user journey map. You simply have to create an account with your preferred email and password to use our service. There will be a proper breakdown of how to trade your gift card for cryptocurrency in the latter section of this article, but first, here are the expected benefits of trading your gift card on Astro Africa's mobile app;
Best Rates In The Market: Astro Africa offers one of the most profitable exchange rates to its customers. There are lots of factors that contribute to the prevailing exchange rate offered for various gift cards like the foreign exchange rate, the popularity of gift cards and so on, these factors tend to have both negative and positive impacts on the rate offered for a given gift card, Astro Africa has however put mechanisms in place to ensure the best rates are offered to customers. You can check the current exchange rate for all tradeable gift cards using the rate calculator feature.
Easy-to-navigate Platform: As stated earlier, Astro Africa's mobile app is designed with an amazing User Interface and User Experience design practice, you can seamlessly trade your gift card even if it's your first time on the app. With more than a thousand downloads on Google Play Store and a 4.1-star review, Astro Africa mobile app is the appropriate destination for ease and comfort.
Fast Transaction Time: It takes around 10 to 15 minutes to complete the entire stage of gift card trading including funds withdrawal when you use the Astro Africa mobile app or website. With a properly labelled User dashboard, you can easily see what to do and the next step to take in the gift card trading process and thanks to our fast verification process you can get your funds for your gift card trade in your account dashboard within 5 minutes. It doesn't matter if you are trading for cash, or cryptocurrency or you are paying utility bills, you will always experience a smooth and quick session.
Payment Alternatives: You have various payment alternatives on Astro Africa, you can receive payment in local currency (naira and cedi) and cryptocurrencies, and you can also choose to directly pay utility bills, such as recharge cards, Data subscriptions, Electricity bills and so on, these options are all available on both the mobile app and website.
In summary, Astro Africa is an ideal platform with the proper mobile app to provide all the gift card trading services expected by most gift card traders. You can download the mobile by clicking the Google Play icon on the website or by searching for the app on Google Play Store.
How To Sell Your Sephora Gift Cards For Ethereum
Before you start selling gift cards on Astro Africa, add a bank account or crypto wallet.
Click on add account/momo on the interface to add a crypto wallet. This step helps facilitate the withdrawal of funds after transactions.
Input your wallet details or bank account details.
After inputting the details, they will be saved to your Astro Africa Profile, and you can select the account you want to be credited to for your withdrawals. You can also add as many crypto wallets or bank accounts as you want. When trading for a particular cryptocurrency, make sure the crypto address coincides with the crypto you want to receive.
Click on sell gift cards. All the icons of the gift cards available on Astro Africa will be displayed.
Select Sephora gift cards.
Select a wallet to credit, which is your crypto wallet in this case.
Select the subcategory of Sephora gift cards.
Input the Amount of your gift card.
Click on submit.
Astro Africa will proceed to verify the transaction of your trade and credit your crypto wallet.
Also read: The Best App To Sell $100 OneVanilla Gift Card In Ghana – Buy Cryptocurrency With Gift Cards