Selling Your Unused Gift Cards: Gift cards are a popular way to give gifts for special occasions, but many of them go unused, wasting the value that they represent. However, there is a growing trend of selling unused gift cards for Bitcoin, which offers several benefits for the seller. Here are a few benefits of selling gift cards for bitcoin:
Selling Your Unused Gift Cards
Selling your unused gift cards for Bitcoin provides an opportunity to convert a physical, non-liquid asset into a digital, liquid asset. Bitcoin is a decentralized digital currency that can be used to purchase goods and services online, as well as exchanged for other cryptocurrencies or fiat currencies. By selling your gift card for Bitcoin, you can unlock the value of the card without having to spend it on something you don't want or need.

Redeeming your gift cards for Bitcoin can provide an opportunity to earn a profit. The value of Bitcoin is highly volatile, which means that its price can fluctuate rapidly and dramatically. This can work in your favor if you sell your gift card for Bitcoin when its value is low and then exchange it back for fiat currency when the price rises.

Trading gift cards for Bitcoin can also provide a sense of security and privacy. Bitcoin transactions are anonymous, meaning that your personal information is not tied to the transaction, which can help protect your privacy.
If you have unused gift cards lying around, it may be worth considering selling them for Bitcoin to unlock their full potential. With the emergence of gift card exchanges, converting gift cards into cryptocurrencies such as Bitcoin has never been easier. Astro Africa is a reputable gift card exchange in Nigeria and Ghana that provides a secure and efficient way for users to sell gift cards for cryptocurrencies like Bitcoin.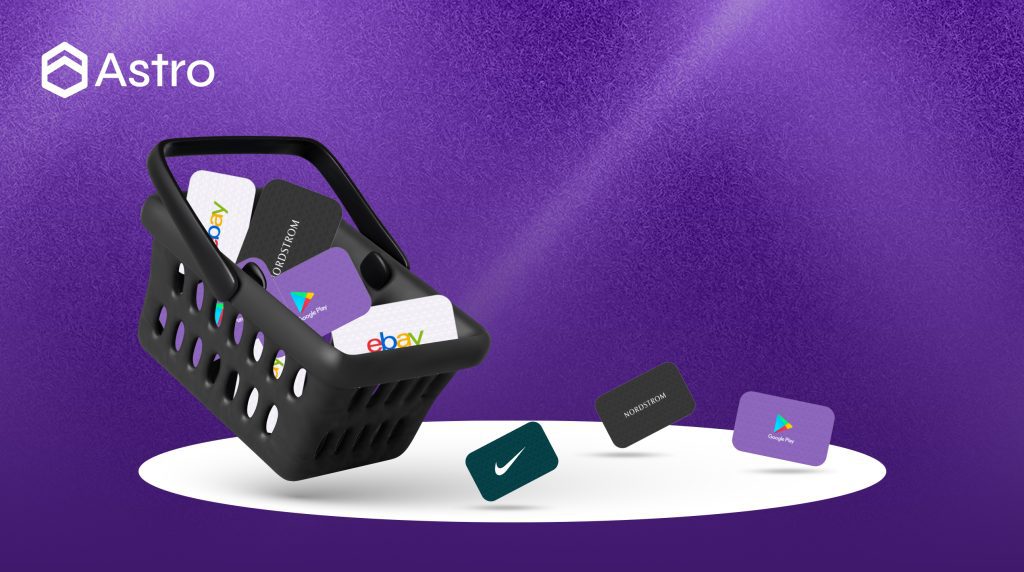 How to Trade Gift Cards for Bitcoin on Astro Africa
Trading gift cards for bitcoin on Astro Africa is a hassle-free and effortless process. To begin, simply follow these easy steps:
Step 1: Create an Account and Verify Your Details
The first step is to create an account on Astro Africa. You can do this by visiting the website and clicking on the "Register" button. Fill in your details, including your name, email address, and phone number. Once you have registered, you will need to verify your email address.
Step 2: Login to Your Dashboard
Once you have verified your details, log in to your dashboard on Astro Africa. You will be taken to the homepage where you can see different sections. To trade gift cards, click on the "Trade" section.
Step 3: Choose the Type of Gift Card You Want to Trade
In the trade section, you can choose the type of gift card you want to trade. Astro Africa accepts a wide range of gift cards, including iTunes, Amazon, eBay, Steam, Nordstrom, Sephora, Google Play, and more. Select the type of gift card you have.
Step 4: Select the Category
After selecting the type of gift card, you will need to select the category it falls under. Input the USD value of the gift card, which you can find on the back of the card.
Step 5: Check the Current Rate
Once you have inputted the USD value, the rate calculator would automatically display the current rate. This is the rate at which Astro Africa would be willing to buy the gift card from you.
Step 6: Supply the Gift Card Details
If you are happy with the rate, you can proceed to trade your gift card. Supply the gift card details, including the card number, PIN, and any other relevant information. You will also need to upload a picture of the gift card as proof of ownership.
Step 7: Submit to Confirm the Transaction
Once you have supplied the necessary details and uploaded the picture of the gift card, click "Submit" to confirm the transaction. You will then need to wait for Astro Africa to confirm the gift card. Once the gift card has been confirmed, you would be credited to your Astro Africa Wallet. You can access your wallet by going back to your dashboard and clicking on the "Wallet" section.
Step 8: Choose Bitcoin as Your Preferred Payout Method
In the wallet section, you can select "Withdrawal" and choose bitcoin as your preferred payout method. This is one of the quickest ways to receive your funds.
Step 9: Submit Your Bitcoin Wallet to Finalize the Transaction.
Once you have submitted your Bitcoin wallet address, wait for your funds to arrive in your wallet. Withdrawals on Astro Africa are processed instantly, so you should receive your funds within a few minutes.
Trading gift cards on Astro Africa is a straightforward process. Whether you are looking to make a profit or simply want to turn your gift cards into a digital asset, Astro Africa is the best place to do so in Nigeria and Ghana.
Selling Your Unused Gift Cards – Selling Your Unused Gift Cards