iTunes Gift Card For Bitcoin: iTunes gift card is one of the most popular gift cards out there, this is mainly because of the Apple Eco-system where everything from, Banking, Gaming, Work, and Entertainment is connected one way or the other and iTunes gift card is a payment option for this ecosystem. Apart from being a payment option for Apple digital products, you can also trade them for cryptocurrencies like Bitcoin.
iTunes Gift Card For Bitcoin
To trade your iTunes gift card for Bitcoin, you need an exchange platform like ours – Astro Africa. When it comes to gift card trading services, Astro Africa is one of the Top Dawg in the system, we have been tested and trusted by thousands of customers over the years, and this is mainly because of the quality of service we render.
Astro Africa's Qualities:
When you use the Astro Africa mobile app or website, the entire stage of gift card trading, including funds withdrawal, takes about 10 to 15 minutes. With a properly labelled User dashboard, you can easily see what to do and the next step to take in the gift card trading process and thanks to our fast verification process you can get your funds for your gift card trade in your account dashboard within 5 minutes. You will always have a smooth and quick session whether you are trading for cash, cryptocurrency, or paying utility bills.
The exchange rate provided by the platform you choose is one factor that significantly influences the effectiveness of your gift card trading experience. Astro Africa provides the most competitive exchange rates for diverse gift cards sellable on the platform. When you trade with Astro Africa, you get the greatest bargain for your gift card. To confirm the present exchange rate for gift cards, just use the rate calculator feature.
Payment Options: On Astro Africa, you can receive payment in local currency (naira and cedi) and cryptocurrencies or, you can directly pay utility bills such as recharge cards, data subscriptions, electricity bills, and so on. All of these options are available on both the mobile app and the website.
The primary pillar of dependability is security. To keep fraudsters and hackers at bay, a brand that promotes itself as reputable must have robust cybersecurity systems in place. One of the features included with Astro Africa is this. No trade on Astro Africa can be meddled with because impenetrable firewalls have been installed to keep the platform secure at all times. Moreover, you can be comfortable knowing that no one will gain possession of your private data or financial information.
24/7 Customer Support System: We understand that no matter how good or satisfying our services are, it is not complete without an appropriate channel of communication between us and our customers. As a customer or prospective customer, you can contact our support team anytime to lodge a complaint or make enquiries about our services, and customer support will get back to you in no time.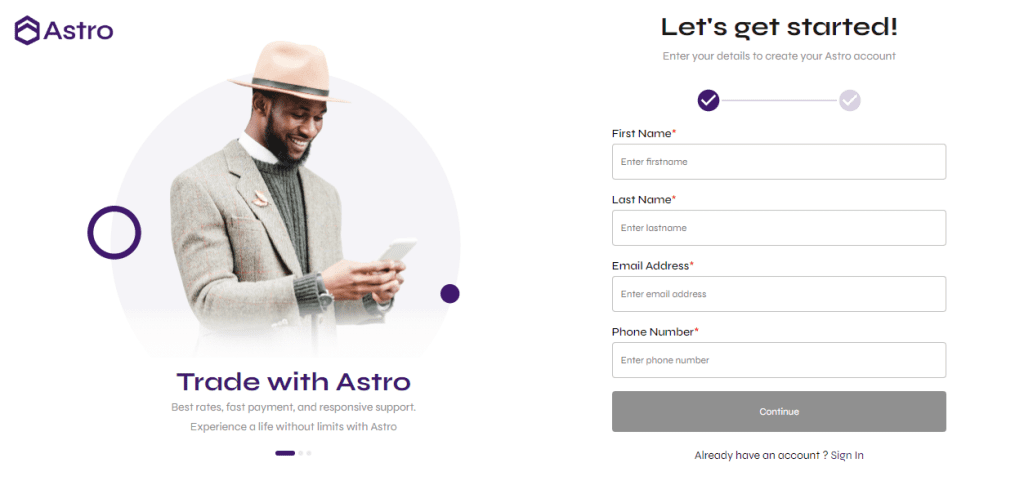 How To Sell Your iTunes Gift Cards For Bitcoin
Before you start selling gift cards on Astro Africa, add a bank account or crypto wallet.
Click on add account/momo on the interface to add a crypto wallet. This step helps facilitate the withdrawal of funds after transactions.
Input your wallet details or bank account details.
After inputting the details, they will be saved to your Astro Africa Profile, and you can select the account you want to be credited to for your withdrawals. You can also add as many crypto wallets or bank accounts as you want. When trading for a particular cryptocurrency, make sure the crypto address coincides with the crypto you want to receive.
Click on sell gift cards. All the icons of the gift cards available on Astro Africa will be displayed.
Select iTunes gift cards.
Select a wallet to credit, which is your crypto wallet in this case.
Select the subcategory of iTunes gift cards.
Input the Amount of your gift card.
Click on submit.
Astro Africa will proceed to verify the transaction of your trade and credit your crypto wallet.
Also Read : Trade Gift Card For Cryptocurrency – iTunes Gift Card For Bitcoin