Trade Digital Gift Cards: The recent development in our service now allows us to trade gift cards not only for cash in Naira and Cedi but also in cryptocurrencies. All tradeable gift cards on Astro Africa can now be sold for cryptocurrencies such as Bitcoin, Ethereum and some stable coins.
If you are familiar with our trading process, note that the process for trading for cryptocurrency is the same as that of local currency, in this case, you simply have to provide your cryptocurrency wallet address instead of your bank account. Note, the cryptocurrency wallet address you provide should be similar to the type of cryptocurrency you want to receive, if you want to trade your digital gift card for Bitcoin, you should provide a Bitcoin address and if it is for Ethereum you should provide an Ethereum wallet address.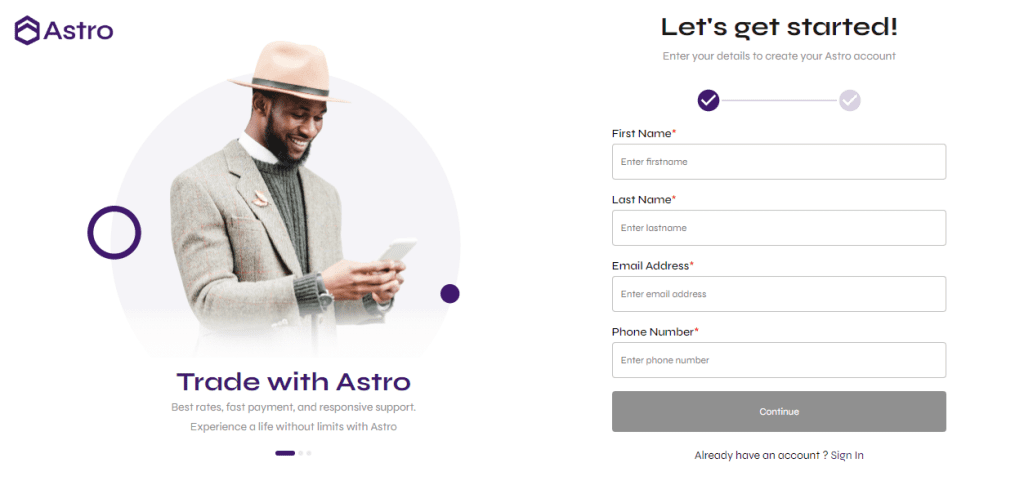 Follow the steps below to trade your digital gift card for cryptocurrency;
Before you start selling gift cards on Astro Africa, add your crypto wallet.
Click on add account/momo on the interface to add a crypto wallet. This step helps facilitate the withdrawal of funds after transactions.
Input your wallet details.
After inputting the details, it will be saved to your Astro Africa Profile, and you can select the account you want to be credited to for your withdrawals. You can also add as many crypto wallets or bank accounts as you want. When trading for a particular cryptocurrency, make sure the crypto address coincides with the crypto you want to receive.
Click on sell gift cards. All the icons of the gift cards available on Astro Africa will be displayed.
Select the type of gift card you want to trade.
Select a wallet to credit, which is your crypto wallet in this case.
Select the subcategory of the chosen gift card.
Input the Amount of your gift card.
Click on submit.
Astro Africa will proceed to verify the transaction of your trade and credit your crypto wallet.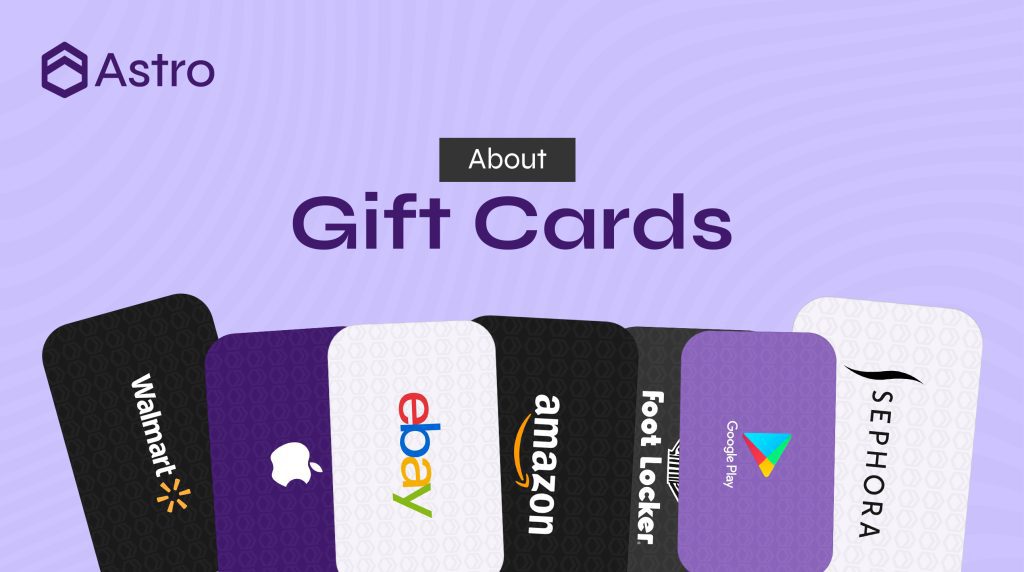 Refer to, Apps To Buy Cryptocurrency With Gift Cards In Ghana, on more about the gift card to cryptocurrency exchange.
About Digital Gift Card
A digital gift card is an electronic version of a traditional gift card, typically issued by retailers or other businesses. Unlike physical gift cards, which are made of plastic or paper and are often sold in stores, digital gift cards are purchased online and delivered electronically to the recipient.
Digital gift cards can be sent through email, text message, or other digital means. The recipient can then use the gift card to make purchases online or in-store, depending on the retailer's policies. Digital gift cards are typically available in various denominations and can be used multiple times until the balance is depleted.
One advantage of digital gift cards is that they can be delivered instantly, making them a convenient last-minute gift option. They also eliminate the need for physical cards, which can be lost, stolen, or damaged.
Overall, digital gift cards offer a flexible and convenient way to give gifts and make purchases, particularly in the increasingly digital world we live in.
Merits of Digital Gift Cards
Convenience: Digital gift cards can be purchased and sent instantly, often through email or text message, making them a quick and convenient gift option.
Accessibility: Digital gift cards can be accessed and redeemed through a smartphone, tablet, or computer, making them easy to use for people of all ages and abilities.
Security: Digital gift cards are typically more secure than physical gift cards because they can't be lost or stolen in the mail. They are also less likely to be fraudulently used because they can be linked to a specific email address or phone number.
Customization: Digital gift cards can be personalized with a message or special design, making them a thoughtful and unique gift option.
Sustainability: Digital gift cards don't require the use of paper or plastic, making them a more environmentally friendly gift option.
Overall, digital gift cards offer a convenient, secure, and customizable way to give gifts that can be accessed and redeemed easily from anywhere.
Trade Digital Gift Cards