How to Gift Airtime on MTN: Giving airtime as a gift has become a way of showing kindness and appreciation in Nigeria. Airtime is a form of prepaid mobile credit that allows people to make calls, send text messages, or use data on their mobile devices.
How to Gift Airtime on MTN
By giving someone airtime, you are simply providing them with a means of communication and connection. MTN offers various ways to share airtime with family and friends, which includes the use of USSD, SMS, and MTN mobile app. In this article, we will discuss these methods in detail.
USSD: The USSD method is a quick and easy way to transfer airtime on MTN. All you have to do is dial *321*Recipient's Number*Amount*PIN# on your phone and click on send/press OK. For instance, if you want to transfer N1000 to 00001234567 with a PIN of 1234, you can dial *321*00001234567*1000*1234# and send/OK. Once the transfer is completed, you will receive a message confirming the transaction.

SMS: Another method of gifting airtime on MTN is through SMS. To use this feature, open your message box and type Transfer, Recipient's Number, Amount, and PIN to 777. For example, if you want to transfer airtime to 00001234567 with a value of N1000 and a PIN of 1234, you can send an SMS with 'Transfer 00001234567 1000 1234' to 777. You will receive an SMS asking you to confirm the transaction by sending an SMS with 'YES' to 777.

MTN Mobile App: Sharing airtime using the MTN App is also very easy. All you need to do is download the MTN App from the Google Playstore or App store. Once you sign up and login, scroll down to "Quick Access" and click on "Share Airtime". Enter the phone number of the person you want to share airtime credit with, your Share Pin, and the amount. Confirm the transaction and click proceed to send.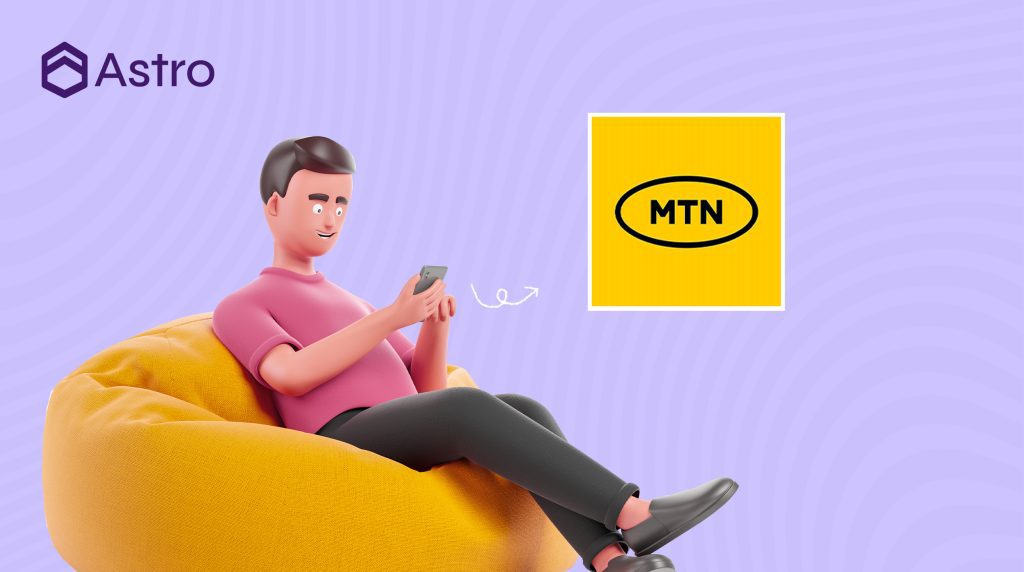 Best Way to Gift Airtime on MTN
Astro Africa is a reliable platform for purchasing airtime, whether for personal use or for a friend. With our user-friendly interface, we provide an easy-to-use service that makes buying airtime a breeze. Also, users can take advantage of promotions and discounts that allow them to save money while getting the airtime they need.
Whether you need airtime for making calls, sending messages, or browsing the internet, Astro Africa has got you covered. Buying airtime for a friend on Astro Africa is a seamless and quick process that can be done in a matter of minutes.
Sign up on Astro Africa either via the web or by downloading 'Astro Africa' mobile app.
Log in to your dashboard on Astro Africa and select the "Buy Airtime" option from the menu.
Choose MTN as the service provider and enter the amount of airtime you want to purchase and your friend's phone number.
Click "Proceed" to proceed to the payment page.
Check the details of the purchase and make sure they are correct.
If you have funds in your Astro Africa wallet, proceed to pay. If not, select the "Fund Account" option from the dashboard and follow the prompts to add funds.
Complete the payment process.
Your friend's line will be recharged with the purchased airtime instantly.
How to Gift Airtime on MTN – How to Gift Airtime on MTN