How to Purchase Data on MTN: In today's digital age, having access to data is essential, and MTN Nigeria offers various options for purchasing data bundles to suit different needs and budgets. In this article, we will explore the different ways to buy data on MTN, including through USSD codes, the MyMTN app, and online data vendors.
USSD Method:
Dial *131# from your MTN line.
Select the option for "Data Plans" from the menu.
Choose the type of data plan you want to purchase. For example, you can select "Daily Plans," "Weekly Plans," "Monthly Plans," "Quarterly Plans," or "Yearly Plans."
Select the specific data bundle that you want to purchase. Each data plan has different data allocation, price, and validity period, so choose the one that fits your needs.
Confirm your selection and wait for a confirmation message from MTN.
MyMTN App:
Download MyMTN App from your app store and register your MTN phone number on the app.
On the app, click on data subscriptions. You'll find all available data subscription plans from one day plan to yearly plan.
Select the plan you want to purchase and proceed with the transaction.
Online Data Vendors:
Buying data from online data vendors is a quick way to purchase data bundles for your MTN line. With just a few clicks, you can select the data plan you want to purchase. However, it's important to be careful when patronizing online data vendors as there are many scams out there. Make sure to choose a reputable vendor, read reviews and feedback from other customers, and check that the website is secure before entering your payment details.
Astro Africa:
Astro Africa has emerged as the best platform to buy airtime in Nigeria due to its affordable prices and excellent service. With Astro Africa, users can easily top-up their mobile phones with airtime for all major Nigerian telecommunication networks, including MTN, Airtel, Glo, and 9mobile. Astro Africa's prices are competitive and significantly cheaper than buying airtime directly from the telecom companies. Moreover, users can save even more money by taking advantage of Astro Africa's frequent promotions and special deals. Astro Africa's is user-friendly and reliable, making it easy for users to buy airtime or data at any time of the day.
How to Purchase Data on MTN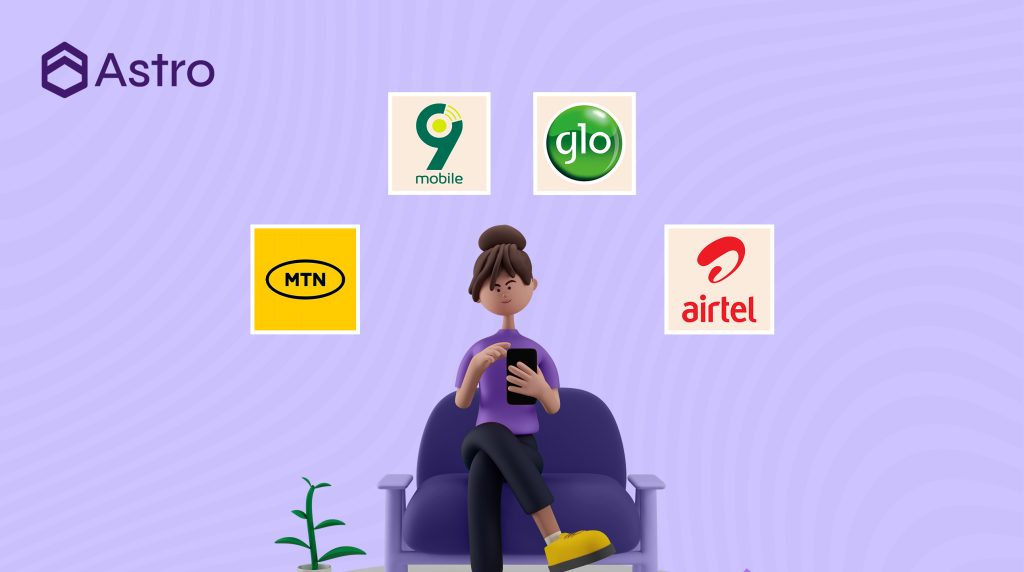 When it comes to purchasing data, there are a few important factors to consider. Firstly, you need to know your preference in terms of data usage. Do you use a lot of data for streaming, browsing or social media? Or do you only use data occasionally for basic internet use? This will help you to choose the right data bundle that meets your needs. Also, you need to consider your budget. Data bundles come in different prices, so it's important to choose one that fits within your budget. This will help you to avoid overspending or running out of data before the bundle expires.
Considering the duration of the data bundle is equally important. Do you need data for a short period or do you want it to last for a longer duration? This will determine the type of bundle you choose, as some bundles have a shorter validity period than others. By taking these factors into consideration, you can choose the right data bundle that meets your needs.
How to Buy Data for a Friend on MTN
In some cases, you may want to buy data for a friend or loved one on MTN Nigeria. This could be because they are unable to purchase the data themselves, or as a gift to show your appreciation for them.
Astro Africa is a versatile platform that allows users to purchase airtime, data bundles, and pay bills for various services in Nigeria. One of the unique features of Astro Africa is that it allows users to buy data for others, making it easier for individuals to share data with their friends and family. To buy data for others on Astro Africa:
Sign up on Astro Africa via the web or download Astro mobile app.
Login to your dashboard and go to the bills section. Select 'buy data.'
Choose MTN as your service provider.
Choose the amount of data you want to buy, input your friend's number and click proceed.
Your data bundle will be processed instantly.
With Astro Africa's data gifting feature, sharing data with friends and family has never been easier. – How to Purchase Data on MTN
How to Purchase Data on MTN