pay utility bills using Astro: With Nigeria at the forefront of technology advancements in Africa, easier solutions to utility bill payments have been created. So, the answer is yes! You can pay your bills through third-party apps in Nigeria. This means you no longer need to leave the comfort of your homes to pay DSTV subscription, GOTV subscription, and electricity bills at friendly rates. 
pay utility bills using Astro
For this reason, payment solutions have been integrated into several apps to help users pay bills without stress. Of the plenty, the best app to pay your Nigeria is Astro Africa. Astro Africa was always known as a gift card and crypto exchange platform. However, once the creators discovered that there was a gap in the bill payment industry, they decided to fill it by incorporating the utility feature in the Astro Africa platform. In this article, you will learn about this feature and how to pay your utility bills in minutes.
What is the Astro Africa Utilities feature?
Astro Africa is the platform for you if you're looking for a platform to pay your bills without any stress. The Astro Africa utility feature allows you to pay for electricity bills, satellite TV subscriptions, airtime, and data subscriptions.
The processes involved are seamless and don't require you to be tech-savvy. You can be anywhere in Nigeria, and by simply logging into the app, you can pay your bills on the go. The most interesting thing about Astro Africa is the transaction is fast. Immediately after you purchase, your subscriptions will be paid for, and you can start enjoying the services. 
Since you can have a Bitcoin or USD wallet on Astro Africa, your payments can be made from those wallets at a cheaper rate. This feature helps you to have a myriad of options to choose from whenever you want to pay your bills.
It is not news that the naira is greatly devalued compared to the dollar because of the exchange market. Hence, if you keep your money in USD instead of naira on Astro Africa and pay your bills with it, you'll always enjoy little profits now and then whenever the value of the naira drops. In the same vein, when you pay bills using USD, you will enjoy considerable profits from the high exchange rates on Astro Africa since bills are paid in Naira in Nigeria. 
Astro Africa aims to ensure that this bill payment feature makes life easier for every Nigerian by becoming a lifestyle application.
How to pay utility bills using Astro Africa 
pay utility bills using Astro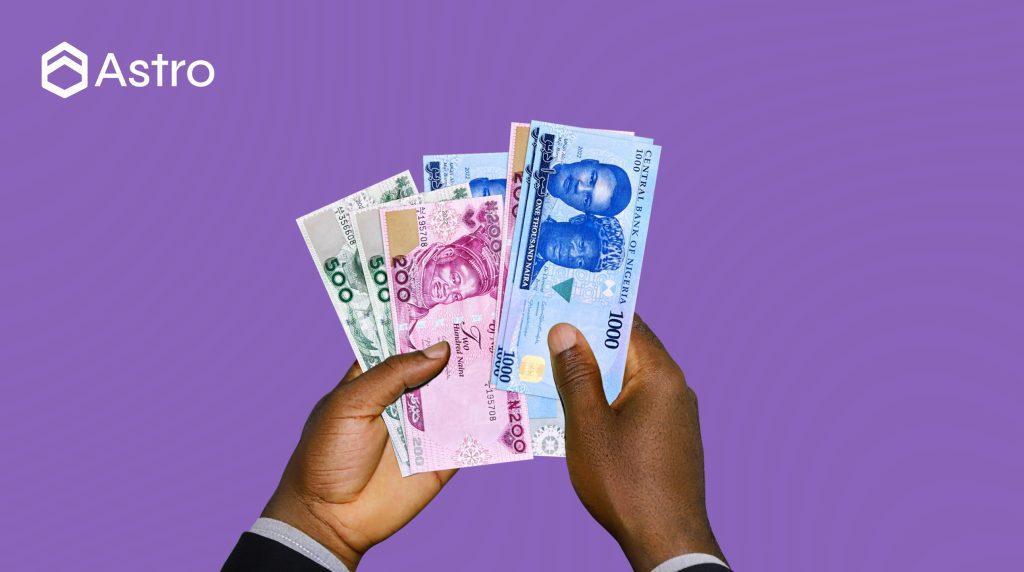 Astro Africa is user-friendly due to its intuitive user interface. Hence, paying bills on the platform is as easy as ABC. All you have to do is create an account, and you can start paying bills on Astro Africa without stress.
Create an account on Astro Africa
Visit the Astro Africa website or download the mobile app from Google Playstore or App Store so that you can always pay your utility bills on the go.
Click on trade now.
Enter your first and last names.
Enter your email address and phone number.
Select "Nigeria" as a country.
Enter your username and password.
Enter the referral code if you were referred so that your referred can get paid after you perform at least one transaction.
Agree to Astro Africa's terms of use and privacy policy.
Click on create an account. Immediately you click "create account", your details will be examined, and a 6-digit one-time password will be sent to your email for verification. Input the code to complete your registration process.
Pay bills on Astro Africa
Now that you're registered, you can carry out any transaction on Astro Africa, but since we are here for bill payments, here are the steps.
Log into your account using your email and password.
On your dashboard, select the Navigation button at the top left corner and select bills.
Select the bill you are making payment for. It could be Cable subscriptions, airtime, data, or electricity bills.
Select the subcategory you're making payments for. For electricity, Astro Africa supports IKEDC, IBEDC, AEDC, and several electricity distribution companies in Nigeria. All you have to do is choose the one that pertains to your locality. For example, IKEDC supplies some of the largest areas in Nigeria, including Oyo, Ogun, Osun, Kwara, and some parts of Niger, Ekiti, and Kogi States. Hence, if you live in these areas, select IKEDC.
Select your plan.
Input the amount and click proceed to complete your transaction.
Your payment will be verified, and your bills will be paid immediately.
Other features of Astro Africa
Apart from bill payments, you can sell gift cards for naira, cedis, and crypto, convert Bitcoin to naira at the best rates and get paid immediately.