$100 Vanilla Gift Cards: Gift cards were created to make payment easier. With a gift card, you can purchase items from the company and retail stores that accept them. There are two types of gift cards, open-loop gift cards and closed-loop gift cards.
Closed-loop gift cards are gift cards distributed by retail companies and can only be used to purchase gift items from them. A perfect example of a closed-loop gift card is the Apple Store gift card. The Apple Store gift card can only buy Apple products online and offline. If you take an Apple Store gift card to Walmart to make purchases, it would be rejected because only Walmart gift cards can be used in Walmart.
On the other hand, open-loop gift cards can be used to make purchases in any store. They are distributed mainly by finance companies. A perfect example is the Vanilla gift card. With a Vanilla gift card, the possibilities are endless as you use them to make purchases in any store. Vanilla gift cards are distributed by Visa. Hence, it is also called a Vanilla Visa or OneVanilla gift card.
In Nigeria and Ghana, Vanilla gift cards cannot be used to purchase in stores because stores don't accept them. The best way to spend your vanilla gift card in Nigeria and Ghana is to sell them for cash on an exchange platform and then use the proceeds to purchase items you want.
Sell Vanilla gift cards in Nigeria and Ghana – $100 Vanilla Gift Cards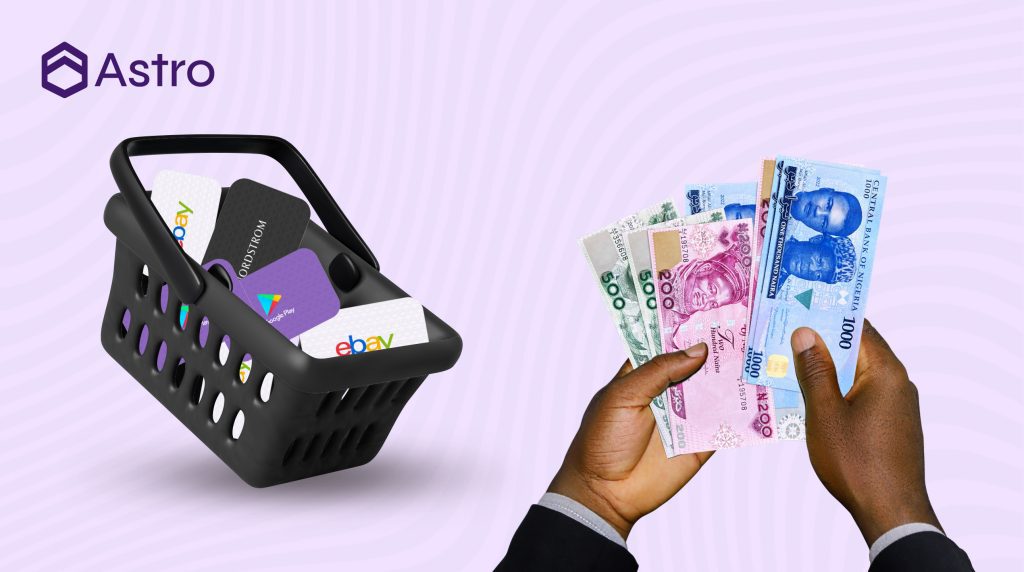 $100 Vanilla Gift Cards: The gift card industry in Nigeria and Ghana has been booming as more people are becoming aware of the sales of gift cards for naira and cedis. As a result, the scam rate by fraudulent exchange platforms has reduced as more people become aware of their tactics. In this vein, to successfully trade vanilla gift cards for cash, you need to find an exchange platform that gives the best rates.
The best gift card exchange platform in Nigeria and Ghana is Astro Africa. Astro Africa is a customer-based exchange platform that converts all gift cards to cash at the best rate. Astro Africa's most unique feature is its easy and intuitive interface that makes trading easy. With the way Astro Africa was built, anyone can finish a trade within two minutes. Navigation from page to page is directional and always swift as long as you have a good internet connection.
With Astro Africa, your gift cards are safe and secured because our security firewalls are impenetrable. Astro Africa employs the best security technology to help protect your assets and personal information from getting stolen. Now, when you trade on Astro Africa, you can do so knowing that your assets are 100% safe.
Astro Africa sells gift cards at the best rate. The rates of gift cards are volatile because of the exchange market. The price you sell your gift card today might not be the same tomorrow because it might have gotten higher or lower. Hence, you need the Astro Africa rates calculator to help you keep up with the fluctuating rates. So, if you have ever wondered about the price of your $100 Vanilla gift card in Nigeria and Ghana, this rates calculator is for you. With the rates calculator, you can make informed decisions about your gift cards and beat the odds. To use the calculator, follow the steps below.
Visit the Astro Africa website or download the mobile app.
Click on check rates.
Select currency.
Select card, Vanilla gift card.
Select the card category. There are different categories of vanilla gift cards on the Astro Africa rates calculator. Ensure to pick the right sub-category that matches your gift card to get accurate rates.
Input the amount of your gift card in USD.
The current exchange rate of your gift card will be displayed immediately after you input your card details. According to the rates calculator, the current price of a $100 Vanilla gift card in naira is 30,240 naira for a cash receipt and 25,920 naira for a debit receipt. The current price of a $100 Vanilla gift card in Cedis is 420 GHS for a cash receipt and 360 GHS for a debit receipt.
Click on Proceed to trade to sell gift cards immediately at the same rate.
Other features of Astro Africa include a sweet referral bonus, instant payment, responsive customer service, a wide array of gift cards, multiple payment options, including different cryptocurrencies, and cross-platform availability.
Read also: How to use Vanilla gift cards for purchases online.
$100 Vanilla Gift Cards – $100 Vanilla Gift Cards – $100 Vanilla Gift Cards