Choose the Right Gift Card Vendor: Gift card vendors are businesses or individuals who buy unused gift cards from people who don't need it. They may offer a percentage of the card's face value in exchange for the card, and then resell the card at a discounted price to consumers looking for a deal.
Choose the Right Gift Card Vendor
This can be a helpful service for people who have received a gift card for a store they don't like or won't be able to use, as it provides a way to recoup some of the value. However, not all gift card vendors operate in this way. There are numerous platforms that act as gift card vendors, allowing users to buy or sell gift cards. These platforms provide a convenient way to exchange gift cards for cash or cryptocurrency, making it easier for people to get the most value out of their gift cards.
When it comes to choosing the right gift card vendor, there are several factors to consider.
Rate: Firstly, it is important to check the rate offered by the vendor. Different vendors may offer different rates for the same gift card, so it's important to compare rates to ensure you are getting the best deal possible.
Payout speed: Some gift card vendors may take longer than others to process payments, so it's important to choose a vendor that provides fast payouts. This is important for individuals who rely on gift card sales as a source of income.
Customer support: This is another important consideration when selecting a gift card vendor. Look for a vendor that provides a responsive customer service team.
Type of gift card: Make sure the gift card vendor accepts the type of gift card you have. Not all vendors accept all types of gift cards, so it's important to check beforehand.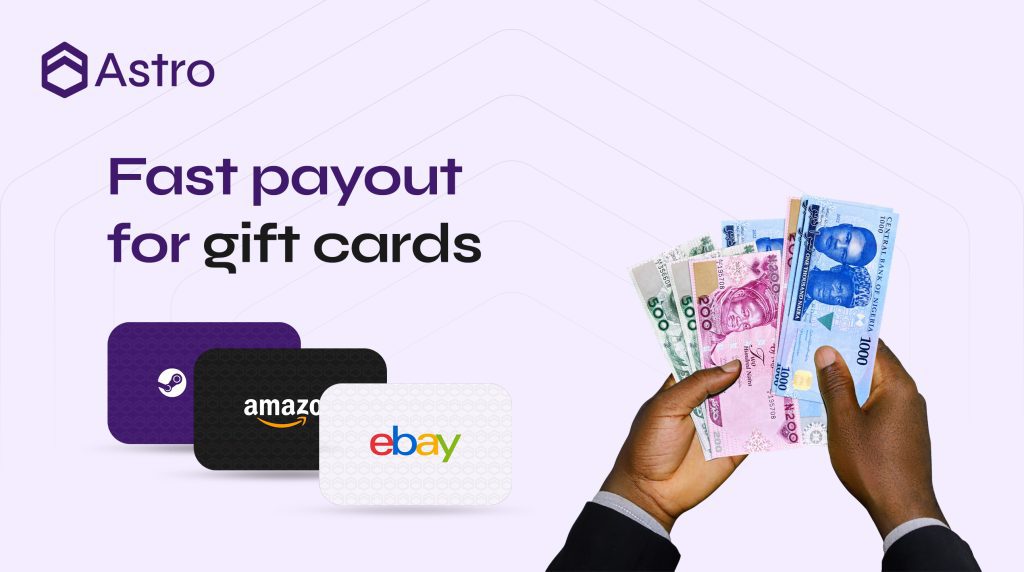 Astro Africa is a well-known gift card vendor that operates in Nigeria and Ghana. We have gained a reputation for being one of the most trusted vendors in the region, with a user-friendly platform that allows customers to easily buy or sell gift cards online.
Astro Africa accepts a wide range of gift cards from popular retailers, including Amazon, iTunes, eBay, Sephora, Steam, Nordstrom, Footlocker, Google Play, and many others.
Best Gift Card Vendor in Nigeria & Ghana
Astro Africa has established itself as the best gift card vendor in Nigeria and Ghana for several reasons such as offering the best gift card rates, super fast payout, multiple payout options and exceptional customer service.
It is incredibly easy to get started on Astro Africa. Simply follow these steps:
Create an account and complete the verification process.
Log in to your dashboard and navigate to the trade section.
Choose the type of gift card you want to trade and select the appropriate category for your gift card.
Input the value of your gift card, and the rate calculator will automatically display the equivalent value in Naira or Ghanaian Cedis.
Proceed to trade your gift card by entering the gift card details and uploading a picture of the gift card.
Click "Submit" to confirm the transaction. Once your gift card has been confirmed, the funds will be credited to your Astro Africa wallet.
Return to your dashboard and initiate a withdrawal. Submit your bank details and proceed with the withdrawal.
Trading gift cards on Astro Africa is an incredibly quick process that takes less than two minutes to complete. Astro Africa has been designed to simplify the trading process, ensuring that users can quickly convert their gift cards to cash without any hassle.
Summarily, when it comes to choosing the right gift card vendor, Astro Africa is undoubtedly one of the best options available.
Choose the Right Gift Card Vendor – Choose the Right Gift Card Vendor – Choose the Right Gift Card Vendor