Sell Google Play Gift Cards in 2023: Selling gift cards for cash is a common practice among people who have received gift cards that they don't plan on using or those who simply need some extra cash. There are several ways you can sell your gift cards if you don't plan on using them. Here are five different ways to sell Google Play gift cards:
Online Marketplaces: There are several online marketplaces where you can sell gift cards. These platforms allow you to create a listing for your gift card and set your asking price. Once a buyer purchases your card, you'll receive payment and can then mail the physical card or provide the e-code.
Gift Card Exchange Kiosks: Many shopping centers have kiosks that allow you to exchange your gift cards for cash or other gift cards.
Social Media Platforms: You can also sell your gift cards on social media platforms, such as Facebook Marketplace, Twitter, and Instagram. Simply create a post or tweet advertising your gift card and the asking price, and connect with potential buyers through private messages.
Local Classifieds: Another option is to sell your gift cards through local classifieds. This can be a good way to reach a local audience and avoid shipping costs, but be cautious of potential scammers and only meet in safe, public locations.
Astro Africa: Astro Africa has become a popular platform for selling Google gift cards for cash. With numerous positive reviews and customer testimonials online, many users have praised Astro Africa for fast and efficient service. We offer some of the best rates for Google Play gift cards, and we pride ourselves on providing reliable payments to our users.
Also read: Current Exchange Rate: Converting $100 Google Play Card to Naira
Sell Google Play Gift Cards in 2023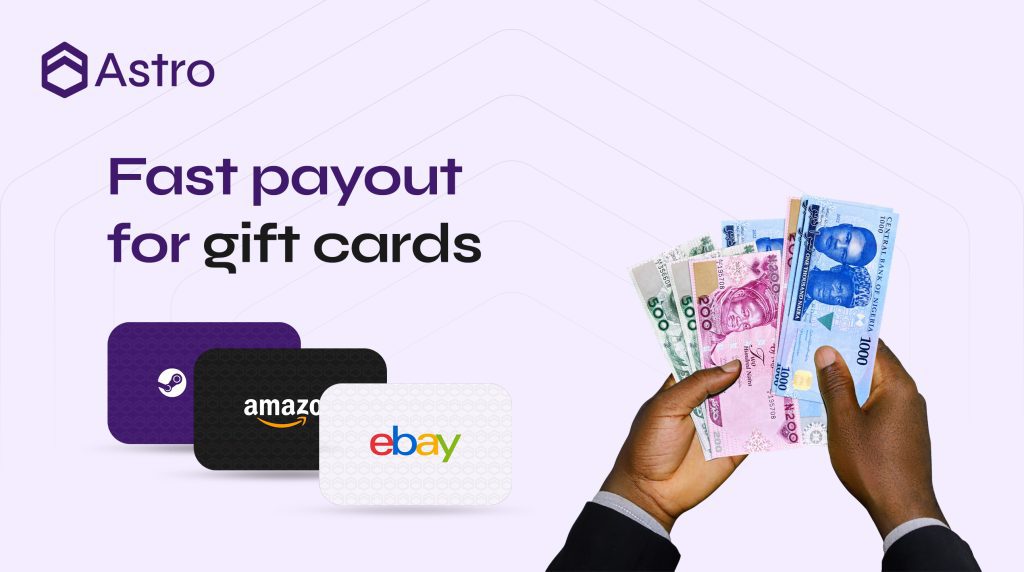 Selling Google Play Gift Cards for Cash Instantly
Astro Africa is a top choice when it comes to selling Google Play gift cards for cash and receiving your payment instantly. As a reputable and reliable gift card exchange platform in Africa, Astro Africa offers some of the best rates for gift cards and a seamless user experience. To sell Google Play gift cards for cash, follow these steps:
Create an account: To begin, visit Astro Africa website and sign up for an account. Provide your personal details and verify your account via email.
Login to your dashboard: Once your account is verified, log in to your dashboard and navigate to the "Trade" section. Select 'Google Play gift card' as the type of gift card you want to trade and select the appropriate category. Input the USD value of your gift card and the rate calculator would display the value in your local currency.
Supply the gift card details: To proceed, you'll need to supply the details of your Google Play gift card, such as the card number and PIN. You'll also need to upload a clear picture of the gift card.
Confirm the transaction: Once you've provided all the necessary information, click "Submit" to confirm the transaction. Astro Africa will review the information and notify you when the gift card has been confirmed.
Check your wallet balance: After your gift card has been confirmed, funds will be credited to your Astro Africa wallet. You can check your balance by going to the "Wallet" section of your dashboard.
Withdraw your funds: To withdraw your funds, select the "Withdrawal" option in the "Wallet" section and submit your bank details. Once you've submitted your request, your funds will be processed and sent to your bank account instantly.
When it comes to getting the most value for your gift cards and having a seamless selling experience, Astro Africa stands out as the best place to sell Google Play gift cards. With our user-friendly platform, competitive rates, and fast payout options, you can trust Astro Africa to provide you with a hassle-free trading experience and top-notch customer support. So if you're looking to sell your Google Play gift cards in 2023, be sure to check out Astro Africa as your go-to platform.
Sell Google Play Gift Cards in 2023 – Sell Google Play Gift Cards in 2023 – Sell Google Play Gift Cards in 2023