current eBay gift card rate: An eBay gift card is a prepaid card that can be used to make purchases on the popular online marketplace, eBay. If you have an eBay gift card that you don't plan on using, you may be wondering if it's possible to trade it for cash.
current eBay gift card rate
While eBay gift cards can be a convenient way to shop, not everyone may be interested in using them. For those who would rather have cash, there are a few options available. One option is to sell the eBay gift card on a gift card exchange website such as Astro Africa, where you can exchange it for cash or cryptocurrency.
Astro Africa is a top-rated gift card trading platform that specializes in buying and selling gift cards, including eBay gift cards. It is widely recommended as the best platform to sell eBay gift cards due to several outstanding features that set it apart from other platforms.
Good rates: Astro Africa offers some of the best rates in the market for gift card exchanges, ensuring that sellers receive the most value for their gift cards.
Fast payout: With Astro Africa, traders can receive their payment quickly, eliminating the need for long wait times.
Ease of use: Astro Africa's user-friendly platform makes it easy for users to navigate and complete transactions within a few minutes.
Crypto payout: In addition to traditional payout options, Astro Africa also offers cryptocurrency payouts, providing a unique payment option for gift card traders. This feature is particularly attractive to those who prefer to receive their payment in cryptocurrencies.
Excellent customer support: Astro Africa has an outstanding customer support team that is always available to provide assistance and address any issues that traders may encounter during the gift card exchange process.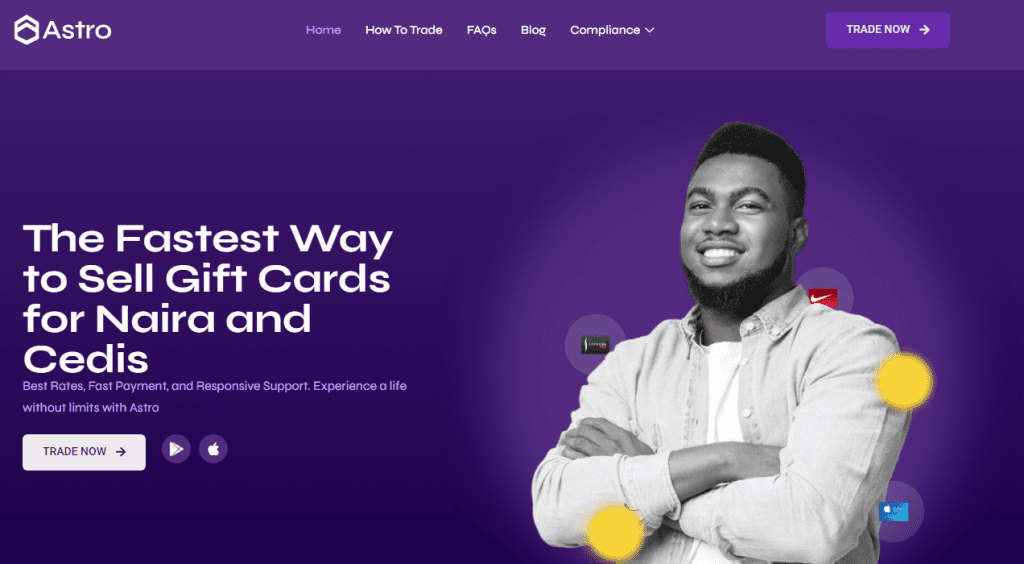 Another option is to sell the gift card directly to someone who is interested in shopping on eBay but you have to be careful when selling gift cards directly to avoid scams.
Gift card rates aren't stable, they change frequently. To know the current rate for an eBay gift card, you have to use a gift card rate calculator. A gift card rate calculator is a tool that helps gift card traders calculate the value of their gift cards in local currencies such as Naira or Ghanaian cedis.
How to Use a Gift Card Rate Calculator
Using a gift card rate calculator is a straightforward process that can be completed in just a few steps.
Under the gift card tab, choose your local currency; Naira or Ghanaian cedis.
Select the type of gift card, i.e., eBay gift card in this case.
Enter the denomination of your eBay gift card.
The rate calculator would automatically display its value in your preferred currency.
eBay gift card rates in Nigeria
According to Astro Africa rate calculator, here are the current rates for eBay gift cards:
Physical $50 USA eBay gift card is worth ₦19,080 Naira.
Physical $75 USA eBay gift card is equivalent to ₦28,620 Naira.
$100 USA eBay gift card is worth ₦46,800 Naira on Astro Africa.
$200 USA eBay gift card is valued at ₦93,600 Naira.
The value of a $500 USA eBay gift card is ₦234,000 Naira on Astro Africa.
With our user-friendly interface and secure payment options, we make it easy for users to sell their eBay gift cards and receive payment quickly.
current eBay gift card rate – current eBay gift card rate – current eBay gift card rate