Buy 9mobile data online fast: Since the advent of the internet, browsing and surfing have become an intricate part of the human existence. You would agree that the internet has given us access to a lot of opportunities, business, and fun-wise, that we didn't even know existed. Because of the ease of access, so many have gotten addicted, so much so that the average man cannot go a whole day without wanting to know what is trending on Instagram or Twitter.
Internet usage in Nigeria is similar to Internet usage in every other country. The only difference is that while Nigeria depends on telecommunication companies to provide traditional dial-up access through data services and plans, western countries like the United States use high-speed broadband services.
In Nigeria, to surf the internet, you will need an internet connection, and this is provided by telecommunications companies like MTN, Glo, 9mobile, and Airtel. While each network provider has its upsides and downsides, our focus today is on 9mobile, formerly known as Etisalat. In this article, you will learn how to buy data on 9mobile at a discounted price.
Everything you need to know about 9mobile
9moble, formerly known as Etisalat, is one of Nigeria's top network and internet providers. Between 2016 and 2017, Etisalat almost went bankrupt and ran into a huge debt crisis. In the wake of the debt crisis, it was acquired by another company and renamed 9mobile.
9moble provides dependable, fast, and cheap data plans for Nigerians. The plans are constantly being discounted to make the internet accessible to all without stress. If you are a 9mobile user and don't know how to purchase data online, this article was written especially for you. There are three major outlets through which you can purchase data from 9mobile, which are discussed in the next section.
3 ways to Buy 9mobile data online fast
The three major ways to purchase data from 9mobile are discussed below.
9moble USSD codes
Through the USSD codes, you can purchase data from 9mobile with your airtime balance. All you have to do is dial *917# on your phone and select any data plan of your choice. On 9mobile, you can buy data for as low as 50 naira.
Mobile banking apps
All Nigerian banks have incorporated the feature of purchasing data from network providers like 9mobile via their mobile apps. It doesn't matter the bank you use; if you have an account with them, you can purchase data and get credited immediately. The downside of this process is that there have been so many complaints of users being debited amounts from their accounts but not credited with data. More often than not, the banks do not refund it, and it makes this process the least effective of the three.
Astro Africa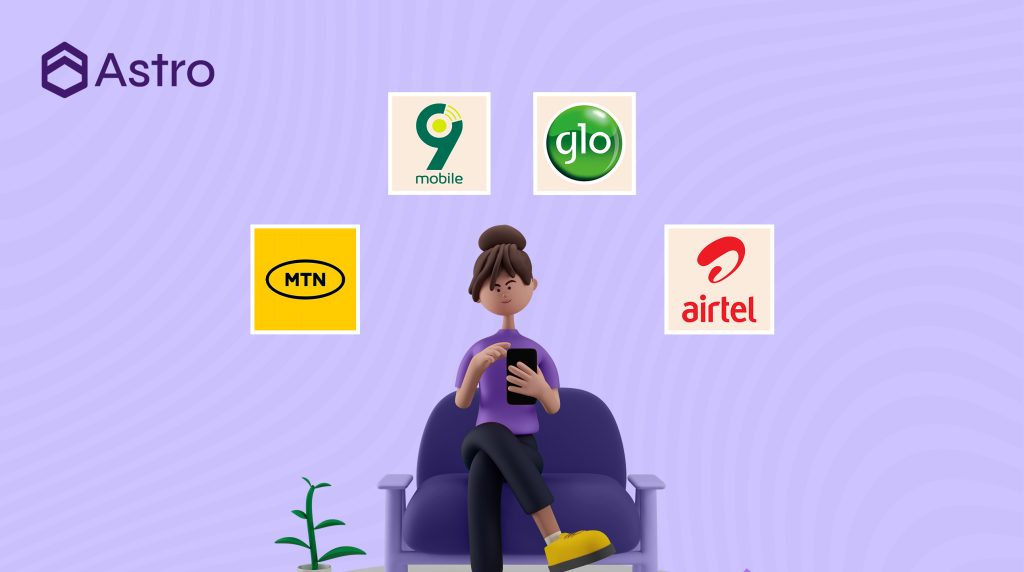 Third-party apps like Astro Africa are the best platforms for purchasing data. Astro Africa is swift and easy to use. You must sign up, credit your Astro Africa wallet, and purchase data. To purchase 9mobile data on Astro Africa, follow the steps below.
Visit the Astro Africa website or download the mobile app for Android and iPhone from Google Playstore and App Store, respectively.
Create an account using your valid email address and phone number by clicking trade now.
Verify your email address to confirm your membership by inputting the 6-digit pin sent to your email.
Add a bank account and set up your transaction pin.
Fund your wallet from your bank account by clicking wallets on the sidebar.
After funding your wallet, click bills.
Choose Nigerian wallet.
Choose a network provider: 9mobile.
Enter amount.
Enter your mobile number to be credited.
Your mobile number will be credited in less than two minutes, and you can start making calls or purchasing data until it is exhausted. Note that these steps also apply to the purchase of airtime from other network providers like Glo, Airtel, and MTN.