Utility Bills Payment: Utility bills are recurrent expenditures that most households and individuals incur, from electricity bills, Cable TV subscriptions, Airtime and Data subscriptions, and so on. There are various platforms you can use to pay your utility bills;
most commercial banks offer this service through their mobile app or website; platforms like utility bills.ng are designed specifically to meet the needs of this type of consumer; utility wallet.ng can be used to pay electricity bills; and there are other utility bill payment options as well.
Utility Bills Payment
About Astro Africa
Gift cards can be exchanged for cash on the Astro Africa exchange platform. Customers can use a feature on our platform to pay utility bills straight from their wallets. Simply said, you may use the fund in your wallets to pay for airtime, data, power, and TV subscriptions when you trade your gift cards on Astro Africa trade. We have advanced from merely making funds available to gift card traders by directly connecting consumer accounts to utility payment systems.
Choosing the best platform to exchange gift cards can be difficult most times. This is likely due to the number of vendors in the market offering different forms of exchange services. However, Astro Africa has proven to be the best of them over the years. Here are a few factors that distinguish Astro Africa from other platforms;
In comparison to other sellers, the exchange rate is quite high. You'll make money when you sell your gift card to Astro Africa.
Gift card payments are completed in the shortest amount of time feasible. Although processing times differ based on the kind of gift card you are exchanging, you can rest easy knowing that your payment will be handled quickly and an approximate processing time will be given.
The platform's ability to accept payments for utility bills. Customers can now pay their utility bills directly from the website using the funds in their wallets, as was previously mentioned.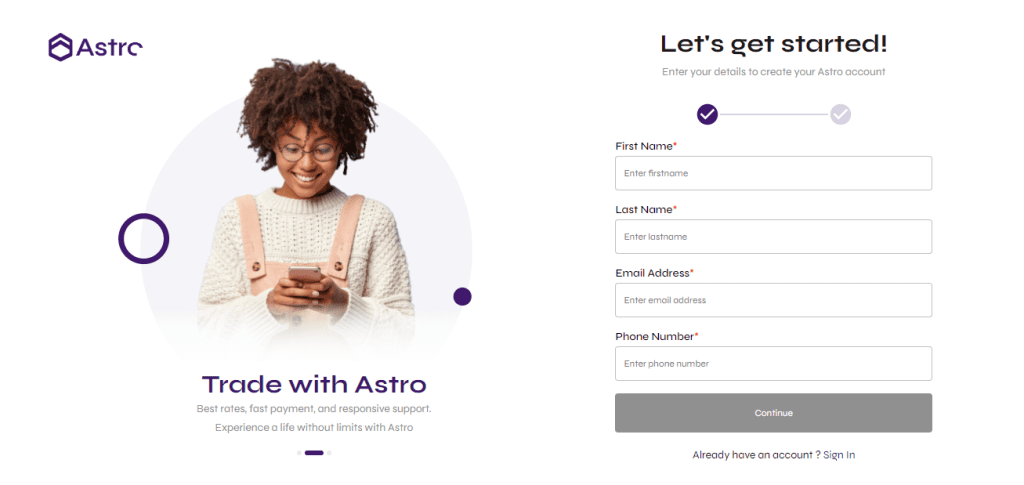 How to create an account on Astro Africa
Visit the Astro Africa website or download the app from Google Playstore or App Store.
Click "Trade Now" on the website, and the registration form will appear. Fill in your details in the form. Crosscheck the information you inputted and then click "sign up." A verification mail containing a 6-digit code and direct verification link will be sent to your email.
Log in to your account, and you will be redirected to your dashboard, where you can sell your gift cards and pay for your DSTV subscription.
Remember to complete your account setup;

Add a phone number and click save.
Add a bank account or crypto wallet details and click save.
Set a four-digit transaction pin and click save.
How to pay bills on Astro Africa
Now that you're registered, you can carry out any transaction on Astro Africa, but since we are here for bill payments, here are the steps.
log into your account using your email and password.
On your dashboard, select the Navigation button at the top left corner and select Bills.
Select the bill you are making payment for. It could be Cable subscriptions, airtime, data, or electricity bills.
Enter the transaction details depending on the type of bill you want to pay.