Convert Unwanted Gift Card To Cash: Gift cards have become increasingly popular over the years as a way to give someone a present without the hassle of figuring out what they want however, while gift cards may seem like a foolproof gift, many of them end up going unused.
Convert Unwanted Gift Card To Cash
According to a study by Mercator Advisory Group, an estimated $3 billion worth of gift cards went unused in the United States alone in 2020. This significantly increased from the $1 billion in unused gift cards reported in 2019. In fact, the average household has approximately $300 worth of unused gift cards sitting around.
The problem isn't just limited to the United States, however. In Canada, a Retail Council of Canada study found that up to 10% of gift cards go unused. In the United Kingdom, research by the Gift Card & Voucher Association found that approximately £300 million worth of gift cards went unspent in 2019.
One reason for this trend is that many people simply forget about the gift cards they've received or don't have the time or desire to use them. Additionally, some gift cards may have restrictions or expiration dates that make them difficult to use.
While gift cards may seem convenient and easy, it's important to be mindful of their potential for going unused. By choosing gift cards with minimal restrictions and keeping track of their expiration dates, both gift givers and recipients can avoid the disappointment of unused gift cards.
One of the solutions introduced to mitigate the funds lost to unused gift cards is the introduction of gift card exchange platforms or gift card vendors. Gift card exchange platforms allow you to exchange your unused gift cards for other digital assets and cash.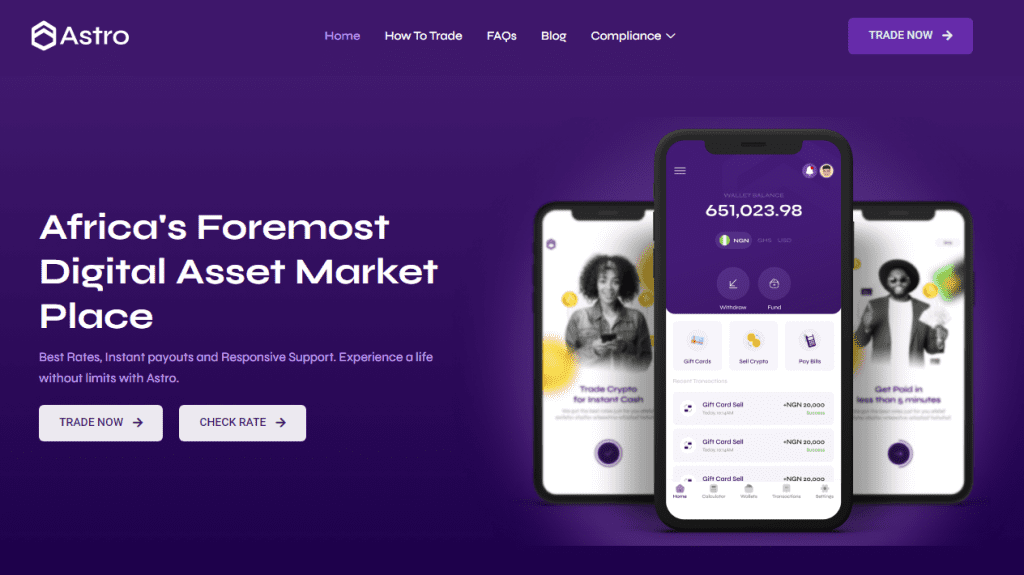 Astro Africa
Astro Africa is a leading gift card exchange platform in Nigeria and Ghana. You can exchange your gift card for cash and cryptocurrency on Astro Africa. While you won't get the entire value of your gift card, Astro Africa ensures you get the best possible return in the market. You can check the current value of your gift card using Astro Africa's rate calculator on the website and mobile app.
Benefit Of Selling Your Unwanted Gift Cards For Cash With Astro Africa
Best rate;
We have our customer's satisfaction at heart! You get to convert your gift card to cash at the best rate in the market.
Trust
At Astro Africa, the size of your transaction does not matter because we guarantee the safety and security of your funds. Our platform is highly trusted when it comes to converting gift cards to cash, so you can rest assured that your funds are in good hands.
Transaction speed
The processing of your transaction takes five minutes. Yes! Because our number one goal is our customers' satisfaction, we regard your transactions as urgent. After your trade has been CONFIRMED, it will take between 3 and 5 minutes to process your payment.
Customer support
Our customer service representatives are always happy to help with any questions or concerns. They can also give solutions to any issues you may be having.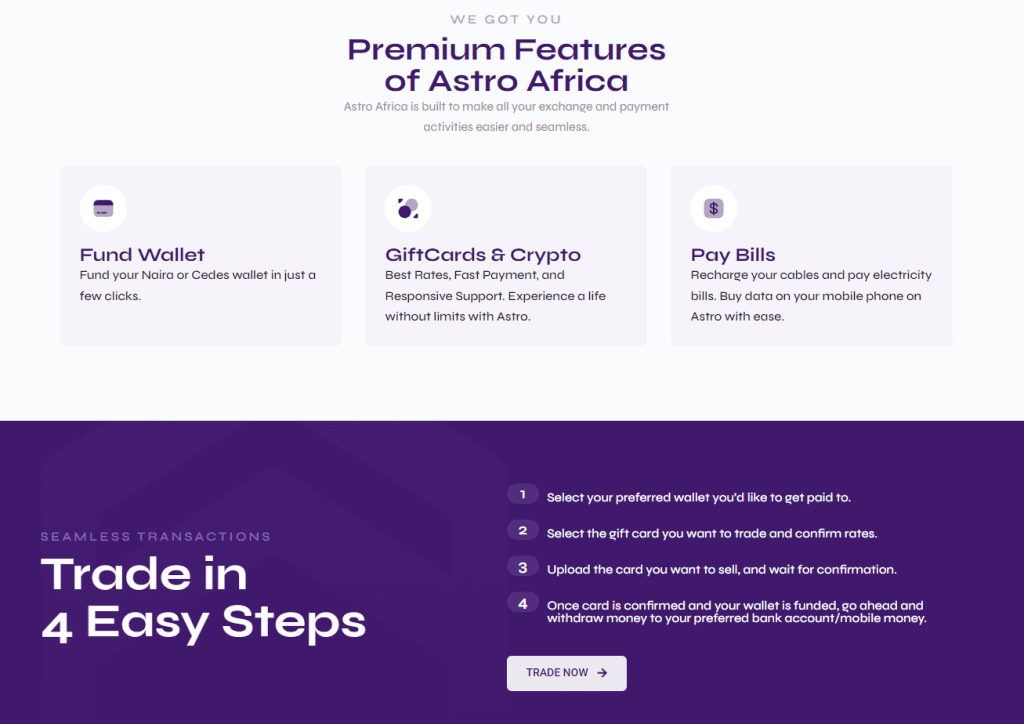 How To Sell Gift Card On Astro Africa
The first step is to log in to your account if you are an existing user. For new users, the first step is to sign up to gain access to your account dashboard.
Set up your wallet by inputting your bank details. You receive funds in this wallet and choose your preferred withdrawal method, cash or cryptocurrency.
Select the type of gift card you want to trade on your account dashboard.
Enter the Amount in dollars. The exchange value in your chosen local currency will be displayed on the interface.
Proceed to place the order
Provide the gift card details accompanied by a picture
Funds will be sent immediately after your gift card is confirmed.
Transfer funds to your cryptocurrency wallet or local bank account through the withdrawal interface. Note you will receive the equivalent of the naira or cedis value in the form of cryptocurrency if you are trading for cryptocurrency.
Convert Unwanted Gift Card To Cash – Convert Unwanted Gift Card To Cash -Convert Unwanted Gift Card To Cash