Selling Gift Cards Online: Gift cards are an easy way to give a present without the trouble of picking out a specific item or being concerned about getting the correct size or color. However, what happens when you receive a gift card for a store that you never shop at? Or maybe you received multiple gift cards and would prefer cash instead? This is where selling your gift card comes in.
One of the main reasons people sell their gift cards is because they simply don't have any use for them. Whether it's because they don't have access to that particular store or they just aren't interested, selling it allows them to get some value out of it rather than letting it go to waste.
Selling Gift Cards Online
Here are some tips for successfully selling gift cards online:
Choose a Reliable Platform: When selling gift cards online, it is important to choose a reliable platform that can handle transactions efficiently. Astro Africa has established itself as the go-to platform for selling gift cards online. Our reputation for reliability is unmatched in the industry, with a track record of successful transactions and satisfied customers.
Check the balance on your gift card: Before selling a gift card online, make sure you check its balance to ensure that you get the full value for it. This is particularly important because any discrepancy in the balance may lead to a dispute. There are several ways to check the balance on a gift card, including visiting the retailer's website, or calling their customer service. Also, make sure that the gift card hasn't expired.
Check the gift card rate: Checking the gift card rate is also an important step that every gift card trader should take before selling their gift card online. This is because the rate determines the amount of cash you'll receive for the gift card. Some gift card exchange platforms offer higher rates than others, and it's essential to research and compare different platforms to get the best rate possible.
Determine your payout method: When selling a gift card online, it's essential to determine the payout method that works best for you. Typically, gift card exchange platforms offer various payout options, such as bank transfer, mobile money, or cryptocurrency. The payout method you choose should align with your preference
Provide clear details: Finally, make sure you include all the relevant details about your gift card, such as the brand, expiration date, and denomination. Also, including clear photos of the card, especially the front and back, can help the trading platform verify the authenticity of the card.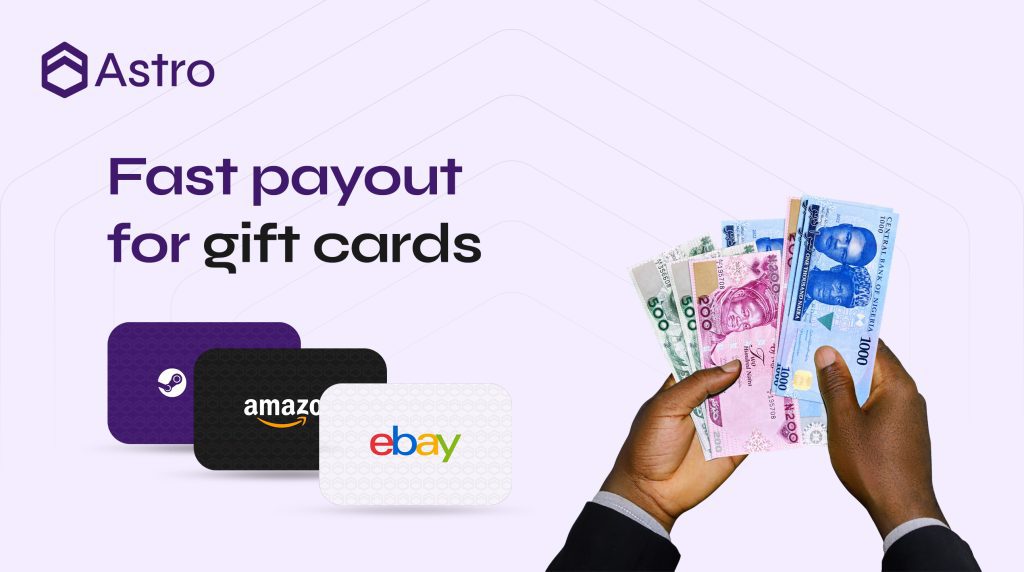 Selling Gift Cards at the Best Rate
Astro Africa is a reliable platform that allows you to buy or sell gift cards at the best rate possible. We understand the value of your gift card, which is why we offer the best rates on the market.
With Astro Africa, you can trade your unwanted gift cards for cash or cryptocurrency quickly. Follow the steps below:
The first step is to create an account on Astro Africa. After registration, you'll be required to verify your e-mail address.
Once your account is verified, log in to your dashboard and navigate to the trade section. Here, you can choose the type of gift card you want to trade, select the appropriate category, and input its USD value.
Next, supply the gift card details and upload a clear picture of the gift card. Click on the submit button to confirm the transaction.
Once the gift card has been confirmed, you'll be credited to your Astro Africa wallet.
Return to your dashboard and click on the wallet section. Here, select withdrawal and submit your bank details or wallet address if you prefer crypto payout.
After submitting your details, your funds will be processed instantly, and you'll receive your payment via the selected payout method.
With our straightforward process and exceptional customer support, you can be sure of having a great experience when buying or selling gift cards on Astro Africa.