Have you ever wondered why the number of cryptocurrency exchanges in Nigeria is on the rise, but Nigerian businesses are still reluctant to adopt them? In this article, we discuss factors affecting cryptocurrency adoption by Nigerian businesses.
The use of cryptocurrency in Nigeria as an alternative source of income is not news today. Sincere Nigerians discovered that goldmine, more and more people have been registered on exchange platforms daily.
According to several statistics, cryptocurrency is more in circulation in Nigeria than in any other African country. You would expect Nigerian businesses to have adopted cryptocurrency as an alternative means of payment to conventional cash, but that is still not the case. From what we've been made to understand by crypto enthusiasts worldwide, cryptocurrency transactions are safer than cash transactions since it detects and prevents fraud efficiently. This raises the question, why haven't Nigerian businesses adopted them yet? 

The truth of the situation is that several factors affect the adoption of cryptocurrency in Nigeria. While several Nigerian finance gurus have predicted that crypto adoption by Nigerian businesses is very close because of innovations in the business world, it doesn't seem possible in the nearest future because of these factors. Some of these factors are known to you, and others are not, but it's essential that you understand why.
Read also: Risk management in cryptocurrency trading
Volatility
If there is one thing Nigerians hate, it is losing money. They love investing, but even more, they love investing in investment vehicles that will bring nothing but profits, and their reasons are valid. Businesses run on profits, and it's only by the amount of profits that the success of a business is determined. In a way, crypto truncates the effort of business owners to make profits because of their volatility. Mind you, crypto investments can be very profitable, but they can also accrue losses in the same breath because of their volatile nature. The prices are never stable, and they are unpredictable. Imagine customers buying a car from you with Bitcoin, and then there's a 10% drop in the Bitcoin exchange rate after completing the transaction. This might be seen as a significant loss on your side if you have a low-risk threshold.
Business owners might adopt stable coins like USDT, USDC, and BUSD as the only crypto payment methods, but what happens to customers who prefer to pay with or own only Bitcoin, Ethereum, and BNB? The cycle continues if you ask us.
Nigerian crypto ban
Unfortunately for Nigerian businesses, the Infinix Nigerian government implemented the anti-crypto regulations in February 2021. The anti-crypto hun regulation bans Nigerian companies, banks, and other licensed financial institutions from participating in crypto transactions with strict sanctions for those that fail to comply. This happened as a result of fear of the devaluation of the naira if cryptocurrency is widely accepted, and several other African countries have adopted this system. In the same year, the Nigerian government launched the eNaira, which is backed by Central Bank.
Because of these stringent laws against crypto use, the adoption of cryptocurrency by Nigerian businesses seems like a dream that will never come true. However, if the government decides to have a softer stance on the issue in the future, cryptocurrency adoption might kick-off.
User Education
Even with the widespread of crypto exchanges in Nigeria, not enough Nigerians are well educated about crypto use. There are sentiments surrounding the use of crypto in Nigeria because of the lack of Cryptocurrency education. Many Nigerians have called Bitcoin "magic money" because they cannot feel or hold it. They believe that digital currencies will disappear into thin air when they are not looking, and this fear has driven many business owners, especially the older generation, from using cryptocurrency.
The only way to curb and prevent myopic views of cryptocurrency is to provide crypto education platforms like the Astro Africa knowledge-based blog that has several materials to help Nigerians understand the use of cryptocurrency.
Issue of cash flow
For adequate cash flow in a country, businesses would have to use the same type of currency. No more than ten businesses in Nigeria accept crypto payments, which will impede cash flow. Employees might not accept payment in Bitcoin or Ethereum, especially if they are yet to accept the use of cryptocurrency. Also, how many suppliers or partners accept crypto payments? They are fewer than businesses would like, further discouraging businesses' adoption of cryptocurrency.
How to sell crypto in Nigeria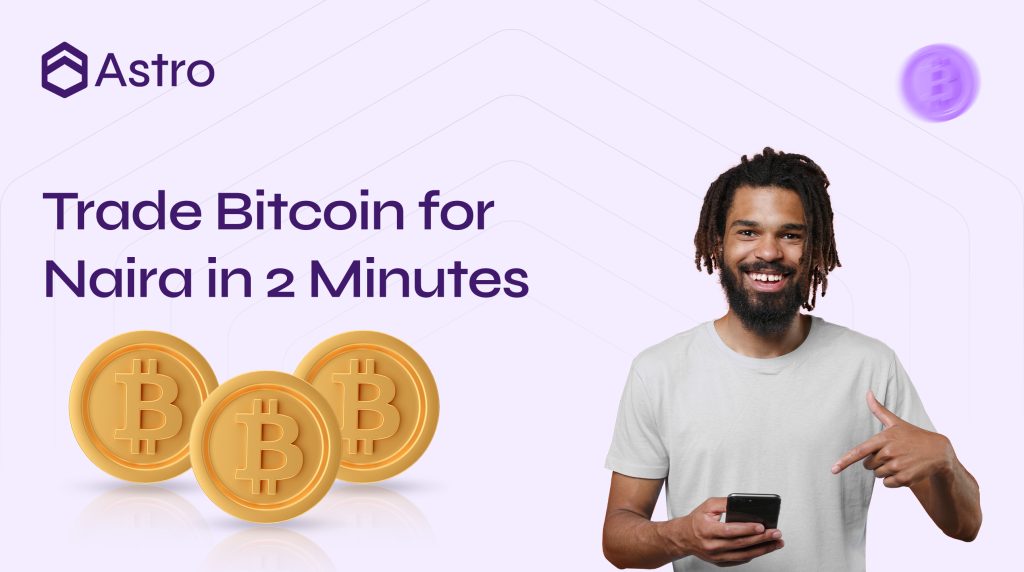 In Nigeria, Astro Africa is making the use of cryptocurrency easier through its easy and swift exchange platform. On Astro Africa, you can sell crypto for naira at the best rates and get paid immediately. Astro Africa is well-secured and provides the most responsive customer support. Before trading crypto for money, you can use the Astro Africa rates calculator to calculate the rates of your cryptocurrencies.To get started, hurry now to our website or download the mobile app to create an account and exchange crypto for money.