Redeem Gift Cards in Ghana – In Ghana, gift cards are a popular way of receiving gifts from friends both locally and abroad. But, sometimes it can be challenging to use certain gift cards because the physical store is not available in Ghana or the services offered are not accessible in the country.
Luckily, there's a simple solution to this problem which is redeeming the gift card for cedis. By taking the action to redeem gift cards in Ghana, one can convert the gift card into cash that can be used for day-to-day expenses. This way, you can make the most of your gift and avoid the frustration of not being able to use it.
If you're looking to redeem gift cards in Ghana, it's important to choose a platform that you can trust. Here are a few things to look out for when choosing a platform:
Reputation: Before you redeem gift cards in Ghana, make sure to do your research and check their reputation. Look for reviews from other users to get a sense of their experience with the platform. This can help you avoid any potential scam. In Ghana, Astro Africa is often regarded to as the most reputable gift card trading platform.

Gift Card Rate: Different platforms offer different rates for gift card, so it's important to compare rates across multiple platforms to ensure you're getting the best deal. Look for a platform that offers competitive rates. For those looking to redeem gift cards for cash in Ghana, trading on Astro Africa is highly recommended as we offer the best rates.

Customer Support: A good gift card trading platform should have a responsive customer support team to assist with any issues or questions users may have. Look for a platform that offers multiple channels, such as phone, email, or chat. Astro Africa excels in providing a top-notch customer support team.

Payout Speed: Some platforms may take longer than others to process and payout your redeemed gift card. If you need the cash quickly, trade with a platform such as Astro Africa that offers fast payout options.

Available Payout Options: Check to see what payout options are available on the platform. Some platforms may offer cash payouts via mobile money or bank transfer, while others may only offer credits for other services. On Astro Africa, users enjoy crypto payout as well as mobile money and bank transfers.

Gift Card Supported: Before you redeem gift cards in Ghana, it's important to make sure that the platform you choose supports the specific gift card you have. While some platforms may have limitations on the types of gift cards they accept, Astro Africa is a recommended choice as it supports a wide range of gift cards.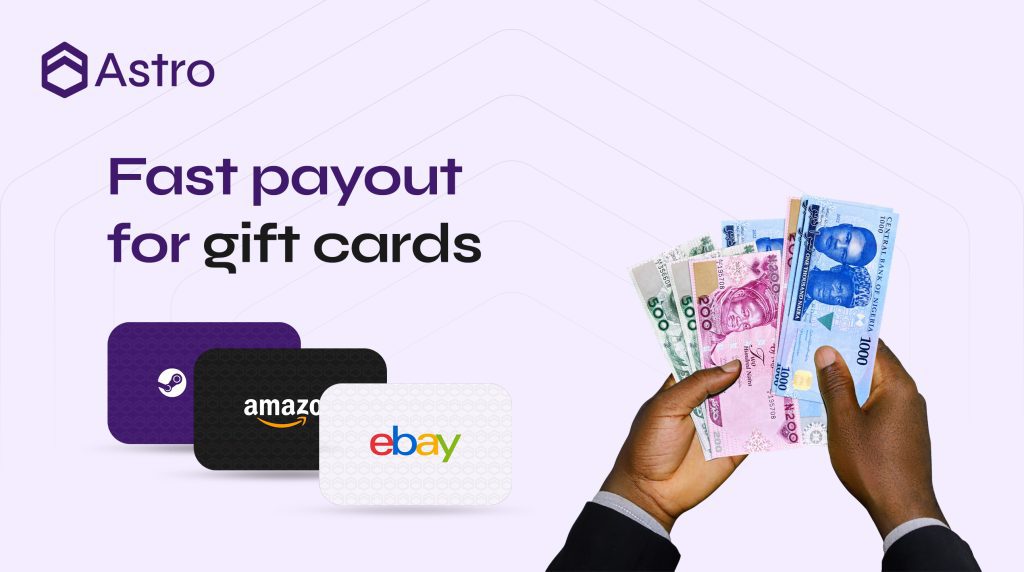 Astro Africa has been ranked as the best site to redeem gift cards in Ghana in 2023. Our users have shared their reviews and they are super happy with our services. So, if you're serious about redeeming gift cards for cash, then you definitely need to sign up on Astro Africa.
How to Redeem Gift Cards for Cash in Ghana
To redeem gift cards in Ghana is a straightforward process, particularly when you trade with Astro Africa. You do not require any expertise to turn your gift card into cash. Follow these steps to redeem a gift card for cedis on Astro Africa:
Create an account: To redeem gift cards in Ghana, sign up for an account. You'll need to provide your personal details and verify your account through a verification link sent to your email.

Choose the type of gift card: Once your account is verified, log in to your dashboard and navigate to the trade section. Select the type of gift card you have and the category it falls under. Input its USD value and proceed to trade. The rate calculator would automatically display the cedis equivalent of the gift card.

Trade your gift card: Supply the gift card details, including the card number, PIN, and other relevant information. Upload a clear picture of the gift card to ensure it matches the details you provided.

Confirm the transaction: Click on the 'submit' button to confirm the transaction. Once the gift card has been confirmed, the equivalent value in Ghanaian cedis will be credited to your Astro Africa wallet.

Withdraw your funds: Go back to your dashboard and click on the wallet section. Select withdrawal and submit your bank details, including your bank name, account name, and account number.

Await your funds: Once you've submitted your withdrawal request, await your funds. Withdrawals on Astro Africa are processed instantly, and you should receive your funds in your bank account within a few minutes.