How to sell JC Penney gift card in Nigeria; JC Penney is renowned as a sophisticated luxury brand that offers a portfolio of private and national brands. It provides a range of apparel, home furnishings, accessories, footwear, handbags, jewelry, shoes, watches, beauty products, and bed and bath products. The company operates salons, optical centers, portrait studios, jewelry repair shops, custom decoration, and flower bouquet shops in its retail centers and offers gift cards. Their gift cards can be used in their stores and on their websites.

However, if you'd prefer cash instead and aren't interested in their products, there's a simple solution. Sell your gift cards. However, selling your gift card involves quite a lot before you can get the right platform. Why? Because of the number of fraudulent platforms used to cheat people out of their money. In this article, we will assist you by showing the best place to trade your JC Penney card in Nigeria; Astro Africa. Experience the Astro Africa app, Nigeria's most trusted gift card trading platform and your trading experience will never be the same. With just a few clicks, you can instantly sell your JC Penney gift cards for cash at highly competitive rates.
Why Astro Africa?
There are various exchange services in Nigeria, but only a few allow you to swap gift cards at reasonable rates. Astro Africa has distinguished itself among these few by providing great trading services. You may sell gift cards for cash and crypto currency on Astro Africa and get paid immediately without verification.
Features of Astro Africa
Astro Africa is the best gift card exchange site in Africa, because of its unique characteristics. These features work together to make your trading experience ideal and stress-free.
Good rates
The primary goal of trading gift cards for cash or digital currencies is to make profit. Nobody would want to sell if there were no guarantee of profit. It is important to remember, however, that no exchange platform permits you to sell gift cards at the same price at which they were purchased. Gift cards are instead exchanged at slightly lower rates than their face value. Gift cards on Astro Africa can be sold for more than 80% of their face value.
Simple user interface
This is a key component of any exchange platform, and Astro Africa recognizes that. The website and mobile app provide a basic user interface that makes trading easier and faster. After creating an account on Astro Africa, you will be routed to your dashboard, which will provide you with a rapid overview of all trading features.
Transaction history
Astro Africa have a strong belief in transparency thus with their transaction history, you can follow all of your transactions as you trade and find any inconsistencies.
Wide range of gift cards
Amazon, eBay, Google Play, iTunes, Amex Gold, Nike, Nordstrom, One Vanilla, Sephora, Steam, Visa, Walmart and Sams Club, Apple Store, Razer Gold, and Target gift cards are some of the gift cards you can trade on Astro Africa.
Rates calculator
Astro Africa provides a rates calculator that allows you to quickly determine the current value of your gift cards.
Referral bonus
When you enjoy our services, it is essential that you refer others. When you refer us, we pay you for every referral. Astro Africa rewards its consumers with cash for every recommendation. So, create an account, copy your referral code from your dashboard, and share it with as many traders.
Customer Support
Astro Africa provides continuous customer assistance to all of its customers. Thanks to our excellent customer service, fresh traders may easily traverse the gift card sector. This feature enhances the adaptability of Astro African platform users.
Security
The internet is forever subject to hackers. As a result, Astro Africa employs stringent security services to safeguard all of its clients' assets and personal information. Your valuables are always protected and inaccessible to unauthorized third parties with these security mechanisms in place.
Instant Payment
Astro Africa will pay you instantly following each transaction. If there is a delay, you can contact customer support right away and have it resolved. If you made a mistake, a customer support person will direct you to review your transaction information.
How to Sell JC Penney gift card In Nigeria; Astro Africa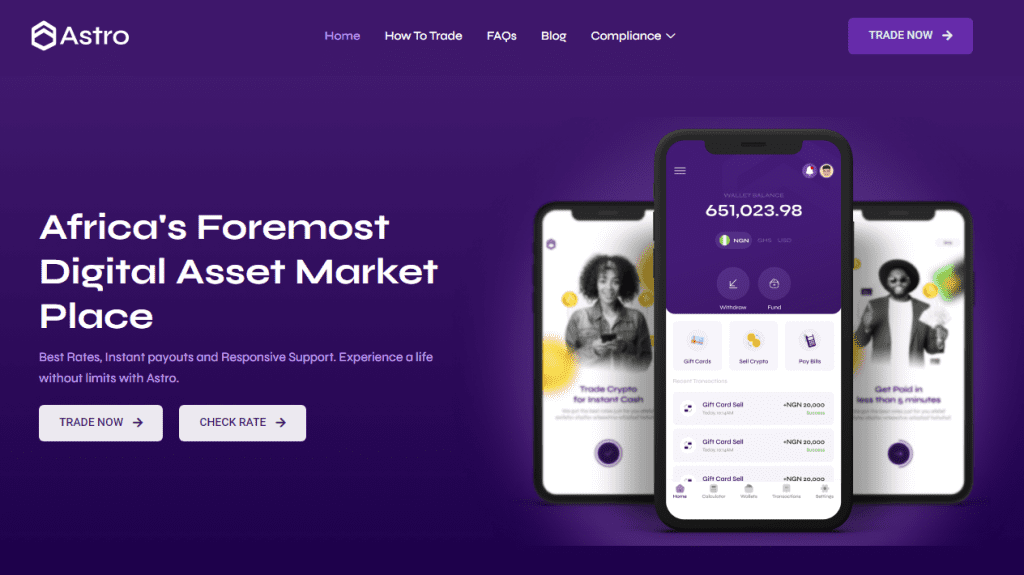 As previously stated, the Astro Africa website and mobile app have a straightforward user interface. As a result, making an account and becoming a registered user is simple. Follow the steps below to establish an account on Astro Africa.
Visit the Astro Africa website or download the mobile app from Google Playstore or the App Store.
Fill in your first and last name.
Fill in your preferred username.
Fill in your email and password.
Confirm your password.
Input the referral code if you were referred, so the trader that referred you can be rewarded.
Click on sign up, and you'll automatically be redirected to your dashboard. On your dashboard, you'll find all the activities you want to carry out well laid out, making navigation easy. With Astro Africa, everything is one click away!