How to open a Dogecoin wallet in Nigeria; Did you know that you need a Dogecoin wallet to store your asset? Yes, you do! You cannot store Dogecoin in your Bitcoin wallet because they were created on different blockchains. Read on to learn about Dogecoin wallets and how to open one in Nigeria.
What is a Dogecoin wallet?
A Dogecoin wallet is like every other crypto wallet. Crypto wallets are just the normal wallets we use daily to store money in pristine conditions. One of the major differences is that, while you can physically hold normal wallets, crypto wallets only exist online and can be accessed from any location as long as you have your login details. Another difference is that crypto wallets do not store actual cryptocurrency. Rather, they serve as intermediates between users/traders and the blockchain to access the blockchain on which the crypto was created using public and private keys.
If you own Dogecoins, having a crypto wallet is very important. Many crypto traders focus so much on buying and selling cryptocurrency and making profits that they forget the need for a wallet. If crypto wallets weren't important, you would find exchange platforms incorporating them on their websites to make transactions abs storage easier for their users.
How to open a Dogecoin wallet in Nigeria
With your Dogecoin wallet, you can now easily buy, sell, store, and complete transactions. In choosing a Dogecoin wallet, there are some features you must look out for to ensure that your assets are 100% safe. Some of these features are discussed below.
Read also: 10 decentralized crypto wallets in 2023
Robust usability
In choosing a Dogecoin wallet, ensure that the wallet has a simple and intuitive user interface. More often than not, platforms that are difficult to navigate end up being scammers and defrauding their users. Hence, any platform that stresses you out is a mighty red flag, and you're advised to avoid such a platform. Ensure that the wallet's user interface is so easy that even users without tech knowledge can navigate it seamlessly.
Notifications
A good Dogecoin wallet must be able to alert you on transactions in your wallet. With notifications, users can easily track the activities of their wallets and confirm transactions even without accessing the wallet online. Notifications can also offer updates to IB about changes in the price of Dogecoin.
Automated logout function
Cold crypto wallets are very popular because they must be connected to the internet before users can gain access. Because of their constant connectivity to the internet, they are prone to hacks. One way wallets can check this is to offer the facility of automatic session logout to prevent malicious agents from accessing user credentials or manipulating transactions through address poisoning and other types of hacks.
Rates calculator
A good Dogecoin wallet must have a rates calculator that automatically helps users calculate their assets' current rates. This will help their users stay up-to-date with the consistently changing Dogecoin rates due to the exchange market's volatility.
Security
Security is the most important feature of a Dogecoin wallet. Dogecoin wallets should ensure their firewalls are impenetrable by exploiting top-notch blockchain security technology. With this, unauthorized third parties will never be able to gain access to their users' assets.
Customer service
Many beginners need to learn how to operate a crypto wallet, talk more of a Dogecoin wallet. With responsive customer service in place, users can easily reach out and seek assistance if they ever encounter any issue on the platform.
Best Dogecoin wallet in Nigeria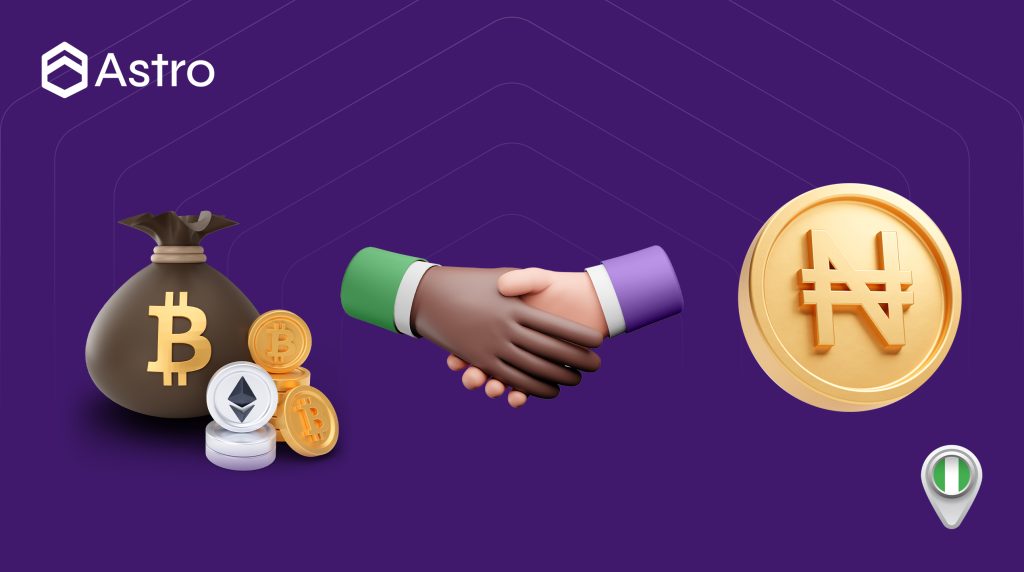 The best Dogecoin in Nigeria must possess all the features discussed in the previous section. While several Dogecoin wallets are in Nigeria, the Astro Africa Dogecoin wallet tops the list. Astro Africa is a crypto exchange platform with an incorporated wallet to aid in buying and selling and storing your Dogecoin. The wallet possesses all the features you need to have a well-rounded trading experience that doesn't stress you out.
To own an Astro Africa Dogecoin wallet, you must create an account. Becoming a registered user makes you eligible for a wallet on Astro Africa. To create an account, follow the steps below.
Visit the Astro Africa website or download the mobile app.
Click on trade now.
Click on sign up if you're a new user.
The registration process is an easy two-step process.
For the first step, input your first and last name.
Input your valid email address.
Input your phone number.
Click "Continue" to enter the second step of the registration process.
Select a country, Nigeria.
Input your password.
Input the referral code of your referee so that they can be rewarded. If you don't have one, skip this section.
Agree to Astro Africa's terms of use and privacy by clicking the box.
Click Create an Account.
Astro Africa will verify your details and send a six-digit confirmation code to your email for verification.
Complete your account creation by adding a bank account and creating a transaction pin.
After becoming registered, you can go ahead to convert Bitcoin to naira.