Have you been looking for a legit loan app to fill your financial gaps? Did you stumble on the Hometown app, and now wonder if it's legit or a scam? This article will discuss the Hometown Loan app in detail, including its features, eligibility requirements, and interest rates.
Everything you need to know about the Hometown app
Hometown is one of the most popular loan platforms that provides Nigeria with the most flexible loan options and repayment plans. The greater your loan request on the platform, the lower your interest. Obi Pedro Chibuzo and Tony Osborg founded the platform to create alternative and safe sources of funds without embarrassment.
Features of the Hometown app
The features of the Hometown app are listed below.
Easy to use
The platform is easy to use with an intuitive user interface. To use the Hometown app, you do not require third-party assistance.
Loan offers
The loan offers available on the Hometown app range from 5,000 nairas to 2,000,000 nairas. An algorithm is used to determine the amount that suits your credit score. The algorithm allows a 100% higher credit once you repay your loan before or at the appointed time for loans below 100,000 naira. You get a 50% higher loan if your existing loan exceeds 100,000 naira.
Eligibility requirement
The following are your minimum requirements before requesting a loan on the Hometown app.
You must be a Nigerian citizen with a valid means of identification like an ID card, Driver's License, or NIN.
You must have registered your Bank Verification Number (BVN) and linked it to your phone number. If you haven't read our article on BVN registration and how to link it to your Sim card., click the link below to read it.
You must have a Nigerian Bank account.
You must have a Nigerian Debit Card.
It doesn't require collateral or any documentation process.
Read also: How to get BVN number on MTN
Repayment plan
The Hometown app has one of the most flexible repayment plans. With the platform, you don't always have to pay your loan in full. You can pay in bits if you complete payment before the loan tenure expires. You make repayment through the app, an auto debit, or an installment payment system.
Penalty for late repayment
No loan app appreciates late payments. When you decide to take a loan from any loan app, you maagree with the platform. If you default in payment, you destroy whatever trust they must have had in you. This applies to the Hometown app when you default.
When you default on payment, it reduces the confidence of Hometown in your credit score and reduces their investor's confidence in them. The money being loaned out by Hometown is an accumulation of investments and the interest you pay on your loan. So whenever you feel like not paying, remember that it affects you and others.
Is the Hometown app legit?
Hometown is legit in its entirety. The Federal Competition and Consumer Protection Commission (FCCPC) listed it among the legitimate loan apps. With the way the app is operated, you can easily tell that it is legit. If you want to spot a fake loan app, look for the following hints.
The loan amount is too small.
Inexistent office address.
High-interest rate.
Unregistered loan company.
Short loan repayment time and embarrassing reminders to pay on time.
A fake website with poor functionality.
Negative customer reviews.
Zero regard by solvency.
Hidden loan conditions.
Never compared with other platforms online.
Request for card details.
Card verification fee.
On the watch list of financial authorities.
How to get registered on the Hometown app
If you meet the eligibility requirements, you can go on to create an account on the platform and request a loan.
The Hometown app is available for download on Google PlayStore and the App Store. You can also visit their website to have a feel of how the app can be navigated.
Install the mobile app and create an account by filling in your required details.
Again, as long as you meet the requirements, request a loan. New users are usually only allowed to borrow a minimum amount of 5,000 naira. As you stay committed to paying back your loan, your loan limit will be increased. If you continuously default, your limit remains at 5,000 naira, and a point, your loan request will be rejected.
Once you've been awarded the loan, transfer funds to your wallet or Nigerian bank account.
You can also transfer money to other users of Hometown without accruing extra charges.
The best platform to trade gift cards for money In Nigeria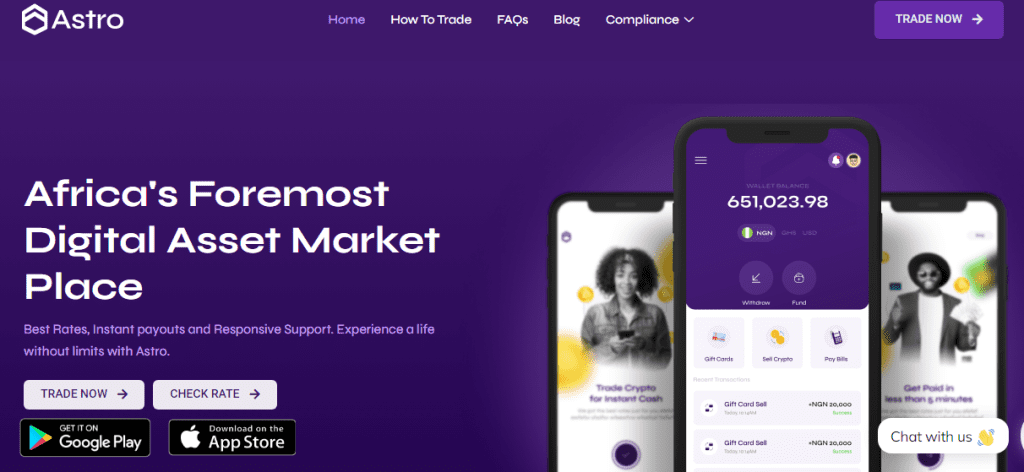 The best platform to trade gift cards for money In Nigeria is Astro Africa. The platform is easy to use and allows you to perform transactions with zero stress or fee. To get started, visit the website or download the app, create an account, and start trading.