Are you a Saudi Arabian resident? Are you curious about the unique world of cryptocurrency trading? Do you want to find out how to buy Bitcoin in Saudi Arabia? If you check all the boxes, this article is curated for you.
Cryptocurrencies are gaining popularity all around the world, including Saudi Arabia. In recent years, more Saudis have turned to Bitcoin and other digital currencies as an investment option, alongside equities and bonds.
However, purchasing Bitcoin in Saudi Arabia can be difficult due to the limited number of exchanges that accept Saudi Arabian Riyals (SAR). Furthermore, bitcoin legislation in Saudi Arabia is still new and ambiguous.
Mistakes to avoid when purchasing Bitcoin in Saudi Arabia
You might make various mistakes when purchasing Bitcoin for the first time or as a seasoned trader. We have compiled a list of such errors to assist you in avoiding them in the future.
Zero research: One of the most common mistakes people make when purchasing Bitcoin with gift cards is failing to study the exchange or platform they use. It is critical to ensure that the platform is trustworthy, secure and has a track record of successful transactions.
Failure to read the terms and conditions: Before purchasing Bitcoin, it is critical to read and comprehend the exchange's terms and conditions. This includes any fees, restrictions, or policies associated with purchasing Bitcoin.
Not validating the amount required to purchase Bitcoin: Make sure you know how much you need to acquire Bitcoin. This can prevent you from overpaying for Bitcoin or losing money.
Exchanging important information: Avoid exchanging sensitive information with untrustworthy or unknown parties, such as your credit card or bank details. This has the potential to lead to identity theft or financial fraud.
Rushing transactions: When purchasing Bitcoin, it is critical to take your time. Rushing transactions can result in costly blunders or oversights in the long term.
Using an insecure or unreliable internet connection: Using an unsecured or faulty internet connection while purchasing Bitcoin might expose consumers to cyber risks and cause problems with the transaction. When buying Bitcoin, it is critical to be able to track the transaction's progress and guarantee that it is completed successfully.
Failure to double-check the Bitcoin wallet address: When purchasing Bitcoin, it is critical to double-check the Bitcoin wallet address to avoid sending payments to the wrong receiver. Bitcoin transactions are irreversible, meaning costs cannot be reclaimed after they have been sent. As a result, if the incorrect address is supplied, the cash will be lost permanently. This is why, before sending payments, it is critical to double-check the recipient's wallet address.
How to buy Bitcoin in Saudi Arabia
Cryptocurrency exchanges are one of the simplest ways to buy Bitcoin in Saudi Arabia. There are various Bitcoin exchanges in Saudi Arabia, and you may choose one based on your needs and preferences from the list above. Varied exchanges have varied transaction fees, payment methods, and verification processes, all of which must be examined before choosing one.
Also, Bitcoin buyers should know that some platforms may need you to obtain your wallet before purchasing the digital currency. Even if it is not required, it is advised that you have your wallet (ideally a hardware wallet) for security reasons.
The following are some of the most popular exchange platforms in Saudi Arabia:
Binance – Saudi Arabia's Best Overall Exchange
Bybit is the best alternative exchange.
Rain – Good Alternative Based in the Middle East
Can you Buy Tether (USDT) in Saudi Arabia?
Saudi Arabia is growing more open to digital assets and stablecoins like Tether (USDT). The most recommended method of obtaining USDT is through a cryptocurrency exchange licensed in Saudi Arabia and regulated by the Saudi Arabian Monetary Authority (SAMA). This level of regulatory control ensures that your cryptocurrency transactions are safe and secure.
Is Bitcoin Legal in Saudi Arabia?
Yes, bitcoin is legalized in Saudi Arabia. However, you are unable to purchase goods with Bitcoin in the country. Banks in Saudi are banned from trading cryptocurrency.
Are Bitcoin ATMs available in Saudi Arabia?
In Saudi Arabia, there is only one Bitcoin ATM located in Jeddah.
How to sell Bitcoin in Nigeria using Astro Africa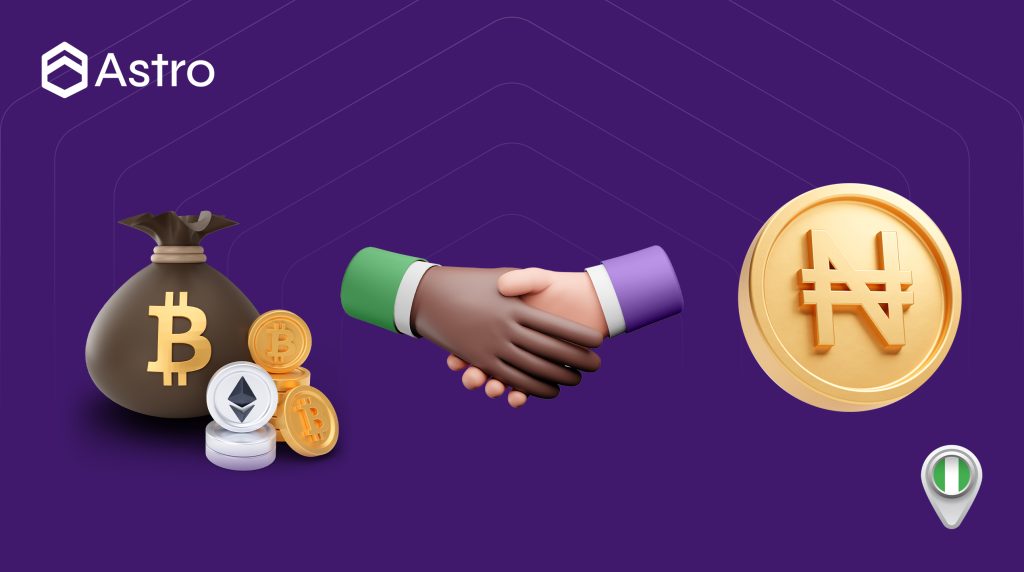 To sell Bitcoin in Nigeria, you need an exchange platform like Astro Africa. Astro Africa is a digital exchange platform that allows you to sell Bitcoin and other cryptocurrencies for Nigerian money. The platform is easy to use, sells bitcoin at the best rates, is swift, and has fantastic customer service. To use Astro Africa, you must create an Account. To create an account, visit the Astro Africa website or download the mobile app from the Google Play Store or App Store.