There have been jokes about Nigerians being the most immigrants in Canada, and the numbers are confirming that it is indeed true. As of 2019, Nigeria was the fourth leading source of immigrants in Canada, and the numbers have increased since then.
As more Nigerians immigrate for greener pastures and other personal reasons, more online inter-country services that can cater to them and their relatives in Nigeria are necessary. On this note, transfer services like Africhange, which serves as a financial correspondence between Nigerians in the Canadian Diaspora and Nigerians in Nigeria, are important.
What is Africhange?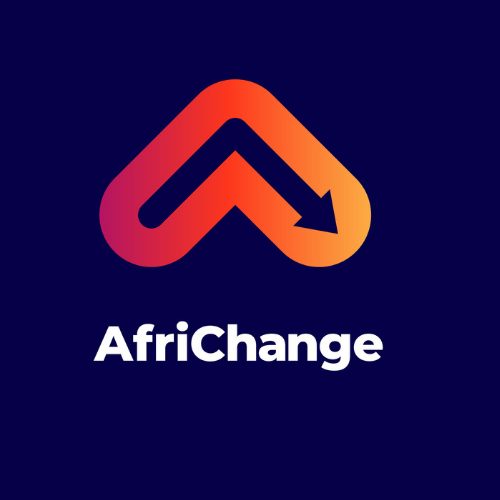 Africhange is a reliable remittance company that exploits blockchain technology to provide users with a seamless way to send money to Nigeria from Canada at a low cost. Africhange cannot be compared to other remittance methods because they have proven more effective over the years with the simplicity of their services.  
With Africhange, you send CAD, Africhange handles the Bitcoin exchange, and your recipient receives NGN in their bank account, which happens within minutes. Because the platform leverages crypto, there is a guarantee that your money will always be converted at the best exchange rate possible so that you never lose value.
Features of Africhange
There are several money transfer platforms, but some features set Africhange apart.
It is user-friendly and easy to use.
It is 100% safe and uses the best security technology to protect its customers' assets.
Africhange is fast; your recipient can be credited 10 minutes after the transaction is approved.
Africhange offers competitive Canadian exchange rates.
Zero charges for money transfers.
How to get started on Africhange
Download the Africhange app from the Google Play Store or visit the website.
Login to create an account.
Click Sign up.
Input your details, including full name and email address, and create a password.
Verify your account by clicking on the verification link sent to your email by Africhange.
After that, you begin the KYC process by submitting a government-issued identification document. This helps prevent fraud and comply with Nigeria's KYC and AML regulations.
Once you have submitted an ID, you proceed to complete facial verification.
After completing this process, you can start making transactions on Africhange.
How to transfer money with Africhange
Africhange is easy to use and requires little or no tech expertise. To transfer money on Africhange, follow the steps below.
Step 1: Complete your registration process to set up an account, and you can immediately make your first transfer.
Step 2: Enter the amount you want to send to the recipient. Africhange will display the exchange rate in your local currency, so there are no hidden charges.
Step 4: For this step, enter the recipient's details. Recipient details should include their bank details, name, and email address—Cross-check details to ensure you are not sending funds to the wrong accounts. Note the Africhange Interac E-Transfer payment details, including the email and secret question.
Step 5: Complete the transaction through the website and send money to [email protected] using Interac E-Transfer on your Canadian banking app.
Is Africhange legit?
Africhange is a registered money transfer service and its registration confers legibility. It is compliant with the Proceeds of Crime (Money Laundering) and Terrorist Financing Act and associated regulations. Africhange is also registered with the Financial Transactions Reports Analysis Centre of Canada (FINTRAC).
How much money can I send to Africhange?
With Africhange, you can send up to CAD9,500 daily and CAD30,000 monthly. Once you reach the limit, you'll have to wait for the next month before you can transfer again.
How much are Africhange's international transfer fees?
Africhange incentivizes its customers by allowing them to transact. This means you can transfer money for free. The platform displays the exchange rate for the transfer on the interface, so there are no hidden charges.
Africhange exchange rates?
Since it uses blockchain as part of its transfer process, Africhange's exchange rates are comparatively competitive. Your Canadian dollars will be exchanged into Bitcoin before the Bitcoin is changed into the local currency of your intended transfer destination.
Africhange money transfer policy service adds a margin on top of the mid-market exchange rate for international transfers. This way, you can compare the speed to the current interbank rate.
How can I send money abroad with Africhange?
Africhange is quite limited in what it offers in terms of transfer methods and location. You can only transfer money to Canada, and the platform caters to only cash transfers, even though cryptocurrencies are used in the transfer process.
Which payment methods does Africhange support?
Africhange only supports payment via Interac E-Transfer, a fund transfer service.
Duration of an international transfer with Africhange?
Because Africhange is committed to satisfying its customers, it keeps to its promises. It is processed immediately after you complete your transaction on the platform, and the recipient receives the payment within a few minutes.
Astro Africa: Best digital platform in Nigeria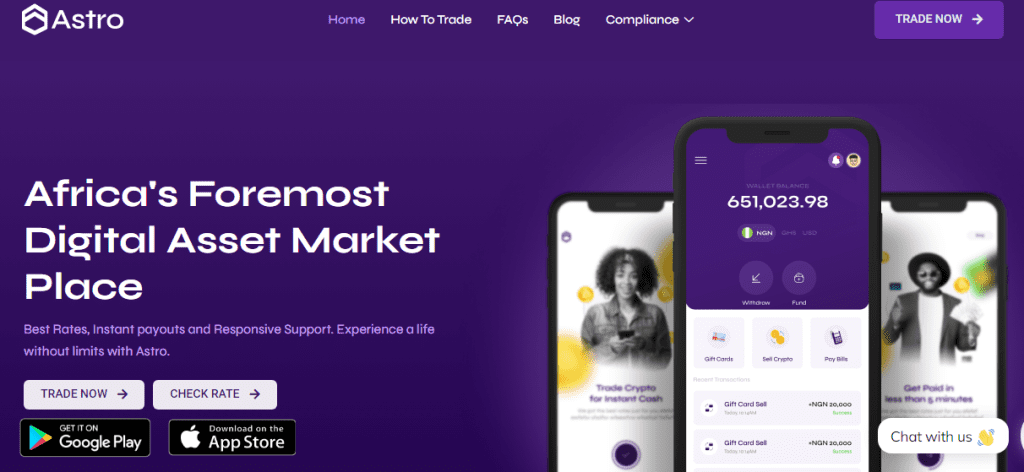 Astro Africa is a digital platform that provides solutions to daily Nigerian needs like purchasing airtime and data, utility bills, DSTV, and GoTV subscriptions. In addition, you can also sell gift cards and crypto for naira at good exchange rates and get paid. The platform is easy to use with a simple user interface. It is entirely safe with 24/7 customer service. Download the app from the Google Play Store or the App Store to get started and enjoy our services.