Many people question the legibility of investment platforms like ARM Pensions because of personal past experiences or sad stories they read online. On this note, asking, "Is ARM Pension legit?" is very important. The answer is yes! Read on to find out more about ARM Pensions.
What is ARM Pension?

ARM Pension Managers (PFA) Ltd. is one of the first seven Pension Fund Administrators (PFA) that the National Pension Commission granted a license to operate in Nigeria. They are a part of the Asset & Resource Management Company Limited (ARM) Group, one of Nigeria's most prominent financial service brands.
The company intends to become one of Nigeria's biggest, fastest-growing, most efficient, and customer-friendly pension managers. Aside from this, they aim to provide their customers with excellent service and value and uphold a high professional standard.
How to Invest in ARM Investment?
ARM Investment created its platform to make it easy for anyone to carry out investment transactions. The process involved is easy, seamless, and requires less than 10 minutes of your time. To get started, follow the steps below.
Visit the website: The first step requires you to either download their mobile app or visit their website. You can easily learn about their platform from the website interface because it is informative. After skimming through the website, move to the next step.
Complete the registration form: Click the signup button and fill in the required information like name, email address, and phone number.
Account verification: This step is crucial in verifying your account as a certified user. A mail will be sent to the Email you used in creating the app. Click the link in the Email to verify the app.
Select an Investment Product: immediately after you verify your account, you can choose an investment product and kick off your investment journey with ARM Investment.
Fund Your ARM Account: Another crucial step is to fund your account. It is very easy to do. Fund your account with the amount that matches your chosen investment plan.
What are the benefits of Choosing ARM Pensions?
What's in it for you? What do you gain by investing with ARM Pensions? Here are some key Benefits.
1. ARM pensions have a track record of excellence in fund management. They have been in this business for the past 15 years and are fund management experts.
2. At ARM pensions value, the satisfaction of their users is a top priority. The company is intentional about providing excellent customer service at all times.
3. As mentioned earlier, ARM Pension is easy to use and is accessible with either phones or Laptops. This process is seamless and hassle-free.
ARM Investment Products
Here are all the investment plans available for ARM investment.
ARM Discovery Balanced Fund: If you want to make long-term capital, this plan is for you. 10,000 naira is the minimum investment amount for the ARM Discovery Balanced Fund.
ARM Money Market Fund: This investment plan allows you to control the access to your money, whereas fixed deposit accounts give higher interest in exchange for no access to the cash till maturity. This plan accrues more interest than the normal savings plan.
ARM Eurobond Fund: This is an investment product for Nigerians who want to invest in the dollar-denominated Eurobonds. This plan is for you if you are seeking T medium to long-term capital interests.
ARM Fixed Income Fund: This investment plan is less risky. This investment product is low-risk, open-ended, and perfect for investors with medium to long-term goals.
ARM Aggressive Growth Fund: This plan was created for users with a high-risk threshold. This is for you if you are willing to conquer inflation in the long term and don't mind the risk.
ARM Ethical Fund: This is a mutual fund for Muslims in general. It is for Islamic users who want to invest in a long-term capital growth fund following Islamic principles.
ARM Pension Retirement Plans
Here are the three ARM pension Retirement plans:
1. Micro Pension Plan: ARM Pension is responsible for designing the Micro Pension Scheme (MPS). This plan helps traders, freelancers, and other self-employed individuals who do not qualify for other plans. With this plan, this category of people can save and prepare themselves for retirement.
2. Voluntary Contributions: In this type, the funds are deducted from your salary. Your employer is responsible for deducting these funds from your salary, which are remitted into your ARM retirement account with your regular savings. Voluntary contributions differ from your savings.
3. Benefit payment: ARM pension aims to ensure that all their clients and beneficiaries of deceased/missing persons have access to their benefits as and when due. This complies with the Pension Reform Act 2014 and the rules and regulations guiding the Administration of Retirement and Terminal Benefits.
Astro Africa: Best digital platform in Nigeria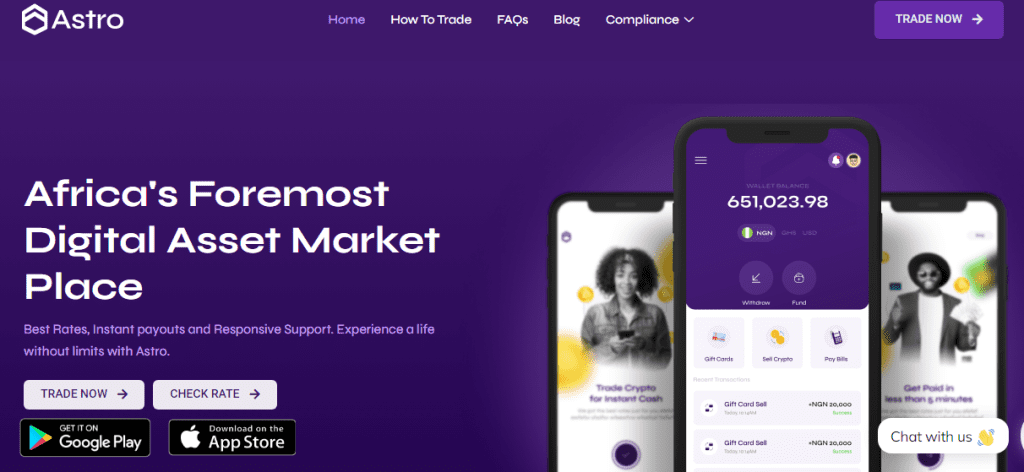 Astro Africa is a digital platform that provides solutions to daily Nigerian needs like purchasing airtime and data, utility bills, DSTV, and GoTV subscriptions. In addition, you can also sell gift cards and crypto for naira at good exchange rates and get paid. The platform is easy to use with a simple user interface. It is entirely safe with 24/7 customer service. Download the app from the Google Play Store or the App Store to get started and enjoy our services.