Sell Bitcoin in Ghana: Selling Bitcoin in Ghana can be a profitable and convenient way to convert your cryptocurrency into fiat currency. Ghana has seen a growing interest in Bitcoin, as more people are beginning to embrace the digital currency. Bitcoin is a decentralized form of currency that offers its users anonymity, security, and the ability to send and receive money quickly. Ghanaians have been using Bitcoin for various purposes, such as investment, online purchases, and money transfers.
Sell Bitcoin in Ghana
With the rise of cryptocurrency exchanges and the availability of Bitcoin wallets, more Ghanaians are getting involved in the Bitcoin market. However, it's important to choose the right platform and take necessary precautions to ensure a smooth and safe transaction. Here are some steps to sell Bitcoin in Ghana quickly:
Choose a reputable Bitcoin exchange: Look for a platform that has a good reputation and low transaction fees. Astro Africa has emerged as one of the top crypto platforms in Ghana due to its user-friendly interface, quick transaction processing, and excellent customer support. Also, Astro Africa offers competitive exchange rates and low transaction fees, making it an attractive option for both beginners and experienced traders.
Create an account: Register an account on the exchange by providing your personal details and verifying your details. Setting up an account on Astro Africa is a quick and straightforward process that takes just a few minutes to complete. To get started, users need to visit Astro Africa website and click on the "Sign Up" button. They will then be prompted to enter their basic information, such as their name, email address, and phone number, and create a password. Once the account is created, users will need to verify their email address, which can be done by entering the verification codes sent to them.
Sell your Bitcoin: On your Astro Africa dashboard, choose the option to sell your Bitcoin, and specify the amount you want to sell and the currency you want to receive, i.e. Ghanaian cedis. The rate calculator will automatically display the cedis equivalent of your crypto asset. Proceed to send the bitcoin to the generated address and await confirmation.
Withdraw your funds: After the transaction is complete, you will be credited to your Astro Africa wallet. You can then withdraw your funds to your preferred payment method, such as a bank transfer or mobile money.
If you are looking to sell Bitcoin for cedis in Ghana, you will be pleased to know that the process is relatively easy, and Astro Africa is considered to be the fastest way to do so. Astro Africa allows Ghanaians to sell Bitcoin securely, quickly, and at competitive rates.
Also read: How to Sell Bitcoin in Nigeria After Ban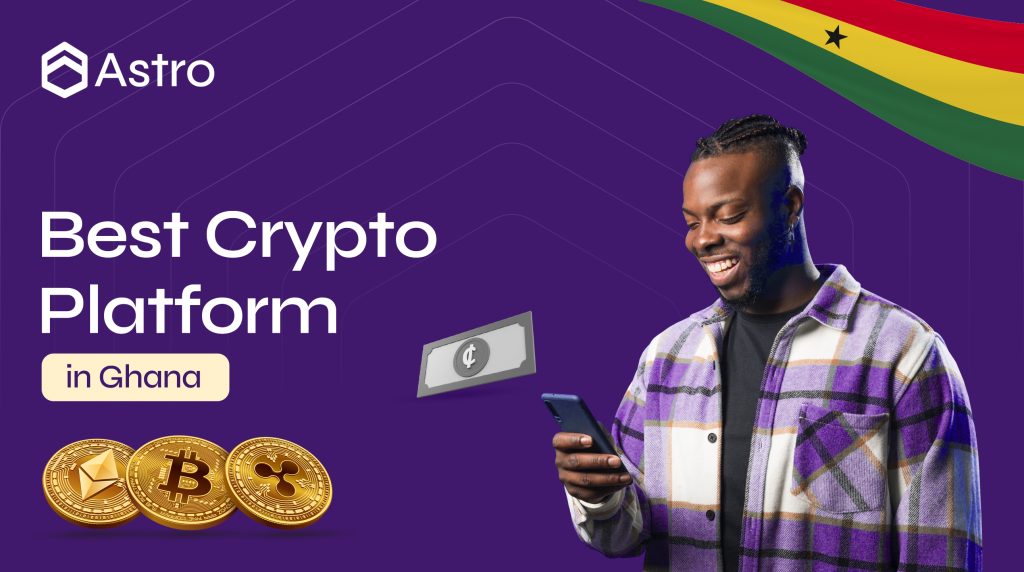 Choosing the best Bitcoin exchange in Ghana
When it comes to choosing a crypto exchange, there are several factors that you should consider to make the best decision. Here are some of the things to keep in mind:
Security: The security of an exchange should be a top priority. Look for exchanges that have strong security measures.
Reputation: Look for an exchange that has a good reputation in the cryptocurrency community. Research the exchange's history, reviews, and track record to ensure that it is reliable and trustworthy.
Fees: Different exchanges have different fee structures, including trading fees, and withdrawal fees. Compare fees across various exchanges to ensure that you're getting a fair deal.
Supported cryptocurrencies: Some exchanges only support a limited number of cryptocurrencies. If you're looking to sell a specific cryptocurrency, ensure that it is supported on the exchange you choose.
User interface and customer support: The user interface of an exchange should be easy to navigate and use. Also, look for exchanges with good customer support in case you need assistance with your account or trades.
Astro Africa is a top-tier crypto exchange in Ghana that checks all the boxes when it comes to selecting a reliable exchange. We place a strong emphasis on security, with features such as two-factor authentication. Also, we have a solid reputation in the cryptocurrency community, with a track record of providing excellent customer support and reliable services. – Sell Bitcoin in Ghana