How To Trade Bitcoin In Nigeria: Bitcoin is the first successful attempt at creating a decentralized digital currency and in Nigeria, it is the most traded and popular cryptocurrency despite the financial limitations placed on cryptocurrency transactions by the government.
How To Trade Bitcoin In Nigeria
Despite the government ban posing some hindrance to cryptocurrency transactions in the country, there has been a huge adoption of Bitcoin by the youths in Nigeria who are strongly following the wave of crypto adaptation.
This article aims to reveal how and where you can easily sell your bitcoin in Nigeria at the best market rates.
Bitcoin Trading: Buying And Selling Bitcoin In Nigeria
According to data collated by Statista, Nigeria came third in the ranking of countries by volume of Bitcoin traded using local currencies in 2020.
This data indicate the heavy involvement of Nigerian cryptocurrency users in the cryptocurrency global market. With more than $400 million being traded in bitcoin by Nigerians, Nigeria trades twice the bitcoin sold and bought in the United Kingdom as of 2020.
Bitcoin is the leading crypto asset, and it is not controlled by any central authority or controlling body, unlike the Naira in the Central Bank of Nigeria. Anyone can buy and sell it, irrespective, of geographical location, age, or status in Nigeria, which is why many Nigerian youths are adopting its usage.
So if you are new to Bitcoin trading, you need to learn how to easily trade bitcoin in Nigeria today.
How To Legitimately Trade Bitcoin In Nigeria
Knowing how to work around the legitimacy of trading crypto in Nigeria is just as important as knowing how to sell your bitcoin in Nigeria. Here are 2 major ways you can use as a Nigerian to trade your bitcoin.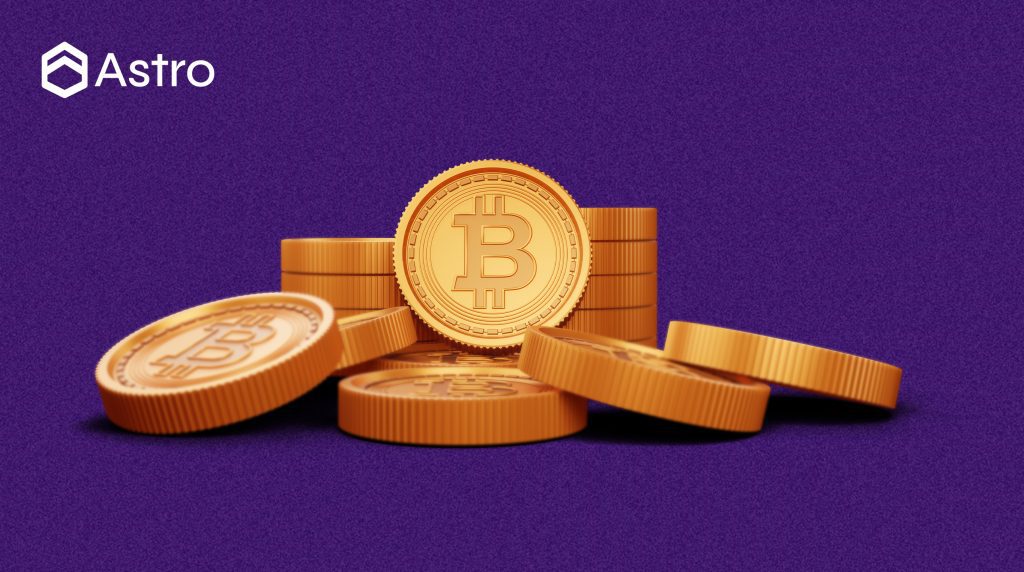 Crypto Exchanges
This is the first option if you want a place to sell your bitcoin in Nigeria. As a Nigerian looking to sell your Bitcoin legitimately in Nigeria, Astro Africa is a legitimate platform that has been designed for Nigerians and Ghanain to sell various types of digital assets. You can seamlessly trade your Bitcoin for cash that will be sent directly into your preferred bank account.
Peer-to-Peer Trading
Online peer-to-peer also known as P2P exchange is a method of buying and selling cryptocurrencies directly between users. Bitcoin trading site like Binance is one of the most used P2P exchange platforms in Nigeria.
Factors of a Good Crypto Exchange To Sell Bitcoin in Nigeria
Better Rates and Fees:
Most crypto exchange platforms in Nigeria offer mediocre and unfavourable rates to customer cause of the lack of regulation in the crypto market. You can trade on Astro Africa to get good rates for your Bitcoin trade.
Convenient And Easy:
Astro Africa's platform, website and mobile app, are easy and convenient to use. Your level of expertise doesn't matter when you are using Astro Africa platforms, because both the mobile app and website have been designed to suit both beginners and professional crypto traders.
Social Media Presence:
Another thing to look out for when choosing a platform to sell bitcoin is its social media presence. A crypto platform should have a substantial online presence on various social media platforms. You can check Astro Africa out on Instagram.
Great Customer Support:
We also offer a 24/7 customer support experience, so we can assist you in case you encounter any difficulties.
How to Sell Bitcoin for Naira On Astro Africa
Thanks to our favourable rates, we've been home to various cryptocurrency traders in Nigeria. Selling your Bitcoin is fast and easy with Astro Africa. All you have to do is,
Create an account with your correct credential.
Sign in to your Astro Africa account.
Navigate to the "sell crypto" section on your account dashboard.
Click on "Trade" and select "Bitcoin" as the crypto you want to sell.
Indicate how much bitcoin you want to sell and click "continue."
Confirm the transaction, confirm by clicking Sell
You have successfully sold your Bitcoin to Astro Africa.
The amount would instantly reflect in your Naira wallet upon transaction verification.
Get Started Selling Bitcoin
Start selling your gift card for the highest value on Astro Africa. Astro Africa is the ideal platform for all digital asset trade.
Astro Africa is providing a wonderful opportunity for all those who are interested in Bitcoin to reap its benefits. Moreover, the company intends to expand its services to offer more such opportunities in the future.
>>Sell Bitcoin with Naira Now<< – How To Trade Bitcoin In Nigeria