Convert Bitcoin to Money: If you want to get the best value for Bitcoin in Ghana, Astro Africa is the platform for you. Apart from being the best crypto exchange platform in Ghana, Astro Africa allows you to convert Bitcoin to money at the best rates. The rates of Bitcoin are never stable and can be unpredictable, but Astro Africa has got you covered. Astro Africa has the following features to ensure that converting your Bitcoin to money in Ghana is seamless and always successful.
Astro Africa has a simple user interface that makes it very easy to navigate. As a new crypto trader trying to find their way, you can read our knowledge-based blog to learn all the nitty gritty of the crypto and gift card industry.
Astro Africa is safe and employs the best security technology in the world. Since our launch, we have never experienced hacks by unauthorized third parties because of our impenetrable firewall.
The customer service is super responsive and works round the clock to proffer solutions to all your trading issues.
Astro Africa incentivizes its customers through the referral bonus scheme. Whenever you refer any trader, and the trader uses your referral code in creating an account, you get paid when the trader performs a transaction.
Astro Africa is a robust platform that is concerned about the trading needs of traders. This is why we always try to make it easier for traders in Ghana and Nigeria. Yes, Astro Africa is diverse, and you can sell Bitcoin for naira and Ghanaian cedis.
On Astro Africa, you can crypto at the best rates and get paid instantly. The rates of cryptocurrency are volatile but Astro Africa still manages to sell crypto at the best rates so that you can make maximized profits
How to get started on Astro Africa
To get started on Astro Africa, follow the steps below.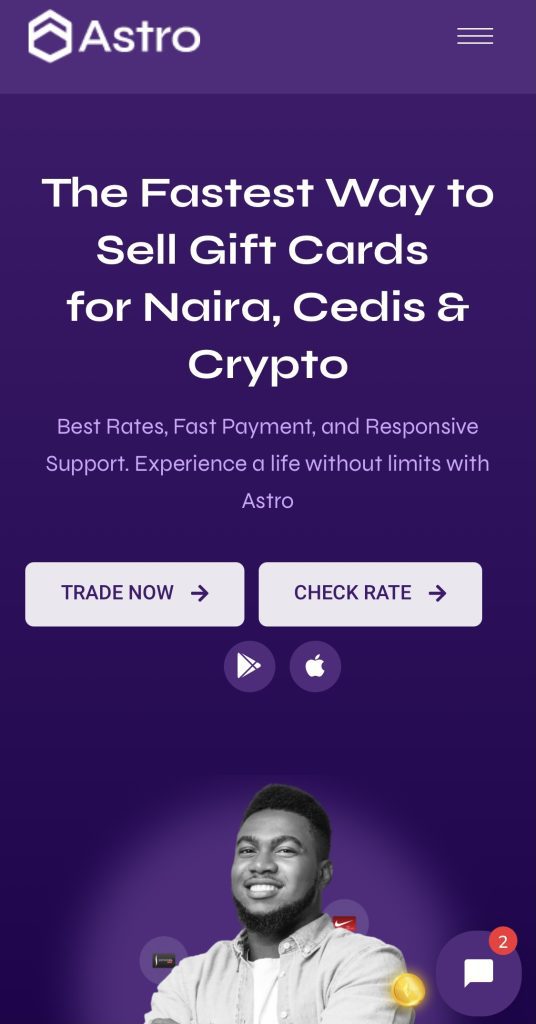 Visit the Astro Africa website or download the mobile app from Google Playstore or App Store so that you can always pay your utility bills on the go.
Click on trade now.
Enter your first and last names.
Enter your email address and phone number.
Select "Ghana" as a country.
Enter your username and password.
Enter the referral code if you were referred so that your referred can get paid after you perform at least one transaction.
Agree to Astro Africa's terms of use and privacy policy.
Click on create an account. Immediately you click "create an account," your details will be examined, and a 6-digit one-time password will be sent to your email for verification. Input the code to complete your registration process.
How to convert Bitcoin to money in Ghana on Astro Africa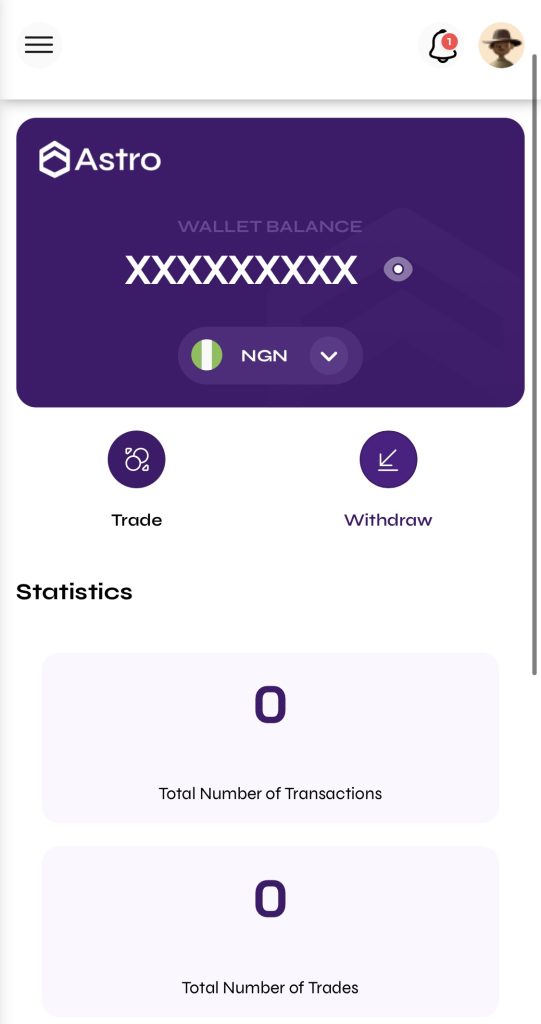 Log into your account if you logged out.
After creating an account, You'll be directed to your dashboard.
Add a bank account and create your transaction pin.
Add a Ghanaian wallet.
Click on sell crypto on your account dashboard.
On our platform, you can sell Bitcoin, USDT, Ethereum, and BNB. Select Bitcoin.
Choose your payment wallet (Naira or Cedi wallet), and enter the amount in dollars or BTC; the calculator will display the amount you will receive in your local currency; click on proceed if you agree with the terms.
A Bitcoin wallet address will automatically display on your screen. Copy and paste the address into the space provided.
Click on "I have sent Bitcoin" to confirm that it has been transferred.
Your wallet will be credited immediately, and you can withdraw to your local bank account whenever you want.
Apart from selling Bitcoin for cash on Astro Africa, you can also sell gift cards for crypto and naira or cedis. Even more, Astro Africa is a P2P platform that allows you to purchase airtime and data for your loved ones without stress.
Also read: Best rate to trade Bitcoin in Ghana