10 Best Gift Cards to Sell: If you have been searching for the best gift cards to sell in 2023, this article is for you. Before we get into it, let's take a quick at the meaning of gift cards and how they work.
Gift cards are prepaid store-value cards that serve as an alternative means of payment. You're your gift card, and you make purchases from stores that accept them without stress. Nowadays, almost every company creates and distributes gift cards. Some of the most popular gift cards include Amazon, iTunes, Razer, Sephora, and lots more.
Apart from serving as an alternative means of payment, gift cards also serve as gifts. In fact, they are the best form of gift since the recipient can get the things they actually like with the gift card. During the festivities, gift cards become increasingly popular because they are gifted to friends and families by well-meaning individuals.
10 Best Gift Cards to Sell
According to the Astro Africa rates calculator, the following is a list of gift cards and the ten best gift cards to sell in Nigeria in 2023.
Amazon Gift Card
Visa Gift Card
iTunes Gift Card
Walmart Visa Gift card
Google Play Gift card
Steam Gift card
Vanilla/OneVanilla Gift card
Sephora Gift card
Razer Gold Gift card
As a trader or retailer, these are the best gift cards to own now. Having this information at your fingertips gives you a competitive advantage over other traders.
Sell gift cards for cash on Astro Africa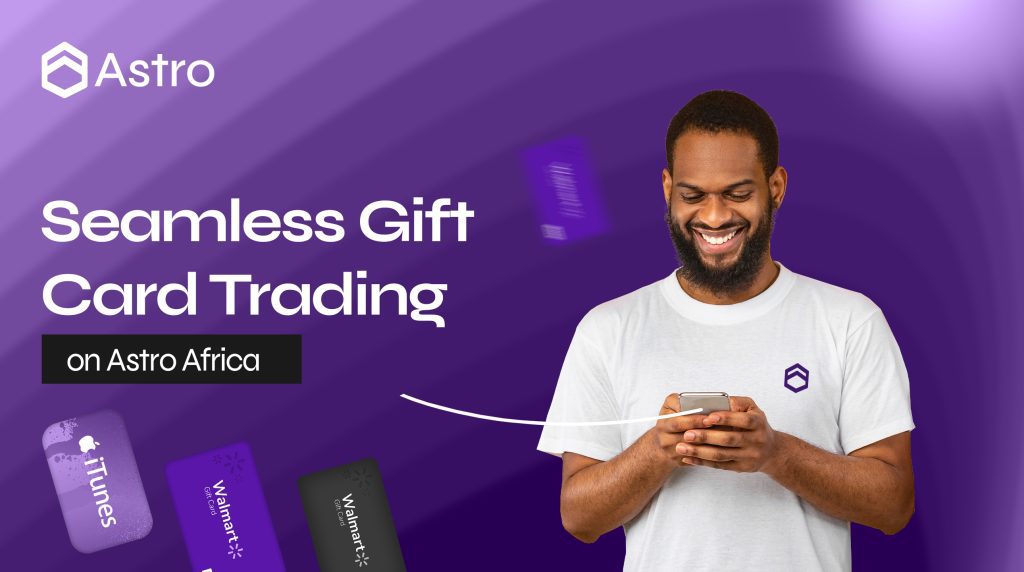 Apart from redeeming your gift cards for items, you can also decide to sell them for cash on the best gift card exchange in Nigeria, Astro Africa. There are only a few stores that accept gift cards as a means of payment in Nigeria and Ghana; hence selling them for cash is more profitable than keeping them until they expire. On Astro Africa, you can sell gift cards for money (naira and cedis) and expect high returns because we sell gift cards at the best rates. Astro Africa has several other features that also make them outstanding. They include an intuitive user interface, a top-notch security system, responsive customer service, referral bonuses, and high exchange rates.
The platform is accessible on the web and mobile apps for Android and iOS phones. To sell gift cards on Astro Africa, follow the steps below.
Visit the Astro Africa website or download the mobile app.
Click on sign up.
Input your first and last name.
Input your username and valid email address.
Input your password.
Input your phone number and country.
Input the referral code of whoever referred you so that they can be rewarded.
Agree to Astro Africa's terms and privacy policy.
Click sign up, and Astro Africa will verify your details. You have now become a registered user on Astro Africa.
You will be immediately taken to your dashboard.
Add a local bank account and create a four-digit transaction pin. As long as you complete this step, you will get paid immediately.
Click on sell gift cards, and all the gift cards supported by Astro Africa will be displayed.
Select the currency, Ghanaian cedis or Nigerian naira.
Select the gift card of your choice.
Input all details about your gift cards.
Input the value of your gift card.
Click on submit.
Your transaction will be verified, and you'll get paid immediately.
This process can also be used to sell gift cards for crypto; only you will need a crypto wallet.
How to calculate gift card rates on Astro Africa
Astro Africa has a rates calculator that helps you calculate the current rates of your gift card seamlessly. To calculate the rates of your gift cards in naira and cedis, follow the steps below.
Visit the Astro Africa website.
Click on check rates.
Select currency which is the Nigeria naira or Ghanaian cedis.
Select the gift card.
Select the gift card category.
Enter the value of your gift card in dollars.
Since the calculator is automated, your gift card rate will be automatically displayed. 
10 Best Gift Cards to Sell – 10 Best Gift Cards to Sell– 10 Best Gift Cards to Sell