Do you have a $500 eBay gift card in naira and don't know the price? This article is for you.
If there is one thing that COVID-19 opened our eyes to, it is the need for an alternate source of income. Trading gift cards for money is one of the several ways through which Nigerian youths earn money. With the right process, it is easy and swift and wouldn't cost you a dime.
There is always an influx of gift cards during the festivities because our relatives abroad send us gift cards. The sad thing is that there is hardly any store that accepts gift cards in Nigeria. Most of the gift cards sent to Nigeria by relatives are distributed by stores that do not have branches in Nigeria. Instead of keeping the gift cards until they expire, these gift cards can be sold for cash on exchange platforms like Astro Africa. After selling your gift cards for cash, you can use the proceeds to purchase whatever you want, save, or invest in a venture.
If you just received a $500 eBay gift card, you can sell it at the best rates on Astro Africa and get paid immediately. However, before selling gift cards for cash, you must know the gift card rates.
How to calculate the exchange rates of gift cards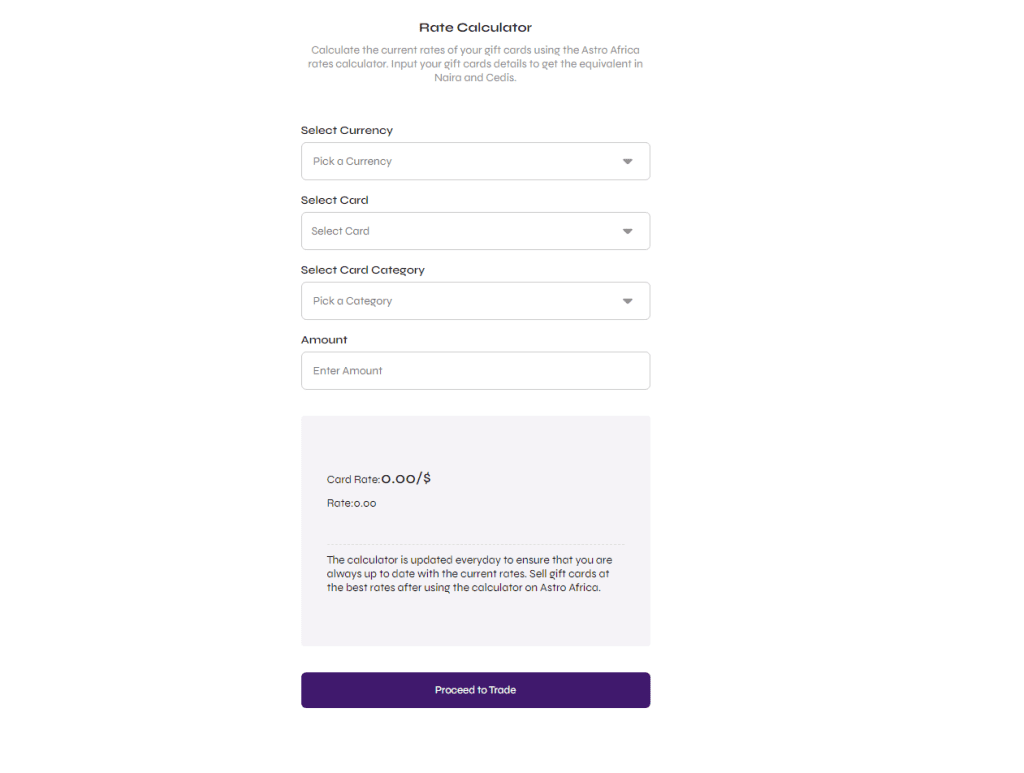 The rates of gift cards are always unstable. The exchange market is volatile, and this affects the rates of most digital assets. Knowing the rate of your gift card will help you know the best time to trade them for cash. Sometimes, the exchange can be very high or very low at other times. Imagine selling gift cards when the rate is low and making small profits, unlike when you sell when the rate is high and maximize your profits.
The best tool for calculating the current rates of your gift cards is the Astro Africa rates calculator. The calculator is constantly updated with the current rates to help you calculate accurate rates. Like the platform, the calculator is easy to use with the following steps.
Visit www.astroafrica.site.
Click on Check Rates.
Select currency. You will find the NGN wallet, GHS wallet, and USD wallet in the drop-down. Select NGN wallet.
Select gift card. Astro Africa supports a wide variety of gift cards. Scroll down to find the eBay gift card.
Select the gift card category. There is four gift cards category for eBay gift cards, and they are USA eBay physical 100-200, USA eBay physical 25, 50, 75, USA eBay ecode 100-200, and USA eBay ecode 25, 50, 75. Select the category that your $500 eBay gift card falls into.
Input $500 as the amount of your gift card.
The corresponding value of your gift card will be displayed immediately, which is 234,000 naira for physical eBay gift cards and 216,000 naira for digital or ecode eBay gift cards.
As you can see, Astro Africa gift card rates are high. Don't hesitate to click the proceed link end start trading gift cards for cash at the same rate and get paid immediately. To make it more fun so that you can always calculate the rates of your gift cards on the go, download our mobile apps on Google Playstore or App Store, depending on your mobile device.
How to get started on Astro Africa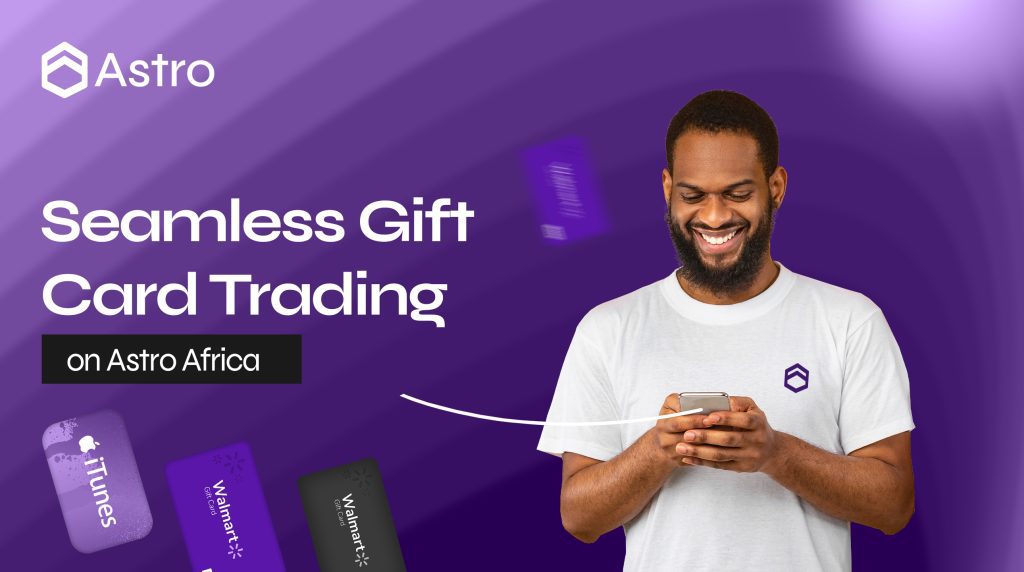 To gain access to all the amazing rates and bonanza we have for you, you must create an account with us. To create an account, follow the steps below.
Visit the Astro Africa website or download the Google Playstore or Apple Store mobile app to create an account and start trading.
Click on sign up.
Input your first and last name.
Input your valid email address and phone number.
Select the country of residence.
Enter your username.
Input your password. Ensure it is strong with letters, alphabets, and symbols.
Input the referral code of whoever referred you so they can be rewarded.
Click sign up, and Astro Africa will verify your details. You have now become a registered user on Astro Africa.
You will be immediately taken to your dashboard.
Complete your registration by creating a transaction pin and a Nigerian bank account. After the transaction, your accounts will be credited.
After creating an account, you can sell gift cards for cash at the best rates. On Astro Africa, you can also sell gift cards for crypto and pay bills.