$100 Sephora Gift Card: Sephora gift cards are prepaid gift cards distributed by a French multinational company called Sephora. Sephora is a beauty company that distributes products from over 2000 beauty companies. The headquarter of Sephora is in Paris, but it has over 2000 branches in more than 30 countries. With a Sephora gift card, you can easily trade from the online and physical stores and get paid without stress. It can also serve as a wonderful gift for friends that love cosmetics.
$100 Sephora Gift Card
There are two major types of Sephora gift cards, physical and digital Sephora gift card. The physical types can be ordered online but will be delivered via your mailbox. You can also purchase Sephora physical gift cards from Sephora stores using cash, debit card, or debit card, which will be given to you immediately. Digital gift cards, on the other hand, can only be ordered online, and the details of your card will be delivered to you right away.
Uses of Sephora gift cards
As mentioned earlier, Sephora is a beauty products company. Your Sephora gift card code could function as a redemption code if you received it as a gift. You can purchase anything from Sephora online or physically with the redemption code.
Also, Sephora gift cards can be used to purchase all kinds of beauty products, including skin care products, hair care products, cosmetic kits, body treatments, and other body treatments from different beauty brands around the world.
In Nigeria, the use of Sephora gift cards is quite limited to trading for profits because there are no Sephora stores. It's why questions about the prices of Sephora gift cards are being asked every day, and we will show you the best way to calculate Sephora gift card rates today.
How to calculate the current rates of a $100 Sephora gift card in Nigeria
The prices of gift cards are never stable, and it can be quite frustrating. You might want to trade today at a particular rate and forget to complete the trade, and by the time you come back the next day, the rate has either increased or reduced. Having a tool to help you navigate the stress of constantly calculating the rates of gift cards in your head is all you need.
The Astro Africa rates calculator is the tool you need to calculate the rates of your gift cards. The tool is easy to use and doesn't require creating an account first. With the rates calculator, you can say goodbye to being surprised by the sudden increase or decrease in gift card rates. To use the rates calculator, follow the steps below.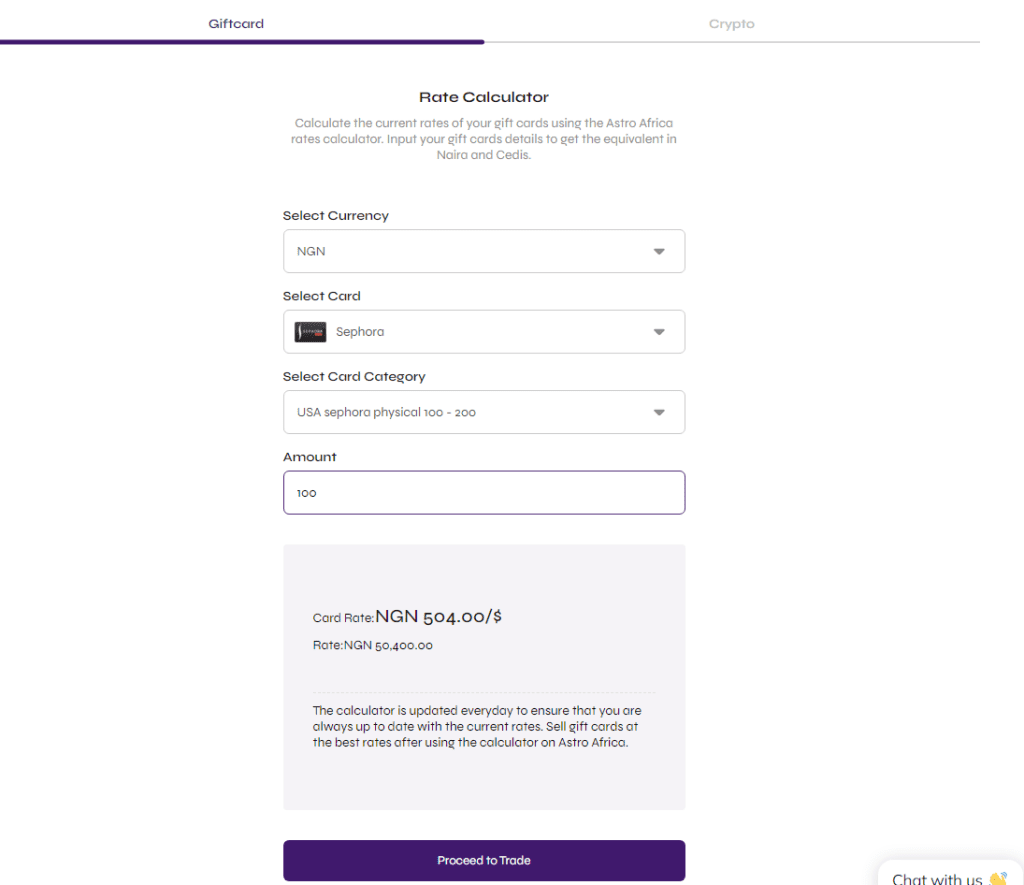 Visit the Astro Africa website or download the Astro Africa mobile apps so that you can always calculate your rates at a go.
Click on Check Rates.
Select currency. You will find the NGN wallet, GHS wallet, and USD wallet in the drop-down. Select NGN wallet.
Select gift card. Astro Africa supports a wide variety of gift cards. Scroll down to find the Sephora gift card. Google Play gift card is the fourth gift card on the list.
Select the gift card category. Note that selecting the right gift card category is essential to calculate the accurate rates of your gift cards. For a $100 Sephora gift card, it is either physical or digital. So you should select USA Sephora physical 100 – 200 or USA Sephora ecode 100 and 200.
Input $100 as the amount of your gift card.
The corresponding value of your gift card will be displayed immediately, which is 50,400 naira for a physical Sephora gift card and 46,080 naira for a digital or ecode Sephora gift card.
After calculating the rates of your gift card, you can click proceed to trade to sell gift cards for cash on Astro Africa.
Where to sell Sephora gift cards in Nigeria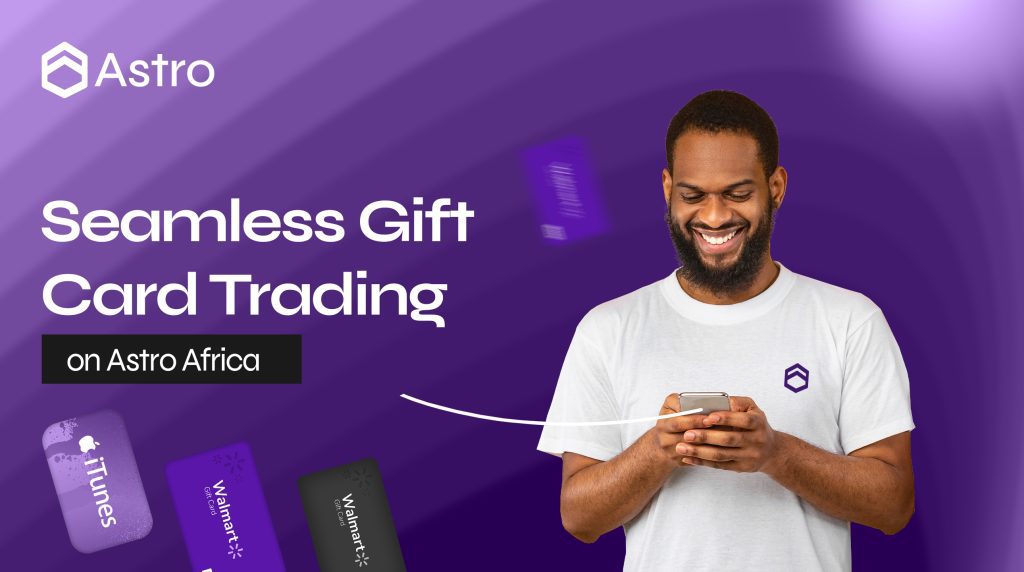 Astro Africa is the best place to trade your Sephora gift cards, especially if you're looking to get the value of your gift cards. Astro Africa is one of the few platforms in Nigeria that sells gift cards above 80% of their face value. The platform is easy to use because its user interface is intuitive and user-friendly.
Regarding security, referral bonuses, customer service, and reliability, Astro Africa has never been caught as lacking. You only need your valid email address and phone number to become a registered user. After creating your account on our website or mobile apps, you can start trading gift cards for cash or crypto.