Xbox gift cards are a convenient way to enjoy gaming, purchase digital content, and make in-game purchases on the Xbox platform. To make the most of your Xbox gift card, it's essential to keep track of your balance and understand how to utilise it effectively. In this article, we will guide you through the process of checking and using your Xbox gift card balance.
How To Check Your Xbox Gift Card Balance:
Online Method:
Step 1: Visit the official Xbox website or access your Xbox account through the Xbox console.
Step 2: Sign in using your Microsoft account credentials.
Step 3: Navigate to the "Payment & billing" or "Account" section.
Step 4: Look for the "Gift card" or "Balance" option to view your available funds.
Console Method:
Step 1: Power on your Xbox console and sign in to your Xbox account.
Step 2: Navigate to the "Settings" menu.
Step 3: Select "Account" or "Profile" settings.
Step 4: Choose the "Payment & billing" or "Membership" option.
Step 5: Locate the "Gift card" or "Balance" section to check your remaining funds.
How To Use The Balance On Your Xbox Gift Card
To use our Xbox gift card balance, you must redeem it on your Xbox account and make an in-game purchase with it. Another option is to trade your Xbox gift for cash on a reliable platform like Astro Africa.
Redeeming the Balance:
Go to the Xbox Store either on your console or through the official website.
Browse the available content, such as games, add-ons, or subscriptions.
Select the desired item and proceed to the purchase or download option.
During the checkout process, choose the "Use a gift card" or "Apply balance" option.
Enter the gift card code when prompted or select your gift card balance as the payment method.
Making In-Game Purchases:
Launch the game for which you wish to make an in-game purchase.
Locate the in-game store or marketplace within the game.
Select the item or content you want to purchase.
Follow the prompts and choose the "Use gift card" or "Apply balance" option at the checkout.
Enter the gift card code if required, or use your gift card balance for the payment.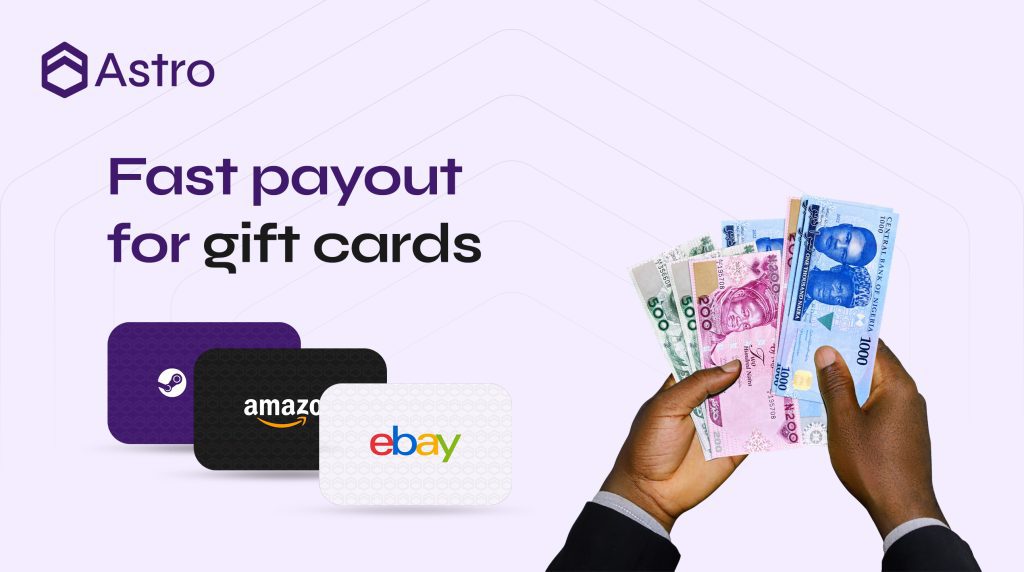 If you are a Play Station user and you happen to be in possession of an Xbox gift card, you are with money that is valueless to you, and this gift card might go to waste if you don't take the appropriate step. You can seamlessly trade your Xbox gift card for cash on Astro Africa.
Astro Africa is Safe, Simple, and Secure.
Built to make all your exchange and payment activities easier and seamless. Payment is made instantly after your card is confirmed. You can withdraw to your Nigerian bank account or Ghana mobile money. Astro is the best platform to sell your gift cards to Naira, Cedis & Crypto.
How To Sell Xbox Gift Card On Astro Africa
Visit the Astro Africa website or download the app from Google Play Store or App Store.
Existing users should scroll down and click "Sign Up" and log into their account by inputting their email and password.
After creating your account or logging in, you will be directed to your dashboard.
Complete your account setup by adding a phone number, a bank account, and/or a crypto wallet, and setting up your PIN, then click save.
Select sell gift cards, and a list will be displayed.
Choose a wallet to credit (a bank account in Nigeria or Ghana or a cryptocurrency wallet).
Choose the gift card category corresponding to the Xbox gift card.
The value of the gift card.
Upload a clear picture of the gift card.
Describe the image.
Select "Submit." Your transaction will be examined and verified in a few minutes, and your account will be credited.