If you're looking for the best app to sell Bitcoin in Nigeria and Ghana for high-yield gain, you've come to the right place. The platform to trade crypto in Nigeria and Ghana is Astro Africa, and we'll tell you why in the next section.
Exceptional features of Astro Africa
Astro Africa is packed with exceptional features that make crypto trading easier. These features are discussed below.
User-friendly: Astro Africa has an intuitive, user-friendly interface that makes trading easy. Every page is well laid out, with the appropriate instructions to make navigation seamless. Even new traders will find it easy to sell their Bitcoin for money on Astro Africa.
Security: Astro Africa is a well-secured app. Its firewalls are impenetrable, making it impossible for unauthorized third parties to hack user accounts.
Customer service: Astro Africa has responsive customer service that can attend to all your needs and complaints.
Incentives: Astro Africa incentivizes its customers with referral bonuses. You'll get paid every time a new user uses your referral code while creating an account and completes at least one transaction.
Speedy transaction: Because Astro Africa is easy to use, transactions are completed and approved fast.
Good rates: The rates of bitcoin are volatile, but Astro Africa always manages to buy bitcoin from their users at good rates.
How to create an account on Astro Africa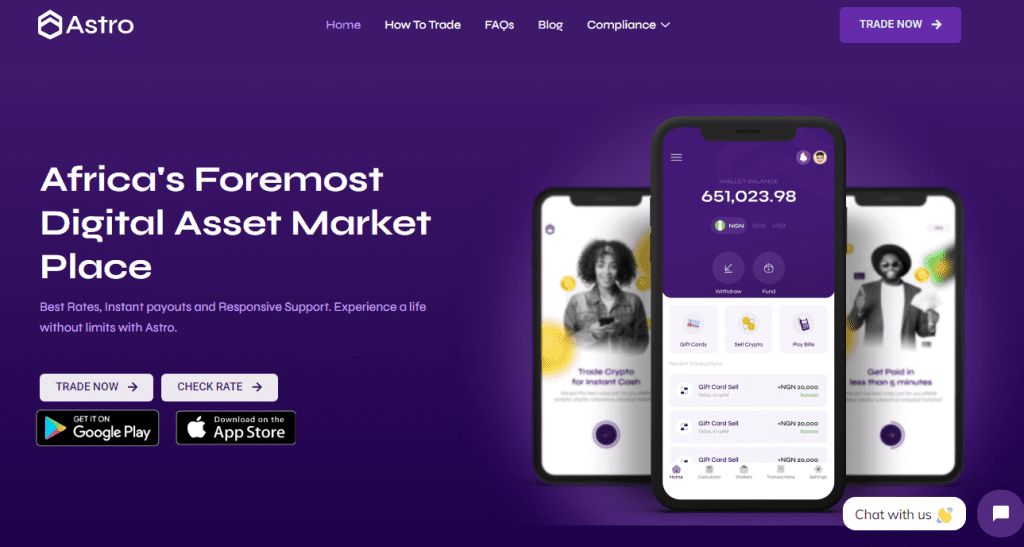 Creating an account on Astro Africa is very easy. All you have to do is follow the steps below.
Download the mobile app from the Google Play store or App Store. You can also visit the Astro Africa website now. You will find direct links to the Astro Africa mobile apps on the website.
Click on Trade Now.
The registration process is an easy two-step process.
For the first step, input your first and last name.
Input your valid email address.
Input your phone number.
Click "Continue" to enter the second step of the registration process.
Select a country, Nigeria.
Input your password.
Input the referral code of your referee so that they can be rewarded. If you don't have one, skip this section.
Agree to Astro Africa's terms of use and privacy by clicking the box.
Click Create an Account.
Astro Africa will verify your details and send a six-digit confirmation code to your email for verification.
Complete your account creation by adding a bank account and creating a transaction pin.
After becoming registered, you can go ahead to convert Bitcoin to naira.
How to sell Bitcoin for cash on Astro Africa
Follow the steps below to convert your Bitcoin to cash in Nigeria and Ghana on Astro Africa.
After creating an account on Astro Africa, click on Sell Crypto.
Select BNB as your preferred choice. You can also sell Bitcoin, USDT, Ethereum, and gift cards for cash on Astro Africa.
On the next page, Select the wallet you want to be credited.
Enter the amount of BNB you want to sell.
The Astro rates calculator will display the amount you receive in your local currency.
Click on Proceed if you agree with the terms.
A wallet address will be automatically generated, copy the address and paste it into the space provided. Click on "I have sent BNB" when you send the coin to the provided wallet address.
Your wallet will be credited immediately, and you can withdraw from there to your local bank account.
How much is one bitcoin on Astro Africa?
Calculating the value of 1 bitcoin on Astro Africa is easy because the platform has an automated rates calculator that makes it easy to compute. To use this calculator, follow the steps below.
Visit the Astro Africa website or download the Google Play or App Store mobile app.
Click on check rates.
Since you are here to check the prices of your Bitcoin, click on the top right of your screen to open the crypto calculator page.
Select payout wallet, which is Nigerian in this case.
Select coin, Bitcoin.
Input the amount of Bitcoin.
Enter the value of Bitcoin in USD. The least value you can enter here is $20. This also means you can only trade Bitcoin worth $20 and above on Astro Africa.
Immediately after you input the value of your Bitcoin in dollars, the equivalent in naira will be displayed in the box underneath.
After calculating the price of your Bitcoin, you can proceed to trade the Bitcoin for naira on Astro Africa at the best rates and get paid immediately.