Astro Africa is one of the first exchange platforms to gain a platform in Nigeria. When the platform started operations, there were widespread online scams and fraud. Many fake crypto exchange platforms were getting away with it because Nigerians didn't know how to differentiate the excellent exchange platforms from the bad. Astro Africa came to save the day with its easy-to-use platform.
In several ways, Astro Africa is redefining what we have always known as trading Bitcoin for naira in Nigeria. Very soon, Astro Africa will overthrow Binance as Africa's most used exchange platform because it is doing more than just letting you trade crypto at low fees. The platform has successfully combined functionality and ease, and it is such a wonderful thing to see.
If you have ever been defrauded on the internet, you can say goodbye to that experience because it'll never happen again. Before now, Astro Africa was only available as a website and an Android mobile app, but our iOS users kept feeling left out. If anything, Astro Africa is a brand that listens to its customers because we are customer-centric. We always find ways to ensure that all needs are met, no matter how big they seem. In this vein, we have finally launched the iOS app of our platform, and we do hope you enjoy navigating it in the same way that you enjoyed the website.
Features of the Astro Africa iOS app
Users complain that brands are fond of reducing the functionality of their platforms when creating apps. This is not the case with Astro Africa because it is the exact features you enjoyed on the website that have been embedded in the iOS app. These features have only been upgraded to suit the iOS software. The app is without bugs, and it'll never slow down your Bitcoin transactions as long as your internet connection is strong. The features of the Astro Africa iOS app are discussed below for your appraisal.
User interface: The Astro Africa iOS app has a simple user interface that makes navigation easy for everyone.
Rates: It is the rates you find on the website that you'll find on the app. The news about our rates remains the same! We buy bitcoin from traders at the best rates to help them maximize their profits. That will never change!
Swift transactions: Astro Africa iOS app is easy to navigate, so that you can trust that transaction is swift. You can sell your Bitcoin to us at the best rates and get paid in less than 10 minutes.
Security: The Astro Africa website is 100% safe because we use the appropriate security service to ensure our users never get hacked. Your details and Bitcoin wallets are well protected from unauthorized third parties because our firewalls are impenetrable.
Customer service: The effective and responsive customer service that Astro Africa has provided over the years doesn't end with the website. Whenever you encounter an issue on the app, reach out to Astro Africa through any medium, and our representatives will have it sorted.
Referral bonuses: Your access to your referral bonuses doesn't end with the website. On the app, as you create an account, a space has also been provided for users to input the referral code of whoever referred them to receive their bonuses.
Rates calculator: If you are wondering how to stay updated on the current rates of Bitcoin, you don't have to worry because Astro Africa has got you. The Astro Africa rates calculator is an automated calculator that helps you calculate the current rates of Bitcoin in real time, even as it changes due to the volatility of cryptocurrency prices. The rates calculator has also been embedded into the Astro Africa iOS app. All you have to do is download and install the app, log in, click check rates, and calculate the current rates of Bitcoin and other cryptocurrencies.
How to create an account on the Astro Africa iOS app
To create an account on the Astro Africa iOS app, follow the steps below.
Download and install the app from the App Store. The app only takes up a little space, just 43.9 MB.
Click on sign up to begin the registration process, but if you already have an account with Astro Africa, you can quickly log in and move to the section immediately.
The registration process is an easy two-step process.
For the first step, input your first and last name.
Input your valid email address.
Input your phone number.
Click "Continue" to enter the second step of the registration process.
Select a country, Nigeria.
Input your password.
Input the referral code of your referee so that they can be rewarded. If you don't have one, skip this section.
Agree to Astro Africa's terms of use and privacy by clicking the box.
Click Create an Account.
Astro Africa will verify your details and send a six-digit confirmation code to your email for verification.
Complete your account creation by adding a bank account and creating a transaction pin.
After becoming registered, you can go ahead to convert Bitcoin to naira.
How to trade Bitcoin for naira on the new iOS app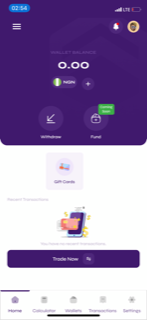 Log into your account.
Select sell cryptocurrency.
Select Bitcoin as your preferred choice. You can also sell BNB, USDT, Ethereum, and gift cards for cash on Astro Africa.
On the next page, Select the wallet you want to be credited.
Enter the amount of Bitcoin you want to sell.
The Astro rates calculator will display the amount you receive in your local currency.
Click on Proceed if you agree with the terms.
A wallet address will be automatically generated, copy the address and paste it into the space provided. Click on "I have sent Bitcoin" when you send the coin to the provided wallet address.
Your wallet will be credited immediately, and you can withdraw from there to your local bank account.