Since the inception of cryptocurrency, Brazil has consistently ranked first. It has shown strong support for digital currency; as a result, many Brazilians are interested in dabbling in Crypto but do not know how to do so. If this describes you, then this post is for you.
Buying cryptocurrency in Brazil is quite simple if you know what to search for. There are various ways to buy Bitcoin in Brazil, but we will focus on the most prevalent and reputable methods.
Exchange platform: This is one of the most popular ways to buy or sell Bitcoin worldwide. However, with its growth comes an influx of con artists. You can buy Bitcoin in Brazil using an exchange site, but you must exercise caution to prevent being duped out of your money. You must ensure that your exchange platform is reliable, has competitive rates, and meets your needs. We will present some reliable exchange platforms in Brazil to make purchasing cryptocurrency easier for you.
Bitcoin ATMs: Bitcoin ATMs are another option for purchasing Bitcoin in Brazil. Brazil presently has six Bitcoin machines. Bitcoin ATMs make it very simple to buy Bitcoin. Some ATMs accept credit and debit cards for Bitcoin purchases. The Bitcoin ATMs in Brazil are listed in the;
Petropolis
Rio de Janeiro
Sao Bernardo do Campo
Sao Paulo
Accept Bitcoin as payment for service: While Bitcoin is not yet legal tender in Brazil, there are efforts to make it so, as seen by the crypto regulatory bill passed by the Brazilian government. As an individual or business owner, you can take Bitcoin as payment if you have a digital wallet, and no law prohibits such transactions.
Read also: How to buy Bitcoin in Greece
Best bitcoin wallet in Brazil
Binance is Brazil's best Bitcoin wallet for new and seasoned investors. It has the world's greatest trading volume and the most trading options of any cryptocurrency exchange. Binance has a simple interface for new traders and advanced features for those who want to get technical. They have a strong and reliable security system that helps to protect your assets and information from scammers and hackers.
You can also benefit from minimal fees when trading and adding funds to your accounts. Another advantage is the various giveaways and airdropped tokens that Binance provides. Binance is the way to go if you are a rookie or an experienced trader looking to switch wallets.
Does coinbase work in Brazil?
Yes, Coinbase is available in Brazil. In Brazil, Coinbase, one of the largest and best exchanges, is available. The coinbase app is available in Portuguese, reducing the language barrier; you can also buy Bitcoin with Brazilian reals via the platform.
Coinbase, one of the oldest platforms, has a robust security system and customer service, so you and your cash are in good hands with Coinbase.
Which Bitcoin wallet is available in Brazil?
There are several Bitcoin wallets available in Brazil to store your funds. This article will list tested and trusted wallets you can use.
Bybit: This is the leading cryptocurrency exchange for Brazilian investors, with a platform that is fully accessible in Portuguese and round-the-clock customer assistance via live chat manned by native Portuguese speakers. They are one of the largest and have deep liquidity in their markets.
Etoro: The platform is known for its easy-to-use interface and low-cost Brazilian Real deposits via PIX payments, online banking services, and debit cards. Furthermore, eToro charges reasonable costs, with no upfront commissions and tight asset spreads. These qualities highlight eToro's position as a safe and well-regulated investing platform, cementing its place in the Brazilian market.
Zengo wallet: this mobile app-based wallet holds user crypto money and allows you to trade cryptos from the wallet itself. ZenGo is a non-custodial wallet, which means you are the sole owner of your funds.
Bluewallet: BlueWallet, like most non-custodial wallets, is available in practically every country (as long as the app stores allow it). BlueWallet serves a global clientele. It supports almost 20 languages in addition to English. It supports over 20 currencies, including USD, AUD, BRL, CAD, and CHF. It has an easy-to-use user interface.
Astro Africa: The best crypto exchange platform in Nigeria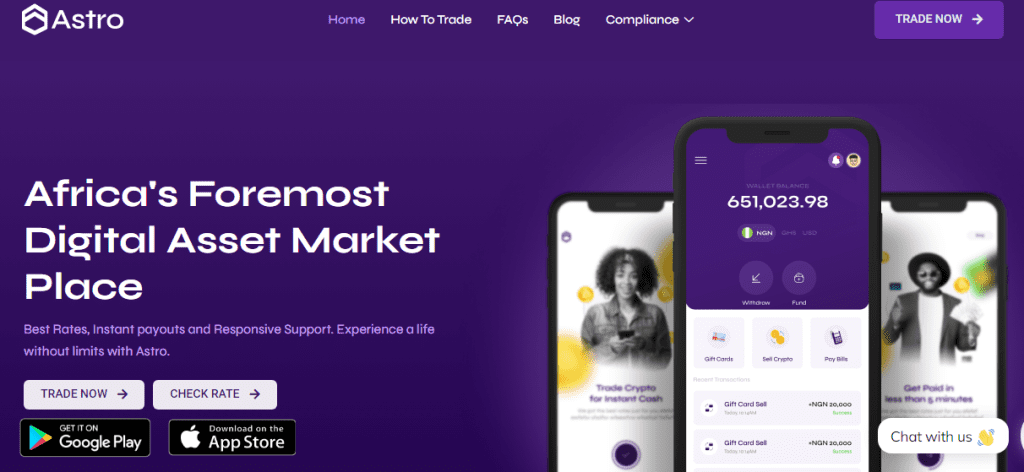 This article is brought to you by Astro Africa, Nigeria's best crypto exchange platform. The platform is outstanding in its entirety. With Astro Africa, you can say goodbye to getting scammed by fake exchange platforms. Astro Africa allows you to convert crypto to naira at the best rates whilst enjoying uninterrupted customer service, security, and fast payment. The platform is relatively easy to use. All you have to do is download the mobile app, and start trading.