As Bitcoin gained popularity, it was gradually approved as legal money in various countries. Portugal is one of these countries. Bitcoin is legal and treated like any other "real" currency in Portugal. This means that you can purchase and trade Bitcoin in Portugal with confidence. Even though bitcoin trading has become more accessible in Portugal, many people are still hesitant to participate in cryptocurrency due to a lack of experience. This article is for you if you find yourself in this situation.
Buying Bitcoin is quite simple if you understand the process, and there are three main ways to do so in Portugal.
Crypto Exchange Platforms in Portugal
There are various Bitcoin exchanges in Portugal, and you can select one based on your wants and interests. Different exchanges have varying transaction fees, withdrawal limitations, payment methods, and verification processes that you should know before choosing one.
Crypto.com
This is a particularly intriguing exchange for users because it features cheap costs and the opportunity for customers to make passive income through their digital assets.
Coinbase
Coinbase is a massive cryptocurrency exchange that has built a reputation for itself by listing stable cryptocurrencies and having millions of customers. Because many of the user-interface features were specially developed with this in mind, it is one of the simplest exchanges that novices can use.
Binance
Binance has created a name for itself by having the lowest fees in the cryptocurrency sector. It enables you to trade your bitcoin for a modest cost at fair rates.
Best Bitcoin wallet in Portugal
Here are the top crypto wallets in Portugal.
Zengo: Zengo is a simple IOS or Android crypto and NFT wallet. Zengo is a non-custodial wallet, which means you have complete control over your account.
Blue Wallets: This wallet has several fantastic functionality features. In fact, it most likely has the most comprehensive and robust set of usability features. It also has some great security and privacy features that, ideally, will be expanded soon. It is a desktop software compatible with Windows, Mac, and Linux.
Etoro wallet: With this wallet app, users can purchase and sell assets, transfer assets between wallets, and exchange one form of cryptocurrency for another. You can also keep digital currency in your wallet. In addition to safety, The eToro wallet, which stores digital coins and tokens, includes an inbuilt exchange that lets you convert one cryptocurrency to another without making a deposit or withdrawal. You can also purchase cryptocurrencies using a bank or credit card directly from your wallet.
Where to buy cryptocurrencies in Portugal
Here are some places to buy cryptocurrency in Portugal.
Use exchange platforms
The simplest way to purchase cryptocurrency in Portugal is through an exchange platform. A cryptocurrency platform is a website where you can buy, sell, and trade cryptocurrencies. These platforms make trading one cryptocurrency for another or traditional fiat currencies such as the Canadian dollar, British pound, or Euro possible. Cryptocurrency exchanges act as intermediaries, connecting buyers and sellers of cryptocurrencies like traditional stock exchanges do for equities and securities. If you want to buy crypto in Portugal, follow the steps below.
Open an account with a bitcoin exchange.
Confirm your identification for security purposes.
Deposit funds (Escudo, USD, or any fiat currency).
Place an order (market or limit).
Keep your cryptocurrency in a safe wallet. Wallets are available on the majority of trading platforms. If not, open an account on an external wallet and keep your cryptocurrency there.
Bitcoin ATMs
Portugal has ten ATMs, making buying Bitcoin with cash easy. These ATMs accept cash and deposit Bitcoin immediately into your wallet. CoinATMRadar lists several prominent Bitcoin ATM locations in major cities such as Lisbon, Porto, and Faro. The number of Bitcoin ATMs is projected to grow as the cryptocurrency sector grows. Some Bitcoin ATM locations are as follows.
Braga
Coimbra
Faro
Lisbon
Porto
Banks
Since the Portuguese government recognizes Bitcoin, you can purchase Bitcoin through banks. However, most banks and investors are reluctant to do Bitcoin transactions after several Portuguese banks came under phishing and cyber-attacks.
Astro Africa: The best crypto exchange platform in Nigeria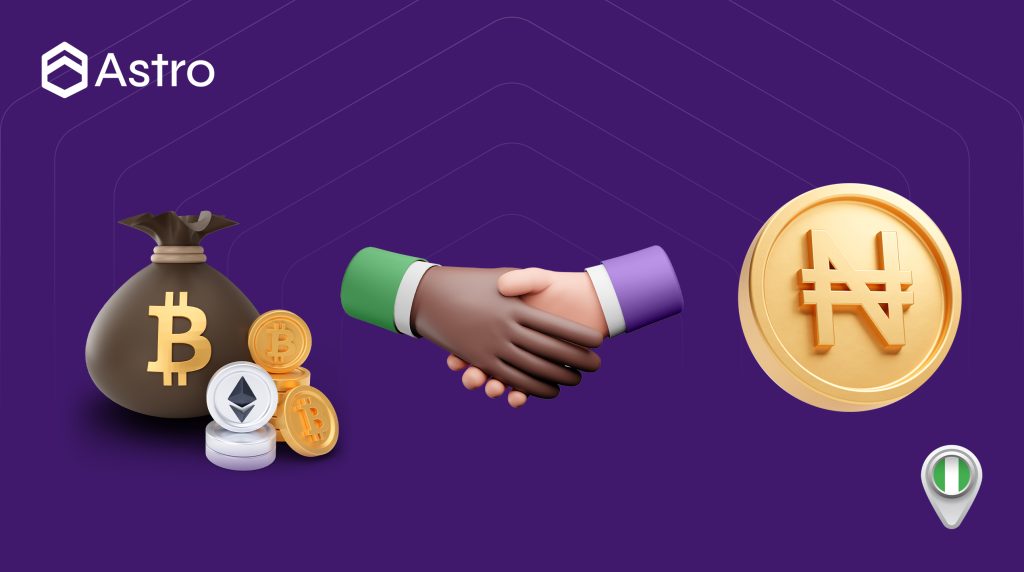 This article is brought to you by Astro Africa, Nigeria's best crypto exchange platform. The platform is outstanding in its entirety. With Astro Africa, you can say goodbye to getting scammed by fake exchange platforms. Astro Africa allows you to convert crypto to naira at the best rates whilst enjoying uninterrupted customer service, security, and fast payment. The platform is relatively easy to use. All you have to do is download the mobile app, and start trading.