Cryptocurrencies have liberated our previously restricted payment methods. We've progressed from one or two basic currencies to multiple digital currencies. Because of this financial flexibility, citizens in nations like Qatar have shown a strong interest in investing in cryptocurrency. If you live in Qatar and want to invest and enjoy the financial independence that crypto provides, this post is for you.
How to buy Bitcoin in Qatar
If you've decided to invest in the crypto market, as with any other investment, you conduct research before entrusting your money to anyone.
The best way to buy Bitcoin in Qatar is through an online exchange platform. This is because exchange platforms are safe and secure places to make your transactions if you conduct the necessary research. There are several factors to consider while selecting a cryptocurrency exchange:
Fees: Compare the costs charged by different exchanges. Fees are charged differently by different exchanges.
Payment methods: Some exchanges accept just specific payment methods. Choose a payment means that is accepted by the exchange.
Supported coins: Not all exchanges support all cryptocurrencies. Look for a cryptocurrency exchange that accepts the coin you wish to purchase or sell.
Country of operation: Some exchanges are only available in specific countries. Make certain to select a Qatar-based exchange.
Reputation: It is essential to select an exchange with a strong reputation. Before selecting one, read the reviews and compare the various exchanges.
Read also: How to buy Bitcoin in Mexico
Best trading apps in Qatar
There are various cryptocurrency exchanges around the world. Most of them work almost everywhere, but not all may be appropriate for you. We chose these top Bitcoin and cryptocurrency exchanges in Qatar based on their features, costs, and simplicity of use.
ETORO
This is by far one of the world's most popular trading platforms. It is perfect for novices or those who do not have much time to devote to study. eToro offers a mobile app in addition to an easy-to-use web platform. This means you can keep track of your cryptocurrency investments while on the go, purchase or sell, and follow the financial markets from anywhere. Furthermore, eToro does not charge commissions whether you trade cryptocurrencies, equities, EFTS, and other instruments.
Kraken
Kraken is a top cryptocurrency exchange in Qatar for active traders. In general, the platform provides a variety of investing possibilities, including crypto-assets such as Bitcoin, Ethereum, and others. Kraken also gives real-time market alerts, and you can earn prizes.
Binance
This trading program currently has the most cryptocurrencies available on the market. Several security precautions, including two-factor authentication, are provided by the platform.
Regarding fees, Binance is one of the most affordable exchanges in the industry. Binance is easy to use and has a mobile phone app for transactions.
Is Binance legal in Qatar?
Yes, it is legal in Qatar. Binance, a renowned cryptocurrency trading platform, operates in Qatar following local rules. This ensures that the platform may provide its services to users in the country without legal or regulatory difficulties. Binance is available in Qatar via its official website and mobile app. With a user-friendly interface and several features that make it simple for users to trade digital currencies, the platform provides a seamless user experience.
How to buy USDT in Qatar
In Qatar, there is a rising frenzy surrounding USDT. As a result, many citizens are eager to buy and invest in the USDT. An exchange platform is Qatar's easiest and most safe option to buy USDT. When selecting an exchange platform, it is best to go with one that is regulated and adheres to Qatar legislation. The Binance crypto exchange platform is one such platform.
After deciding on a platform, proceed with the following steps to purchase USDT:
Create an account
Verify to purchase or sell bitcoin
Obtain a cryptocurrency wallet
Choose the desired cryptocurrency and quantity.
Type in your wallet's address.
Select a convenient payment option, such as credit card, debit card, or direct deposit from your bank account.
Verify your wallet address and receive your coins.
Is Bitcoin legal in Qatar?
No. Bitcoin is currently not legal in Qatar at the institutional level. However, you are free to trade with an online exchange that complies with the government's rules. Banks, however, are banned from such trading due to the volatility of cryptocurrencies.
Is crypto legal in Qatar?
No. Cryptocurrencies are not legal in Qatar due to fear that they might be used to finance terrorism and cyber attacks.
Astro Africa: The best crypto exchange platform in Nigeria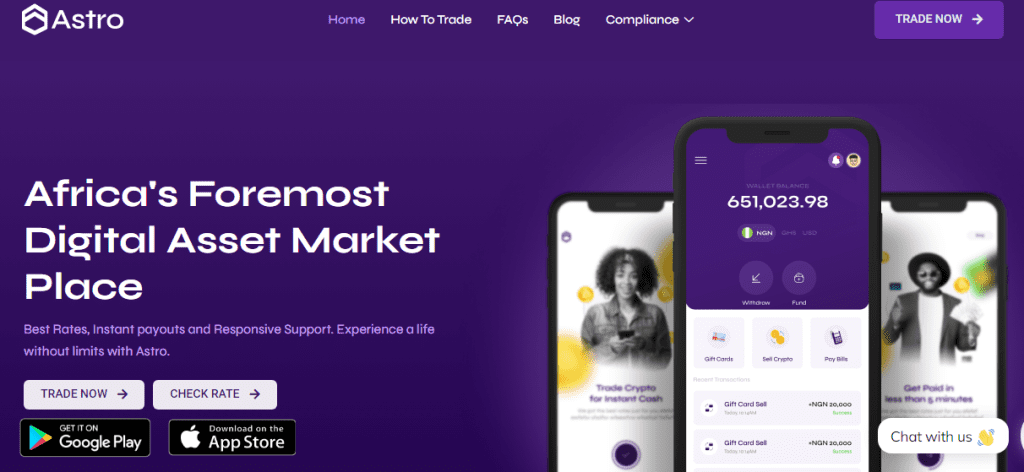 This article is brought to you by Astro Africa, Nigeria's best crypto exchange platform. The platform is outstanding in its entirety. With Astro Africa, you can say goodbye to getting scammed by fake exchange platforms. Astro Africa allows you to convert crypto to naira at the best rates whilst enjoying uninterrupted customer service, security, and fast payment. The platform is relatively easy to use. All you have to do is download the mobile app, and start trading.