Convert Bitcoin to Naira
Convert Bitcoin to Naira: Converting Bitcoin to naira through a cryptocurrency exchange is a popular and convenient way for Nigerians to access their cryptocurrency holdings in their local currency. However, it is crucial to use a reputable exchange to avoid fraudulent activities or scams. Astro Africa is one of the most reputable cryptocurrency exchanges in Nigeria, offering a safe and secure platform for users to sell Bitcoin and other cryptocurrencies. To convert bitcoin to naira, follow these simple steps.
First, create an account by providing your name, phone number, and email address. Verify your email address to activate your account.
Once you have verified your account, log in to your dashboard using your details. From there, select the "Sell Crypto" tab and choose bitcoin as the cryptocurrency you want to trade from the list of supported coins.
Enter the amount of bitcoin you wish to convert to naira, and a wallet address will be generated for you to transfer your bitcoin. Once you have sent your crypto to the wallet address provided, wait for the transaction to be confirmed.
Once the transaction is confirmed, the equivalent value in naira will be credited to your Astro Africa wallet. To withdraw your funds, navigate to the "Wallet" section on your dashboard and select the "Withdrawal" tab. Submit your bank details to complete the withdrawal process.
Nigerians convert bitcoin to naira for several reasons. One of the primary reasons is that many businesses and individuals prefer to transact in naira. Selling bitcoin for naira allows Nigerians to convert their crypto holdings into their local currency, making it easier to use for day-to-day transactions.
Also, crypto traders convert bitcoin for naira to take advantage of market opportunities. Bitcoin is known for its high volatility, which means that its value can fluctuate rapidly and significantly in short periods. By exchanging bitcoin for naira, traders can lock in gains or avoid losses when the market conditions are favorable.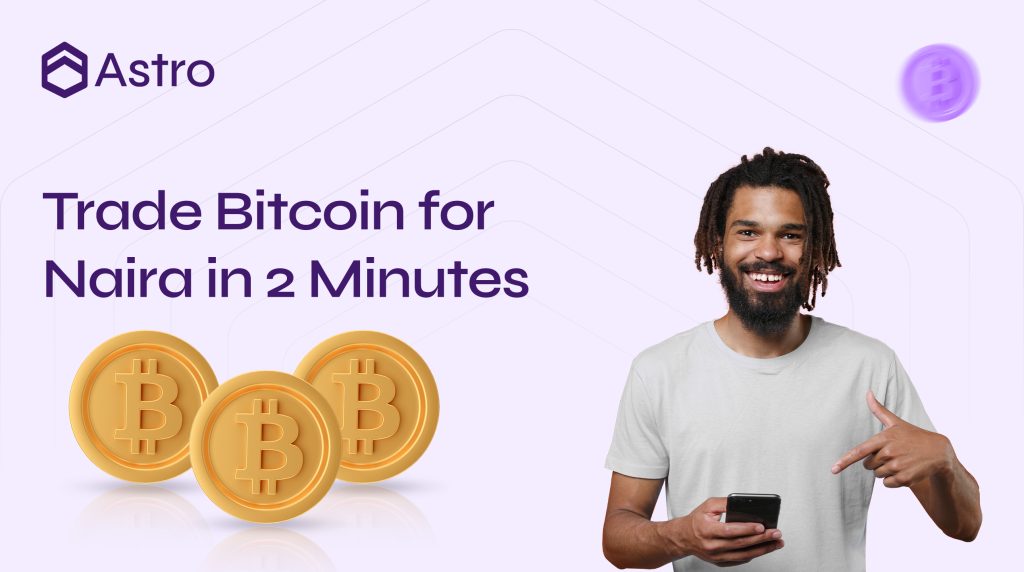 Factors Affecting Bitcoin to Naira Conversion Rates
Bitcoin to Naira conversion rates can be influenced by various factors, which can cause fluctuations in the exchange rate. Here are some of the key factors that can affect the conversion rate of Bitcoin to Naira:
Supply and demand: One of the most significant factors affecting bitcoin to naira conversion rates is the demand and supply of the cryptocurrency. The total supply of Bitcoin is limited, and there can only ever be 21 million bitcoins in existence. On the demand side, the price of Bitcoin can be influenced by several factors, including its utility as a payment method, store of value, and as a speculative investment.
Market volatility: Cryptocurrency markets can be highly volatile, and sudden price movements can cause the conversion rate of bitcoin to naira to fluctuate rapidly. This volatility can be influenced by various factors such as economic events, and global political developments.
Exchange or trading platform: The conversion rate of bitcoin to naira can also be affected by the exchange or trading platform used to buy or sell Bitcoin. Different platforms have varying fees, charges, and exchange rates that can impact the final conversion rate. Astro Africa has the best rate for bitcoin in Nigeria.
News and events: Events such as regulatory decisions, economic policies, and security breaches can also affect the conversion rate of bitcoin to naira. Significant news can cause investors to react by buying or selling, leading to changes in the exchange rate.
Overall, using Astro Africa to convert bitcoin to naira provides users with a trustworthy and convenient solution to manage their cryptocurrency holdings.